With the soaring popularity of inflatable kayaks, many novice pedallers wonder if they can use their kayaks as fishing platforms. If you are looking for an in-depth answer to this inquiry, keep reading. 
In this post, we are going to discuss everything you need to know about using an inflatable kayak as a fishing platform. Hopefully, the information provided here will help you make an informed decision. 
Is It Safe to Go Fishing on an Inflatable Kayak?
Yes, an inflatable kayak can be safely used for fishing. Modern inflatable kayaks are thick and sturdy, so do not worry about getting the vessel punctured. With that said, while most inflatable kayaks are made with high-quality, puncture-proof materials, not all kayaks are equally rigid or stable.
Therefore, the key is to be careful when choosing your kayak.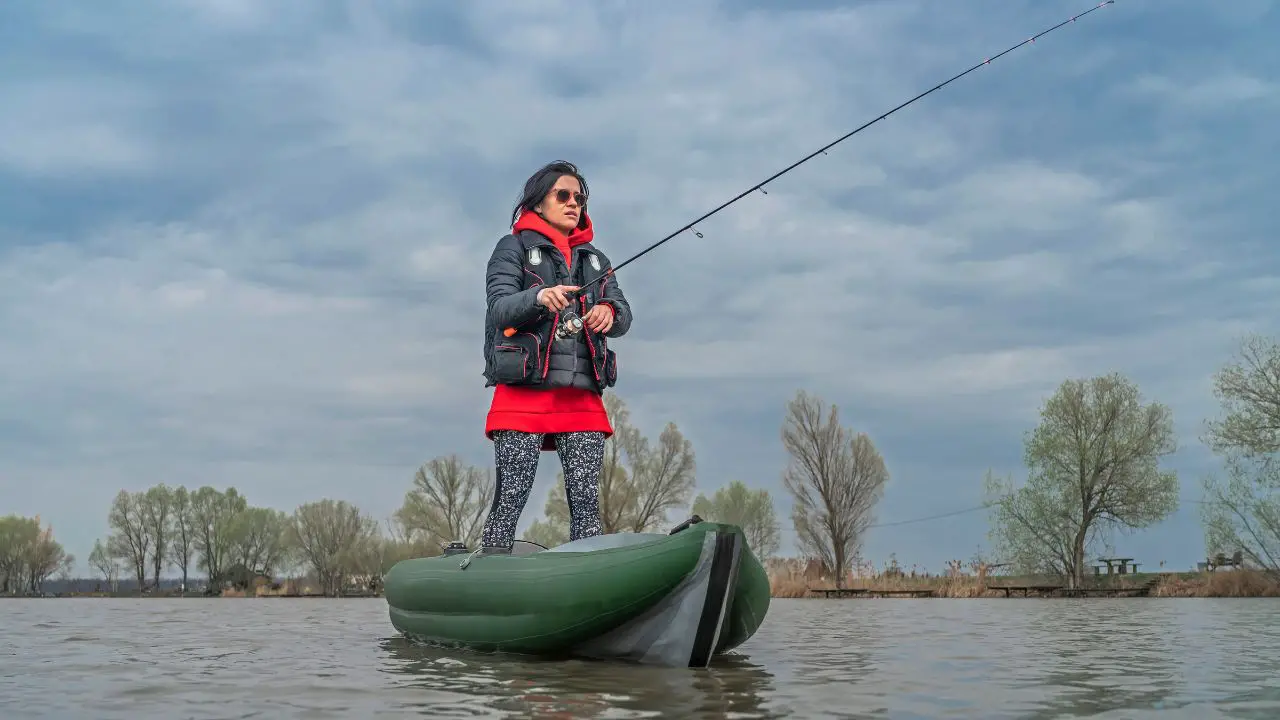 What Type of Inflatable Kayak Is Suitable for Fishing?
There are inflatable kayaks that come with "fishing-friendly" features. In general, you should use a sit-on-top kayak for fishing because it provides sufficient space. Apart from that, here are some features to look for:
Stability: This is self-explanatory. A fishing kayak must be stable enough to withstand large waves and high winds. The vessel should be stable enough for you to be able to comfortably stand in it. 
Removable rear fin: A rear fin provides better traction on the water, and thus allows you to move more effectively. Choose a kayak with a removable rear fin so that you can remove this part when you do not need it. 
Rod holders: While some kayaks have built-in rod holders, others offer room for installing them later. Consider choosing a model that is already equipped with rod holders. 
More open space: If you use your vessel as a fishing platform, you will need to be able to move comfortably in it. Choose an inflatable kayak that offers reasonably large open spacing. 
An anchor line: When you are fishing in a large lake, an anchor can prevent your kayak from drifting away from a good fishing spot. 
Increased seat height: A seat with some depth will allow you to sit comfortably for long hours when fishing. Consider investing in a model that comes with comfortable swivel seats. 
Motor mounts: If there is a motor mount on the kayak, you can attach a low-powered gas motor or trolling motor to the vessel. 
Accessory pouches: When fishing, you may need to install fish finders and other additional fishing accessories.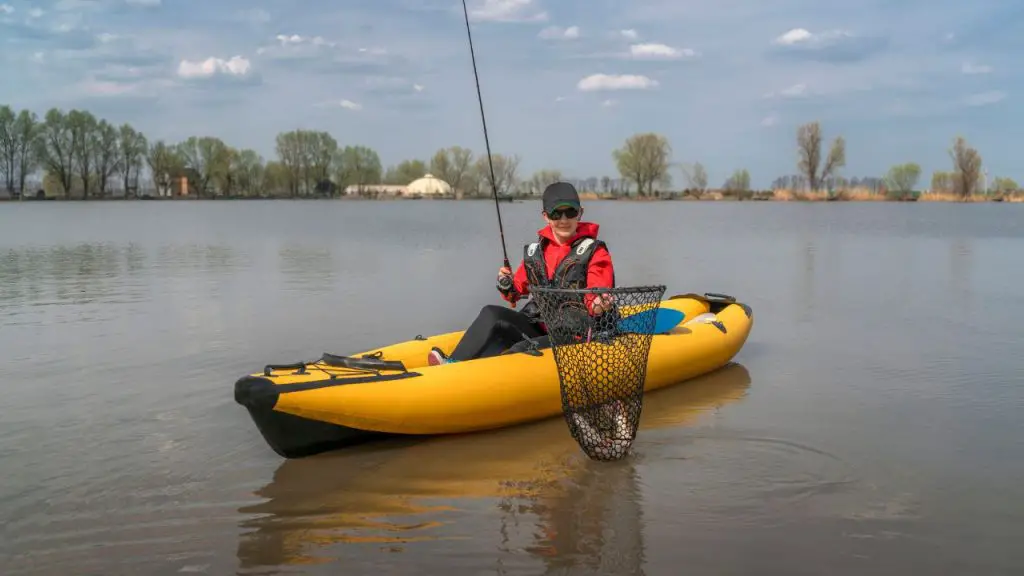 While there are many companies that produce inflatable kayaks, not all brands are created equal. Here are some brands that stand out from the crowd:
Best Inflatable Fishing Kayaks
With so many options available out there, choosing an inflatable kayak can be tricky. We have conducted some research and identified four products that stand out from the crowd. Learn about these four amazing inflatable kayaks and pick one that fits your needs. 
Best tandem inflatable fishing kayak: Sea Eagle 385 FastTrack Fishing Edition Kayak  
This easily transportable rugged fishing kayak can accommodate one or two persons. Thanks to its smartly designed keel, the kayak offers a smooth and fast paddling experience. The sharp, tapered and narrow bow allows you to paddle fast through strong waves and winds. 
This inflatable kayak is a dream vessel for anglers. In many situations, this kayak is even a better alternative to a costly trailer or boat. It comes with all the features that a fishing kayak should ideally have. You are going to love its built-in rod, lure and hook holders.
Best Solo Inflatable Fishing Kayak: Sea Eagle 350x Explorer Fishing Kayak
Here is an NMMA-certified, fully accessorized, robust kayak for your fishing adventures. In fact, this is one of the best inflatable fishing boats out there. 
Feel free to opt for this solo fishing kayak if you are planning to go fishing alone. When fully inflated, this kayak is 350 cm long and 99 cm wide. The hull weighs 23 kg. The vessel comes with built-in tool, rod and hook holders, and the hull material is nearly indestructible!
To help secure your gear, there are 14 D-rings in total. The kayak's hide material is tough, rigid and durable, so you will not have to worry about getting the vessel punctured.
Best Overall: Aquaglide Blackfoot Angler 130 Inflatable Kayak
This kayak is 13ft long, weighs 41 lbs and has a carrying capacity of up to 650 lbs. The hull is extremely rigid, and its performance can be compared with that of a rotomolded boat. With 4 self-draining scupper drains, this vessel is ideal for surfing in rough waters. If you keep the scuppers open, water drains out pretty quickly. 
The vessel has an adjustable seat, wide and stable deck, and plenty of space for storage. The bow has a nose cone that provides pretty good protection against impact. It also features a carry handle, universal mount, splash guard, and deck bungee. 
For easy installation of accessories, there are 6 mounting plates. The depth of the kayak is 13.5, which is sufficient for a fishing vessel.
Best Budget: Intex Excursion Pro K1
Looking for a budget kayak for your fishing excursion? Intex Excursion Pro K1 will make you happy. The strong and durable laminate material of this inflatable kayak provides amazing resistance against high impact and abrasion. 
While the vessel is remarkably tough and stable, it weighs only 15.92 kg. Thanks to its sophisticated removal skegs, the kayak provides great maneuverability through shallow and deep waters alike. 
The kayak has two fishing rod holders and you can detach them if you want. There are also two adjustable and detachable mobile phone and GoPro camera mounts. 
Rest assured that this budget kayak will not disappoint you. It offers everything you expect from a modern fishing kayak, including a high-output air pump, inflatable seat bolster, adjustable and elevated seating, grab hands, and a carry bag.
Pros and Cons of Using an Inflatable Kayak for Fishing
With every passing year, inflatable kayaks are getting sturdier and more sophisticated. You can definitely use one as a fishing platform, but there are still some drawbacks of this choice. Here are the pros and cons at a glance: 
Pros 
Cons
– Low price is the most remarkable advantage of using an inflatable fishing kayak. You will get a pretty good one for only $300-$400
– There are many models that come with paddlesEasy to store
– Easy to transport
– Very durable. With proper care, some inflatable kayaks last up to a decade
– Easy to drift
– There is still some risk of puncturing 
Fishing In an Inflatable Kayak: 4 Pro Tips
As you gain experience and learn the nuances, you will get better at fishing in an inflatable kayak. Here are some tips that will keep you safe and make the process easier for you. 
Avoid Puncturing Your Inflatable Kayak
This is the most important rule! While modern inflatable kayaks are remarkably sturdy and stiff, you can still end up puncturing your kayak. And if  that happens, you are likely to find yourself in a fiendishly difficult situation.
A fishing hook can still pop an inflatable kayak. So, be careful when handling your fishing hooks. 
Also, place a towel on the deck before you unhook a caught fish. When not in use, keep your sharp fishing gear such as knife, lures and hooks packed away. 
Use Anchors to Prevent the Kayak from Drifting Away
Inflatable kayaks are easy to drift, so use an anchor to prevent drifting. Consider using natural anchors, such as positioning the kayak in a place that does not have strong winds.
Extreme Max 3006.6714 BoatTector Complete Mushroom Anchor Kit
Create Rod and Paddle Holders
Inflatable kayaks these days usually come with built-in rod and paddle holders. But if your kayak does not have them, consider creating them. Making some rod holders is not a complicated process at all. You can take it as a DIY project. 
Maximize the Space
Make the best use of the space in your kayak. Do not take fishing gear that you are not likely to use. If your kayak is very small, do not install a trolling motor. This is because the motor and its batteries will take up a pretty large amount of space. 
FAQs
Do inflatable kayaks puncture easily?
Not really. New generation inflatable kayaks are remarkably stiff and durable. However, punctures can still happen. So, it is good to take that possibility into consideration. Be careful when transporting your kayak, and keep sharp objects away from it. 
Can you go to the ocean with an inflatable boat?
Yes, you can. If the ocean is calm, you can go out a couple of miles in the ocean, but not further. An inflatable kayak can drift away easily, so it is important to be careful when paddling in the sea. 
How long will an inflatable boat last?
A PVC inflatable kayak can last up to a decade. But not all products are equally durable. Some last only a couple of years. The durability depends on the material, and the care the kayak receives. 
Final Verdict
The bottom line is, inflatable kayaks make pretty good fishing platforms. Not all kayaks are of good quality. Choose a sturdy and stable one and you will definitely love the experience. 
Yes, inflatable kayaks have their limitations, but they are appealing at the same time, thanks to their versatility. The key is to be choosy when buying an inflatable kayak, because there are so many bad ones out there. We hope now you are better prepared to make an informed decision.