While kayaking is fun, transporting a kayak is not—particularly if it is a large and heavy one. Mounting your kayak on the roof of your Subaru Outback is a good way to get the job done, but you may need a trailer if you want to transport more than two kayaks. 
The Subaru Outback is a pretty large SUV, but a large hardshell kayak may not fit inside this vehicle. However, there are other ways to use this vehicle to transport your kayak.  
In this post, we are going to discuss the process of attaching your kayak to a Subaru Outback. Hopefully, here you will find some useful tips and tricks. 
Can a Kayak Fit In a Subaru Outback?
If the length of your kayak is more than 9 feet, it won't fit in a Subaru Outback. An 8 or 9 foot-long kayak can fit inside, but in such a case you will have to make room inside the vehicle by folding the seats flat. However, a folding or inflatable kayak will easily fit inside a Subaru Outback.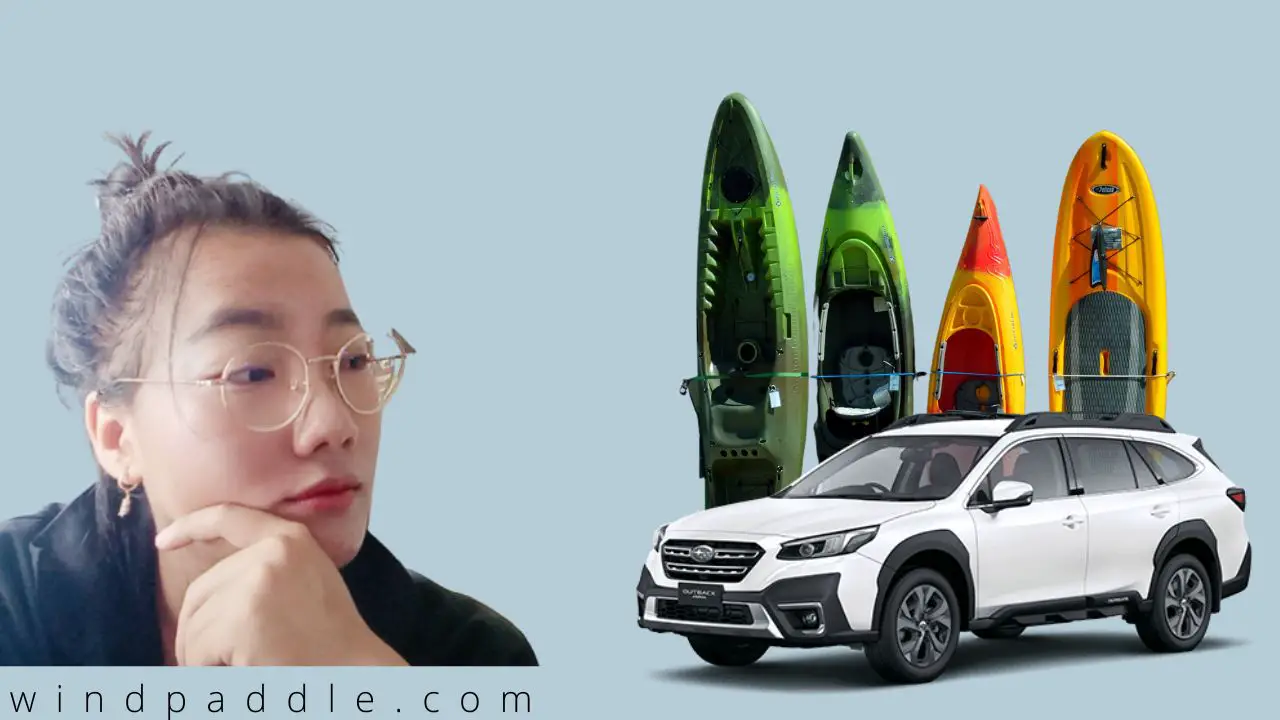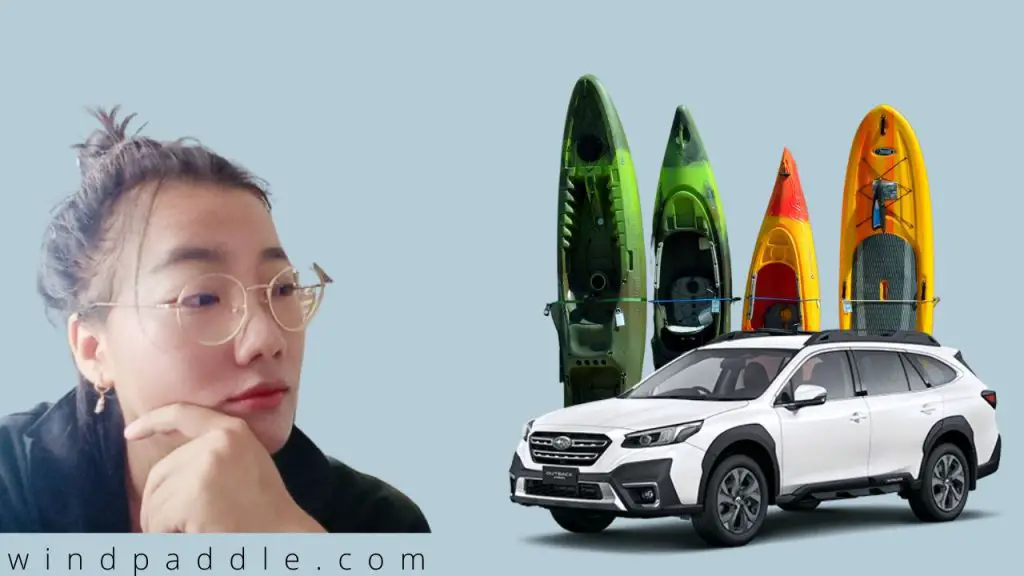 2 Ways To Attach a Kayak to a Subaru Outback
There are two ways to use your Subaru Outback to carry your kayak. First, you can install a roof rack to the vehicle and then attach your kayak to the rack using rope or straps. The second option is to use a utility trailer. 
Use Roof Rack
Every Subaru Outback has a pre-installed crossbars for holding things on the roof. Install a J-style kayak holder on the crossbars and transport one or two kayaks easily. These racks are available in various styles, sizes and prices. 
The process of installing these kayak holders is easy and straightforward, so you can install one by following the manufacturer's instructions. Once the racks have been installed, you have to lift the kayak, place it on the J racks and secure it with straps that come with the racks. 
With that said, there are some drawbacks of using kayak holders. We are going to outline the pros and cons in the table below: 
Pros:
Cons:
– Easy to attach, remove and store. When you are no longer using the racks, you can easily remove and store them.
– Requires very little storage spaceYour vehicle requires no modification.
– When carrying kayaks on your roof rack, you just have to drive a little slower. Other than that, no special driving skills needed.
– Once you have securely fastened a kayak holder your Subaru Outback, you can just forget it, because it will never require servicing
– With roof racks, you can transport up to two kayaks only.
– As you drive your Subaru Outback with a kayak on the roof, the vehicle has wind resistance and that can reduce your mileage.
– You have to be extra careful when passing overhanging tree branches and low bridges because your vehicle has less clearance overhead. A little bit of carelessness can lead to an accident.
– Loading and unloading your kayak on and and from the roof of your vehicle can be physically demanding
It is to be noted here that not all kayak racks are made equal. In addition to that, choosing a rack can be tricky because there are so many options to choose from. We have done some research and found that the following four racks stand out from the crowd: 
Here are two sets of J-style kayak carrier racks that come with 4 kayak straps. These racks can accommodate 2 kayaks weighing up to 75 pounds and messing up to 36 inches each. The steel-made racks have adjustable padding that protects your kayak from damage. They are compatible with most square, round, flat and oval crossbars.
The XGeek Kayak Roof Rack offers a safe and smart way to carry your kayak. The rack is made from aluminum alloy material and has thick foam padding. The material is corrosion-resistant, so it will never have rust. The rack saves you a significant amount of roof space, thanks to the 180° folding bearing design. 
This set consists of two racks designed to carry two kayaks simultaneously. It is also great for carrying canoes, boats, surfboards, and snowboards. It has a static plastic splint and a saddle. There are also two Ratchet Straps for safety.
Thule Hull-a-Port Aero is a safe and stylish kayak carrier with an innovative design and front release handle. You can raise and fold the carrier when not in use. The carrier has a load capacity of 130 pounds.
The soft and durable rubber padding protects your kayaks from damage during transits. The carrier has a theft resistant design with locks that allows you to attach it securely to the load bars.
This J-style kayak carrier is compatible with almost all types of crossbars. Made of steel, the carrier is remarkably strong, and comes with adjustable padding that provides adequate protection. 
The installation and uninstallation of these J-bars is quick, thanks to the on/off hardware. And its wide mouth makes loading and unloading easier. 
Whether your crossbars are square, oval or flat, these J-bars will neatly fit the crossbars. The two Ratchet Straps that come with these J-bars are long enough to secure a 16-foot kayak. 
Use a Utility Trailer
If you want to transport only one, two or three kayaks and can mount them on the roof of your vehicle, you do not need a kayak trailer. Using a kayak trailer is a convenient way to transport multiple large and heavy kayaks.
Up to four kayaks can be transported with an average kayak trailer. The process of using a trailer involves towing it behind your vehicle. And for that, you have to install a wiring harness and a hitch. 
The idea of hooking up a trailer to your Subaru Outback may seem intimidating, but the process is not that complicated. However, there are some drawbacks of this method. 
Here are the pros and cons at a glance: 
Pros:
Cons:
– Loading your kayaks on a trailer is easier than loading them on the roof of your vehicle
– Trailers have a significantly high weight capacity
– Trailers have space for carrying other gear
– A kayak trailer remarkably more expensive than a J-style roof rack
– It requires a large space for storage
– It's hard to drive when a trailer is attached to your Subaru Outback
Multi-Sport Multi-Rack Kayak Trailer by Right On Durable Transporting Trailer for Kayaks
Which Subaru Has the Most Cargo Space?
With 86.5 cubic feet of cargo space, Subaru Ascent is the largest Subaru. It exceeds the cargo space volumes of not only other models of Subaru but also Mazda CX-9, Honda Pilot, and Toyota Highlander. If you travel with plenty of stuff, Subaru Ascent may be the best option for you. 
FAQs
How do you put a kayak rack on a Subaru Outback?
The Subaru Outback has swing-in-place crossbars, on which you can easily install a J-style kayak rack. Follow the manufacturer's instructions to complete the pre-assembly of the rack.
Correctly position the front and rear carriers, and use the fasteners to secure them. Once you have tightened every connection, unfold the kayak rack. 
How do you attach a kayak to a factory roof rack?
Lift your kayak on the roof rack, placing the front of the vessel facing forward. Position the kayak on the center of the roof. Then wrap the kayak and the rack with straps, preferably with cam straps, and secure your kayak. 
Can you mount a kayak without a roof rack?
Yes, you can mount your kayak on the roof of your vehicle without a roof rack. For this, you need 4 straps: 2 to secure each end of the vessel, and 2 for the hull. Run the hull straps through the windows and thus firmly secure the kayak in place. 
Final Sentences
The bottom line is, a large kayak will not fit inside a Subaru Outback, unless it is an inflatable or foldable kayak. So, you can either mount the vessel on the roof of your Subaru Outback or use a utility trailer. 
Choose a method that's convenient for you. Unless you want to transport more than two kayaks, installing a J-style carrier may be the best option for you. We hope now you are better prepared to take actionable steps.