It is your responsibility as a paddler to know how to lock up a kayak. This skill is important for personal and commercial kayak maintenance. 
A lock will secure your kayak in different places and enable you to keep several kayaks together. The way to lock up depends on several things and factors. 
You have to use distinct locks, techniques, and ways for different types of kayaks. Besides, some universal locks work for all models. 
The advantage of securing a kayak is that you can store it at your convenient places. Similarly, lock protest thieves when you keep your kayak outside. 
This writing will give you a complete solution to lock up your kayak in different locations and situations. We also include the best kayak lock in this article. Let's secure your kayak. 
Can You Leave a Kayak Outside?
Yes. You can leave a kayak outside with protection from the sun and the weather. 
You can lock the paddle if you fear losing it. Some paddlers hear horror stories about kayaks. 
It says that kayaks magically disappear from the dock, are stolen from yards, or are lifted from the car parking.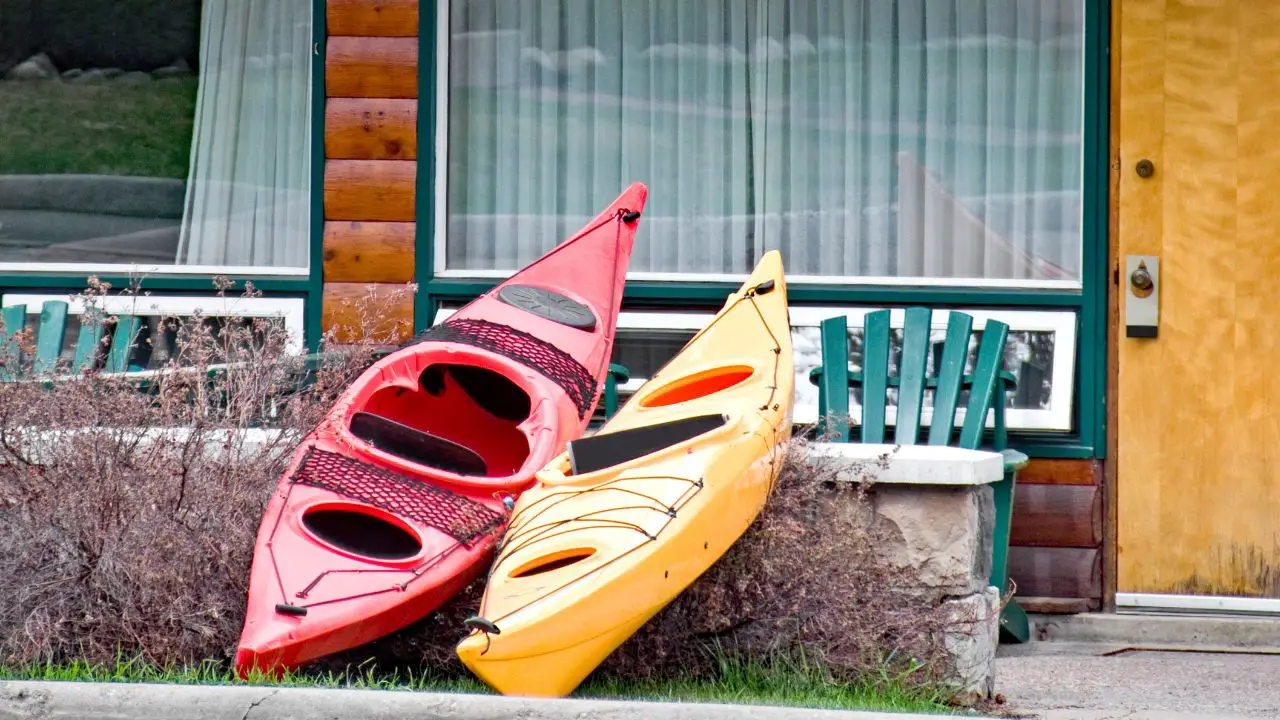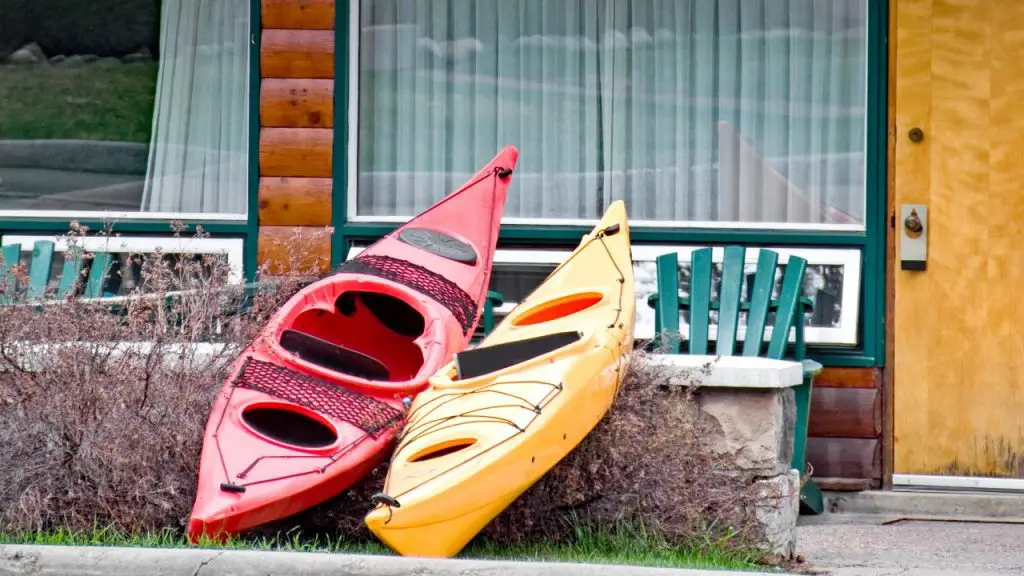 If you don't fear the myth of kayaks, you can put your kayaks outside. You have to follow some safety tips to secure your kayak.
We suggest locking up the kayak if you leave it for a long time. The lock is the best solution. It gives you the freedom and safety of storing kayaks.
How to Lock Up a Kayak
Now, it is time to lock the kayak and make it more secure. To lock a kayak, you have to find something permanent to loop a cable. Tie the cable with your kayak and lock it up. 
You can secure it using a bicycle cable lock with a roof rack or trailer. Tie down your kayak with a permanent structure like a tree or steel pole.
On the contrary, inflatable or folding kayaks are more flexible to lock. You can store these travel-friendly kayaks inside your tent. It will be the most secure place. 
Similarly, you can lock inflatable kayaks with permanent structures like a tree. Cable locks are suitable for inflatable kayaks too.
Lock Up a Kayak When Stored At Home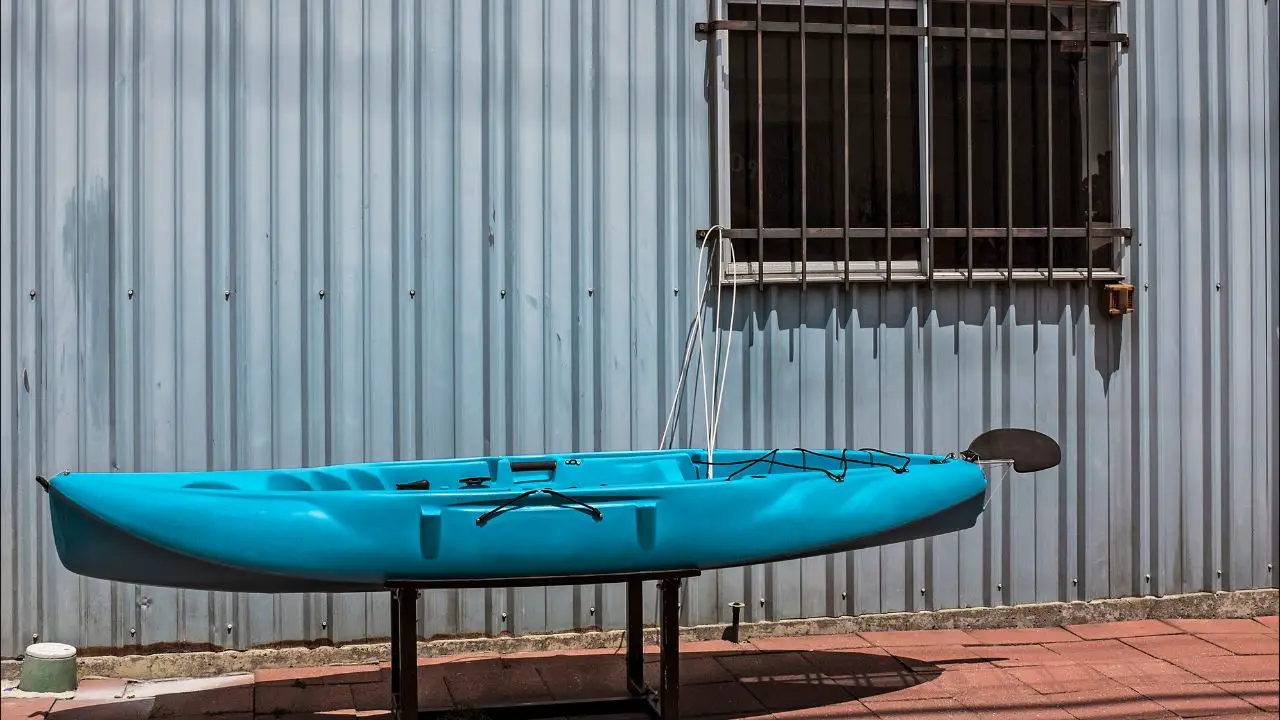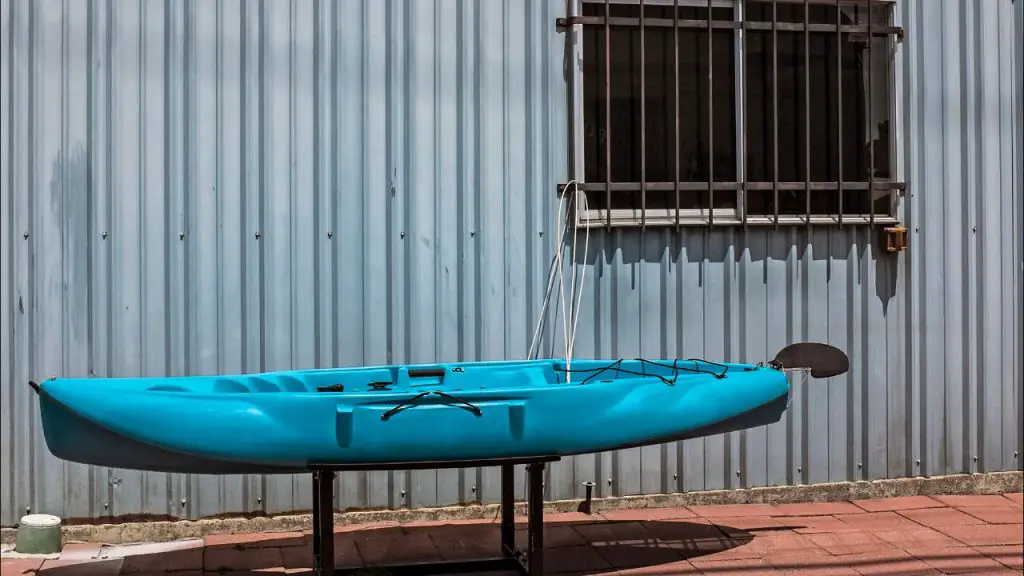 When you are not using your kayak, your home is the best place to store it. You can store it in the garage or shed. Several options are open when it comes to your home.
Normally, a garage and shed have a lock option at the entry point. You have to lock your kayak separately if you select another place like the backyard.
Tying your kayak to a permanent structure with a chain will be a good solution. You can use a cable lock such as Suspenz. This is a very tricky lock. Don't forget to secure or lock your kayak accessories when you store them for a longer period.
First, select a large space that is perfect for your kayak. 
Second, select a stand or something a little bit high to put your kayak on. 
Then, select the permanent structure to tie. 
Fourth, find the lock for your kayak. It may be a chain lock or cable lock.
Now, tie the kayak with a cable or chain and lock it up. 
Lock Up a Kayak When On The Road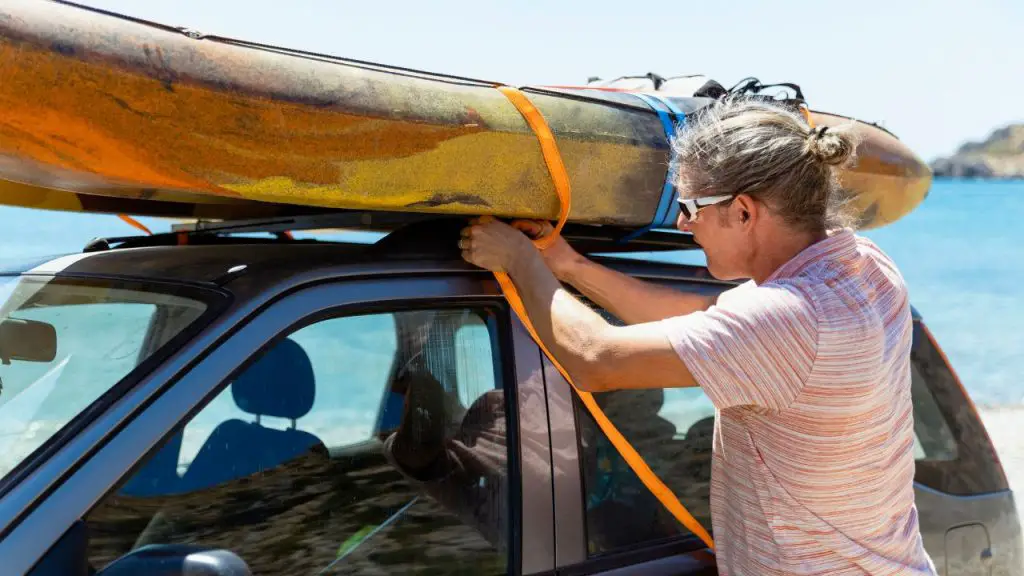 You can't use your kayak at home. You will paddle a kayak on water bodies like rivers, lakes, and seas. So, you have to transport a kayak to the destination. 
Transportation is a serious issue for large elements. You can transport kayaks by using cars, trucks, and private vehicles. 
To secure the transportation process, you have to lock up the kayak to the vehicle. It ensures the stability and security of kayaks when it is moving. 
First, select a vehicle that suitable for the kayak length
Then, set the kayak on the vehicle. It may be the roof of the car or the back part of a truck
Now, tie the kayak to the carrier or structure of the vehicle. You can use chains or transportation ropes. 
Finally, use some cable lock to make it more secure while transporting. 
Lock Up a Kayak When Camping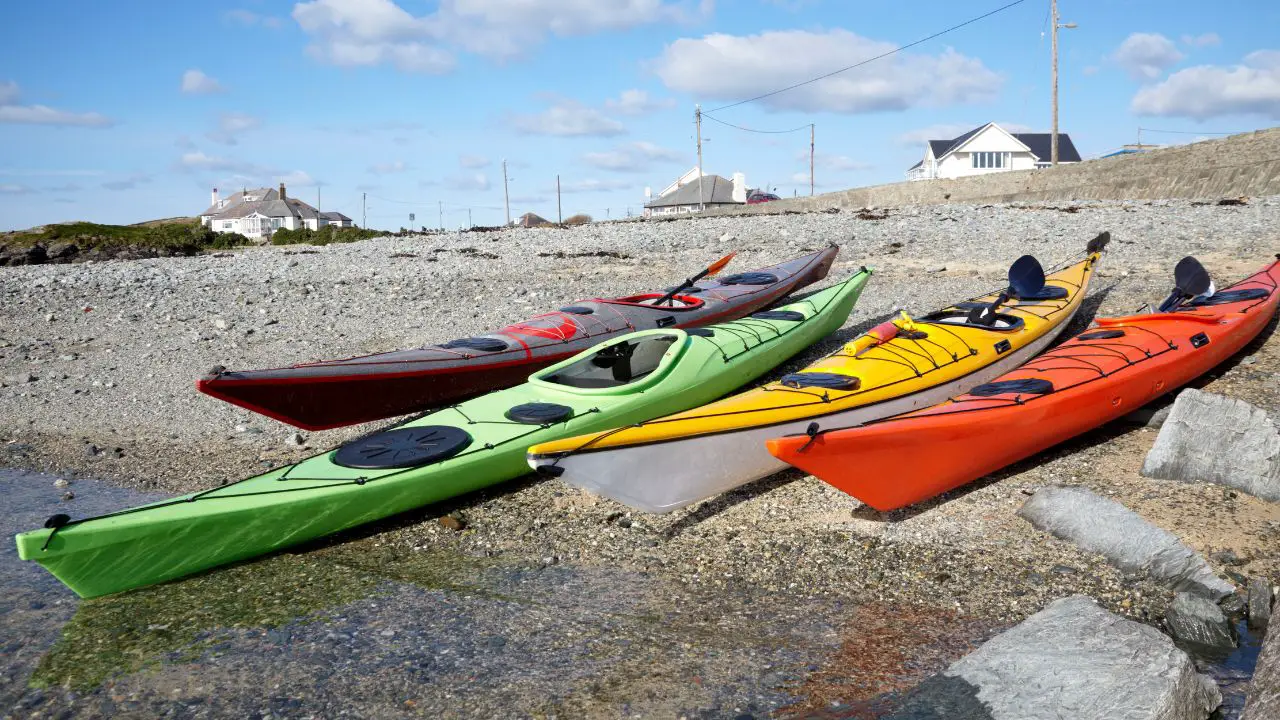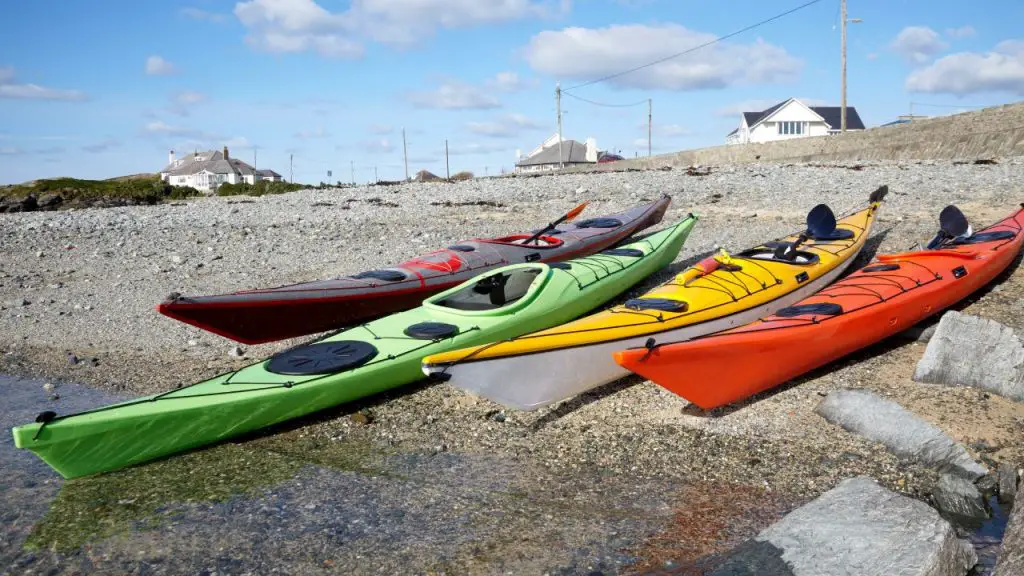 When you are camping on the bank of a river or coastal area, you should put the kayak in a secure place. Especially at night, your kayak is not secure outside. Someone can steal your kayak easily.
There is a good solution if you have your vehicle with you. Just lock the kayak to the carrying handle or part of a car that is more convenient. 
You can lock up the kayak by following the previous process to a tree, table, or solid object that is fixed or unmovable.
So, lock up your kayak when camping by following these steps. 
First, find the permanent object and select your lock (cable lock, chain lock, loop style lock, etc.)
Second, Place your kayak behind the object and tie it with the rope or lock chain
Finally, lock it and enjoy your camping. 
If you have an inflatable kayak, it will be easier to secure while camping. You can put it inside the tent or your vehicle.
3 Tips to Prevent Your Kayak from Being Stolen
Protecting a thief is sometimes really difficult. When a thief gets a chance, he will steal your kayak outside. You can follow some ways that will help you prevent kayak theft. We listed the tips here. 
Getting Kayak Insurance is one of the legal ways to claim your losses against theft. You can do the most reliable insurance service in your area. 
Keep Your Kayak Hidden from View: A visible thing will be easily targeted by thieves. They can plan to steal your kayak perfectly. Try to hide the kayak with a dust cover or something else.
Keep A Record Of Your Kayak's Hull Identification Number: It will enable you to file a police case. You can easily identify your kayak and claim when it will be rescued.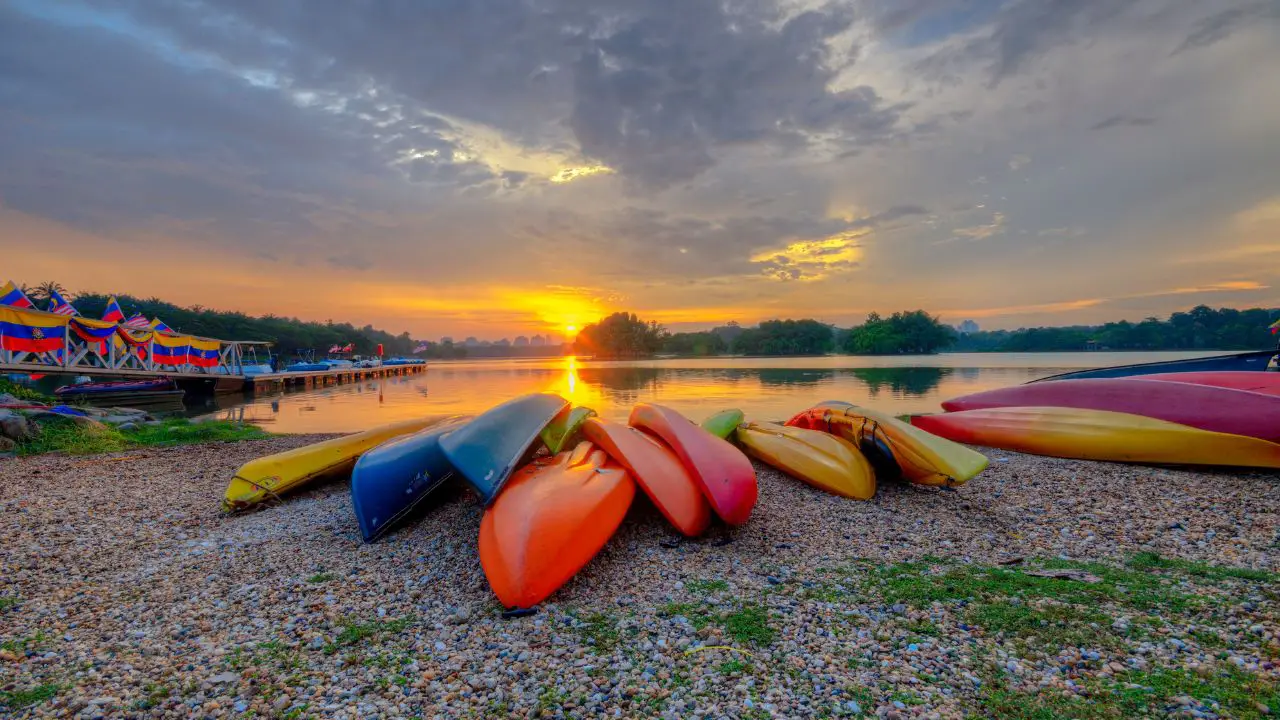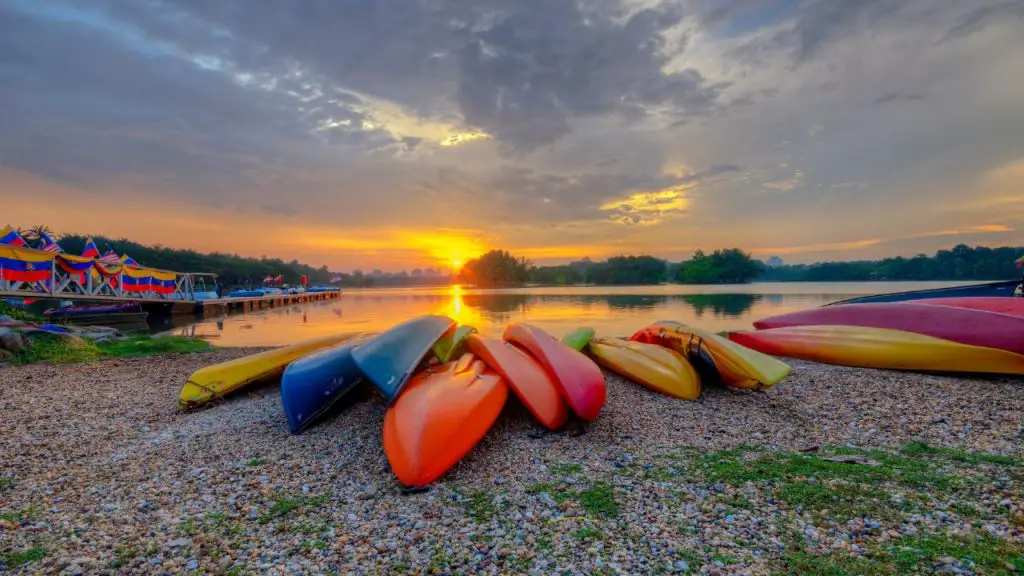 8 Best Kayak Locks
You might ask, which are the best kayak locks? Several kayak locks are available in the market. We found the best 8 kayak locks that ensure high security.
This versatile cable lock is suitable for kayaks, canoes, paddle boards, and more. It comes with 18 feet long high-quality galvanized cable. 
The cable will protect your kayak from being theft and scratched. Furthermore, the anti-slip design will keep your kayak secure during transportation and storage for a long time.
This quick, easy, and portable lock will provide extra security to your kayak.
If you are looking for a quality cable lock for ocean-specific kayaks, it will be the best choice.This cable lock is great for protecting your kayak in storage at a local marina and at home. 
You will love the simplicity of using and effectiveness of this kayak. It has an easy-to-use design and a high-security lock.
Remember, this lock is not suitable for recreational kayaks, fishing kayaks, sit-on tops or hybrid kayaks. 
KanuLock Lockable Tie Down Straps is an ideal lock for roof racks. It comes with 2.5mm braided stainless steel cables of 3.3M length. The buckles are designed to provide a highly secured lock.
You can lock up your kayak on the roof rack while transporting it on highways and off-roads. 
Next, we have the Thule Lockable Strap that comes with 10 feet length and rubberized strap. It helps to protect your kayak and vehicle from scratches. The nylon sleeve inside the cable ensures the security of items. 
You can use this universal lock for traveling and transporting your kayak. The sturdy, strong, and easy-to-use design will ensure tight security.
If you have a sit-on-top kayak, this lock will be the best anti-theft device for you. It is made with vinyl-coated galvanized steel aircraft cable. 
The temper-proof lock provides greater security in the driveway or on off-roads. 
The customizable design and combined lock system offer four-digit number security. You will get a one-year warranty and a carrying bag with this kayak.
The Master Lock 8417D Python Cable Lock is suitable for securing outdoor equipment. It comes with easy to use key-system design and stainless steel material. 
You will get flexible applications to protect your kayak outdoors. 
You can also use this lock for a trailer, cargo career, entrance and more.
DocksLocks Anti-Theft Weatherproof Coiled Security Cable provides high protection against thieves. The design allows the lock to pass through narrow spaces like kayaks or boats. 
It has a keyless convenience option with a four-digit code. The full five feet cable has a durable plastic coating that is scratch-proof.
The lock will ensure better security for your kayak no matter where you are.
Finally, we have the Master Lock 8143D that comes with a protective vinyl coating. This flexible lock is suitable for all types of kayaks. 
You can secure your kayak with a four-digit combination of keyless security. It offers high-performance security and durability. Besides, the self-coiling design makes it easy to use and store.
FAQs
How do you lock a kayak to a public rack?
You can lock a kayak to a public rack using a cable lock. Some locks come with a keyless four-digit security code.
Is there a way to lock kayaks to the roof rack?
Yes, some locks are specially designed to lock your kayak to the roof rack. The Kanulock Lockable Stainless Steel Tie Down Straps is an ideal roof rack lock. 
How do you lock a seat on top of a kayak?
Take a cable or strap lock and tie the kayak crossover to lock with a permanent object. You can remove the paddle if possible. 
How do you store a kayak temporarily?
You can simply put the kayak in a safe place and lock it with a protective cable lock. It is not necessary to tie too hard. 
How do I store my kayak in my garage?
You can set a steel rack around one or two feet high and store your kayak when you are not using it. 
Conclusion
In conclusion, it can be said that locks will secure your kayak in different places. A lock must be suitable for the type of kayak. 
There are some versatile locks. You can use them for several purposes. You should be concerned about the quality and durability of the lock. 
Besides, a portable lock will give you more freedom to carry the kayak in a remote place. Stay with us for the latest kayaking update of kayaking.