How much do fishing kayaks cost? This is the first question many new kayakers ask if they want a new fishing boat. Unfortunately, there is no direct response to this question.
The cost of fishing kayaks depends on many factors, including the kayak type and size. You can also consider other things such as brand, material, and features.
Read on to find out all the information about the cost of fishing kayaks. We will also estimate the cost of different kayak types and designs as a reference.
Is It Worth Buying a Kayak for Fishing?
Yes. You should invest in a reliable fishing kayak for fishing. Other kayaks can also be converted into fishing kayaks but are not the best for the intended purpose.
Most fishing kayaks are designed for stability and have higher weight-carrying capacity. They can accommodate your catch and fishing gear without the fear of capsizing.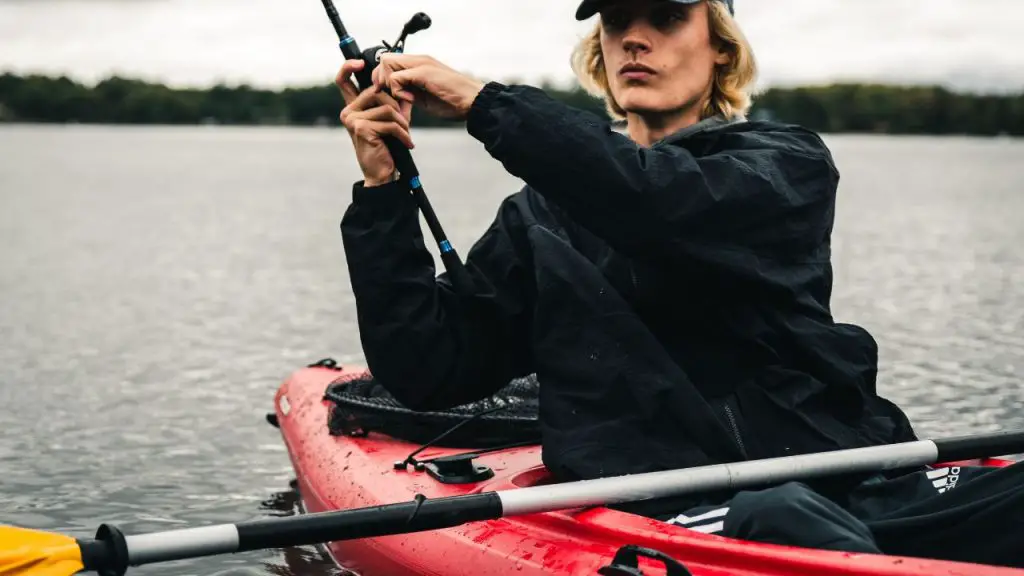 How Much Does a Fishing Kayak Cost?
Fishing kayaks are often more expensive than recreational boats, but that also depends on the brand and where you buy it. The accessories with your kayak can also significantly increase its price tag.
On average, your budget can be $390 for a fishing kayak, but some high-end fishing kayaks can cost more than $4,000. Recreational kayaks, on the other hand, cost between $500 and $800.    
The chart below shows the average and base costs of various kayak types and brands. You can use it as a reference, not an only source because the prices change with time.
| | | | |
| --- | --- | --- | --- |
| Types of fishing kayak | Average cost | Model recommended | Base cost (around) |
| Sit-On-Top Fishing Kayaks | $400 to $3,000 | Pelican Catch 100 | $600 |
| | | Lifetime Teton Angler Pro | $650 |
| | | Pescador 10.0 | $680 |
| Fly Fishing Kayaks | $1,000 to $6,000 | Old Town Twin Heron Angler | $1,000 |
| | | BKC PK14 Angler | $2,337 |
| | | Hobie Mirage Pro Angler | $4,677 |
| Inflatable Fishing Kayaks | $900 to $3,000 | Advanced Elements Straightedge Angler | $870 |
| | | Sea Eagle FastTrack Angler | $1,199 |
| | | Hobie Mirage Inflatable 12 | $2,699 |
| Fly Fishing Kayaks | $600 to $2,000 | pelican Sit-on-Top 10 | $590 |
| | | Perception Pescador 12 | $850 |
| | | Wilderness Systems 140 | $1,319 |
| Pedal Drive Fishing Kayaks | $1,500 to $4,000 | Hobbie Mirage 10 | $1,649 |
| | | Old Town Sportsman PDL 106 | $2,199 |
| | | Hobbie Mirage Pro Angler 14 | $4,449 |
| Motorized Fishing Kayaks | $1,400 to $5,000 | Feel free Lure 11.4 v2 | $2,299 |
| | | Old Town AutoPilot 120 | $4,000 |
Sit-On-Top Fishing Kayaks
Sit-on-top kayaks are the most affordable option if you have a tight budget. The cost can be as low as $400, but some high-end ones can cost you thousands of dollars.
The main highlights of sit-on-top fishing kayaks include stability, comfort, and sleek appearance. High-end and costlier versions come with better stability and more comfortable adjustable seats. But others may also have additional features.
It is common to find some expensive sit-on-top kayaks with tracks, larger cargo space, flush-mounted rod holders, and higher build quality.
Perception Outlaw 11.5 | Sit on Top Fishing Kayak 
Tandem Fishing Kayaks
Some fishing adventures can be scary, or you need a buddy or family member. With a tandem fishing kayak, you can carry one more passenger to accompany you.
Tandem kayaks are heavier and longer than other types. And as you can expect, they come with a higher price tag. Tandem kayaks on the higher end of the price spectrum are more comfortable, have more room and storage space, and have superior build quality.
But tandem kayaks without engine or pedal drive costs less and may be the best choice if you don't have the budget for high-end boats.
Depending on the factors stated, a tandem fishing kayak can cost as low as $800 or as high as $6,000.
Lifetime 10 Foot, Two Person Tandem Fishing Kayak with Paddles
Inflatable Fishing Kayaks
An inflatable fishing kayak is ideal if you have a problem transporting your kayak to the fishing ground. You can deflate it to fit in your car and then inflate them when you get to the shore.
However, inflatable fishing kayaks sacrifice a percentage of stability and other features that the solid-hull counterparts have. But they are still a good choice also if you have a tight budget. Some cost only $900, but others can have high price tags of up to $3,000.
Sevylor Coleman Colorado™ 2-Person Fishing Kayak
Fly Fishing Kayaks
Fly kayaks are a unique category of fishing kayaks. They are designed to skim over shallow waters of swamps, marches, canals, rivers, and lakes. You can also use them on frozen waters.
Fly fishing boats are stable. Additionally, you don't need to wear waders when you use this kayak type for fishing.
Another advantage of fly fishing boats is they are more affordable. Their prices range from $600 to $2,000.
Pelican Sit-on-top Fishing Kayak
Pedal Drive Fishing Kayaks
Pedal drive fishing kayaks keep your hands free to cast your fishing nets. Still, these additional features can significantly increase the cost. They are equally sturdy and stable, with the only downside being the increased price.
Pedal drive fishing kayaks cost about $1,500. But if you are ready to invest in a top-tier boat, consider a budget of $4,000
Pedal Kayak Fishing Angler 11' | sit on top or Stand
Motorized Fishing Kayaks
Paddling may only be for some. Besides, it becomes more difficult when you have a boat full of your catch and fishing gear and keep all your hands engaged. That is where motorized fishing kayaks come in. However, they are the most expensive category.
Motorized fishing kayaks have a trolling motor attached to the boat's hull that helps to propel them. These fishing kayak types also have advanced features, with some including a spot lock to hold them in position.
The complex technology and built quality of motorized fishing kayaks make them the most expensive. The prices range from $1,400 to $5,000, depending on the brand, size, amenities, and accessories included in the boat.
Old Town Sportsman 106 Powered by Minn Kota Motorized Fishing Kayak
Different Fishing Kayaks Will Cost Differently
As mentioned, different fishing kayaks will have varying price tags. That depends on the design, material, brand, and features. You may need to omit some features to keep the cost of a fishing kayak down. Let's break it down for better understanding.
Brands
Like all other products, the brand name influences the price tag of fishing kayaks. Those from big names in the market are usually the most expensive, which you can understand because quality is always guaranteed.
Smaller brands will lower the prices of their fishing kayaks to win customers and get a more significant market share.
Material
The cost of materials affects the price tag of every product, and fishing kayaks are not an exception. More affordable ones are made from a type of plastic called polythene. These will not hold on for longer than those made from composite materials, such as carbon fiber, Kevlar, or fiberglass.
Fishing kayaks made from these composite materials are more durable. They would be anyone's choice if not for their higher prices.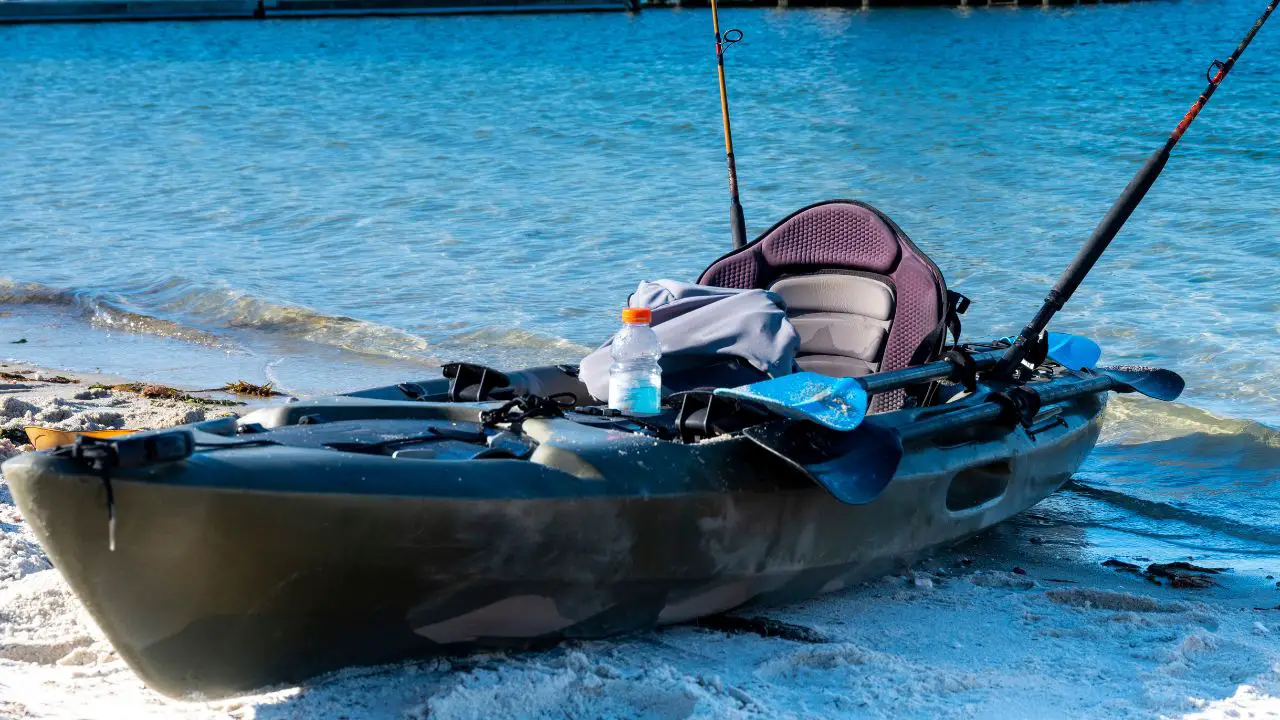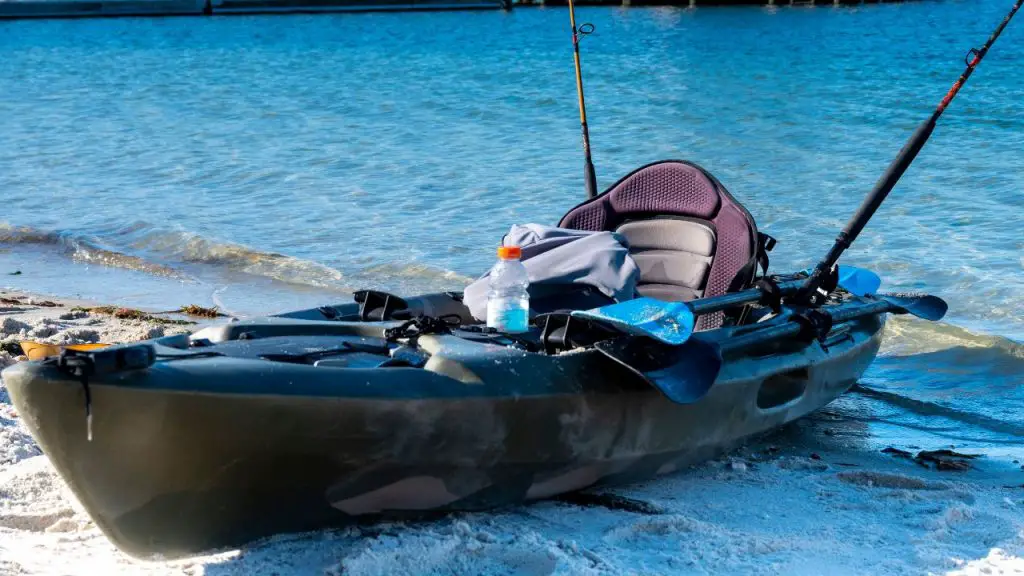 Design of Kayak: Solo or Tandem
Solo fishing kayaks are more affordable than tandem kayaks. That is because they require fewer materials and time to make. Tandem kayaks are usually bigger and need more work hours to make, which increases their price tags.
Features
What features do you have in your fishing kayak? You may need a pedal drive, cup holders, more comfortable seats, rod holders, storage hatches, and many more. But the more features the kayak has, the more expensive it will be.
What Kind of Kayak Is Best for Fishing?
Which is the best kayak type to buy for fishing? It all depends on convenience and preferences. Most people go for sit-on-top kayaks for fishing because of their high stability. You can even stand up on these kayaks.
Should you buy a solo or tandem kayak? It depends on whether you enjoy fishing alone or need a partner. A tandem fishing kayak may be the best choice if you want a buddy or relative to accompany you when you go fishing.
But a solo kayak may be the best option if you go fishing alone. But choose a pedal drive or motorized boat to free your hands to cast your net and pull your catch into the boat.
FAQs
What is the average cost of a kayak?
The cost of a kayak depends on the purpose. A fishing kayak costs $390 to $4,000, recreational kayaks from $500 to $800, sea kayaks from $2,000 to $5,000, and touring kayaks from $1,000 to $2,000.
How much does a kayak cost to rent?
The cost of renting a kayak depends on the location, duration, type, and size. The rental fees fall between $25 and $35 per boat for 2 to 4 hours and between $40 and $60 per day. But it can depend on the rental company.
How much are used kayaks?
You can get a good deal on a used kayak, often half the retail price. But these prices vary from model to model and may differ for different kayak categories. You can get used kayaks in good condition on eBay, Amazon, or from a friend at about 50% – 75% of the price it would cost to buy new ones.
Conclusion
Invest in a good fishing kayak if you like fishing. The top-end brands and boats may be expensive, but they are what you need for a longer service life. They are also more stable and comfortable compared to low-end kayaks.
You can also find quality fishing kayaks at the best price on a tight budget. Still, you should consider the features and accessories you need before the purchase.
Thank you for reading this article at Windpaddle. We appreciate your time and kindly request you share this post with fellow kayakers. We also have related content you can check out on this website.