How do you carry a kayak on a Jeep Wrangler? If you have a jeep and want to transport your kayak to a paddling location, you may wonder if it can fit in the car.
Most kayaks are long, up to 18 feet, which makes it impossible to put inside a Jeep Wrangler. The good news is you can still transport your kayak on the Jeep Wrangler. 
Read on for a detailed guide on different ways to transport a kayak on a Jeep Wrangler, including the best roof racks for the car.
Can a Kayak Fit in a Jeep Wrangler?
The response can be a yes or a no, depending on the size of your kayak. The inflatable or foldable kayak can be easily carried in a Jeep Wrangler because they are more compact and can fit in the cargo space.
You can also fit smaller kayaks about 8 feet long or shorter in a Jeep Wrangler. But for longer kayaks, you will need to load them on the roof. It is easier and safer if you have a roof rack where you can strap the boat.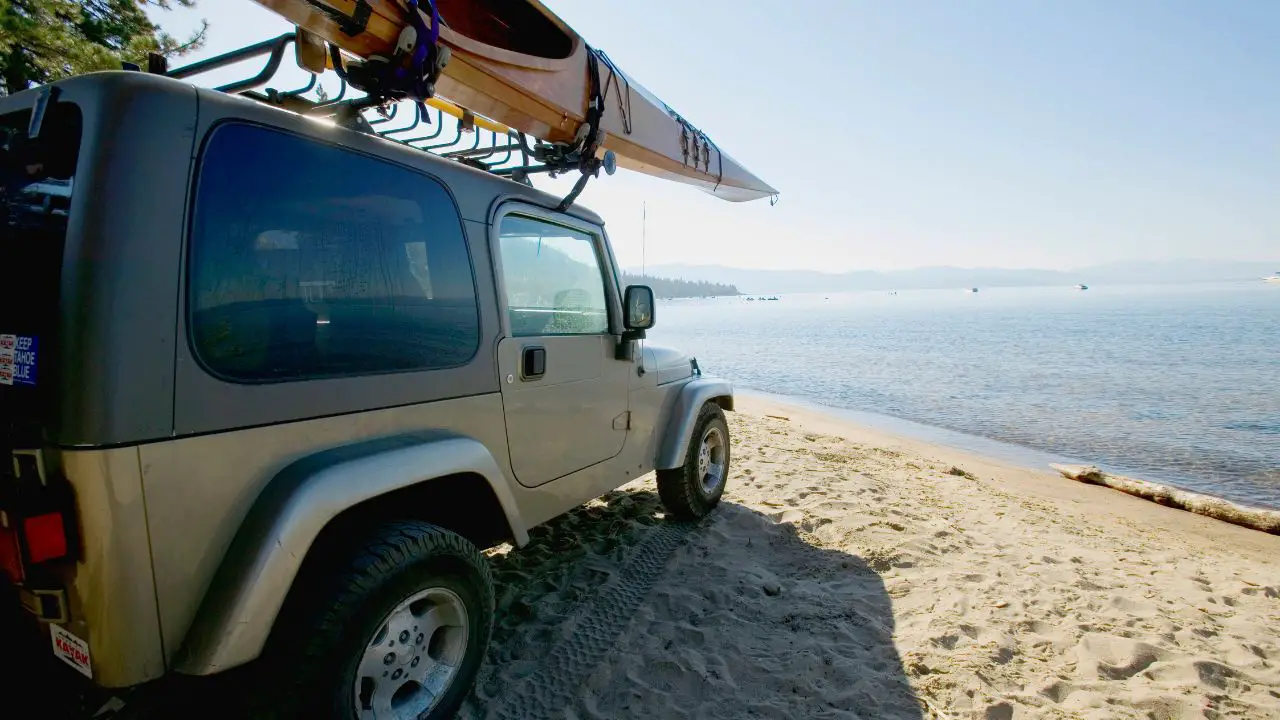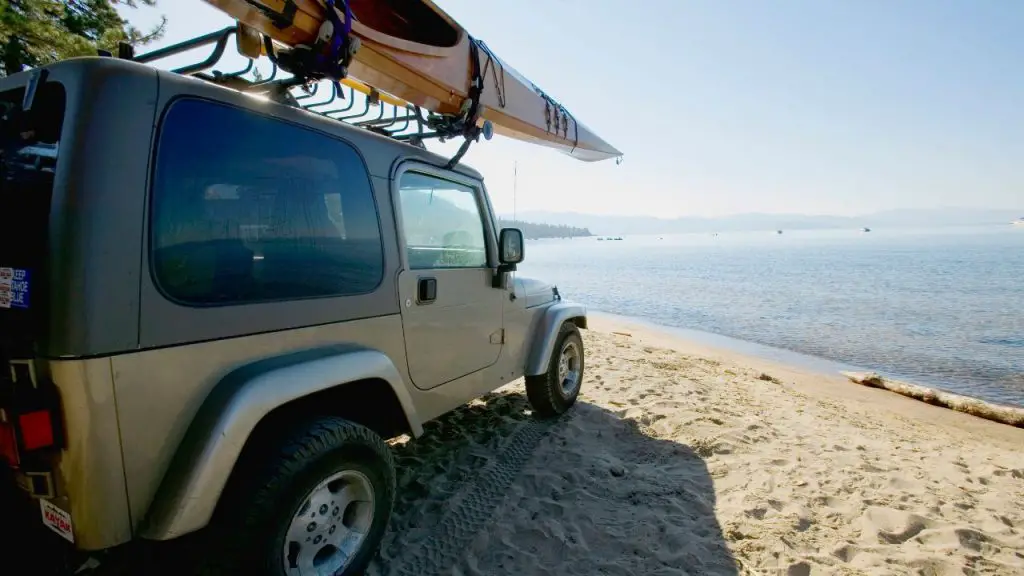 2 Ways To Transport Kayak on a Jeep Wrangler
How you carry your kayak on a Jeep Wrangler depends on whether the vehicle has a soft or hard top. You also need to consider the trim and the number of kayaks you want to transport.
Based on the above factors, you can carry your kayak on a Jeep Wrangler in the following ways:
For Soft Jeep Wrangler
What does it mean if your Jeep has a soft top? It is straightforward! A soft fabric cover is deployed over the top of the car and the rear window. This type of Jeep Wrangler is the most affordable because it does not require insulation or heat to warm the car in winter.
You can also remove the soft top if you need to haul large cargo that cannot fit inside. The soft fabric cover protects the cargo area from the sun. But how can you carry a kayak on your soft-top Jeep Wrangler?
You can haul your kayak using a soft-top Jeep Wrangler in two ways: installing a roof rack or attaching a utility trailer. The former is the most cost-effective option.
Installing a Roof Rack
Installing a roof rack on your soft-top Jeep Wrangler allows you to carry kayaks of different lengths on the vehicle. However, you should invest in the best roof rack for the Jeep Wrangler.
A roof rack meant for any other vehicle won't fit well on the Jeep Wrangler or may cause inconveniences. The best choice should allow you to remove the soft fabric without uninstalling the roof rack.
Buying a Utility Trailer
The other option is buying a utility trailer. Jeep Wranglers have a towing capacity of between 3,500 and 4,000 pounds, depending on the year and model. Check the specifications for your model in the owner's manual.
So, consider the weight of the utility trailer you want to buy and the overall weight when loaded. Typically, a 10-foot-long utility trailer weighs about 1,000 pounds when unloaded. Just add the weight of your kayak to this, and the resulting figure should still be within limits.
Also, consider the weight of other cargo you want to haul with the kayak. Never exceed the tow limit of your Jeep Wrangler, as it can damage your car or void the warranty.
For Hard Top Jeep
As the name suggests, a hard-top Jeep Wrangler has a hard shell of metal or fiberglass covering the entire cabin. This protects the occupants from harsh weather elements and provides better insulation during winter. It also cools the vehicle in summer.
But a hard-top Jeep Wrangler is more expensive to buy and maintain than a soft-top one.
Like a soft-top Jeep Wrangler, you can carry your kayak on top or haul it using a utility trailer. But for this Jeep type, it is easier to transport a kayak on the roof using flat or round crossbars mounted on top.
How To Fit a Kayak on a Jeep Wrangler In 5 Steps
You can fit a kayak on a Jeep Wrangler following 5 steps, beginning with determining the roof size of the car. We will state the general steps, but they are applicable across different Jeep Wrangler model years. Use the procedure described below to fit a kayak on a Jeep Wrangler: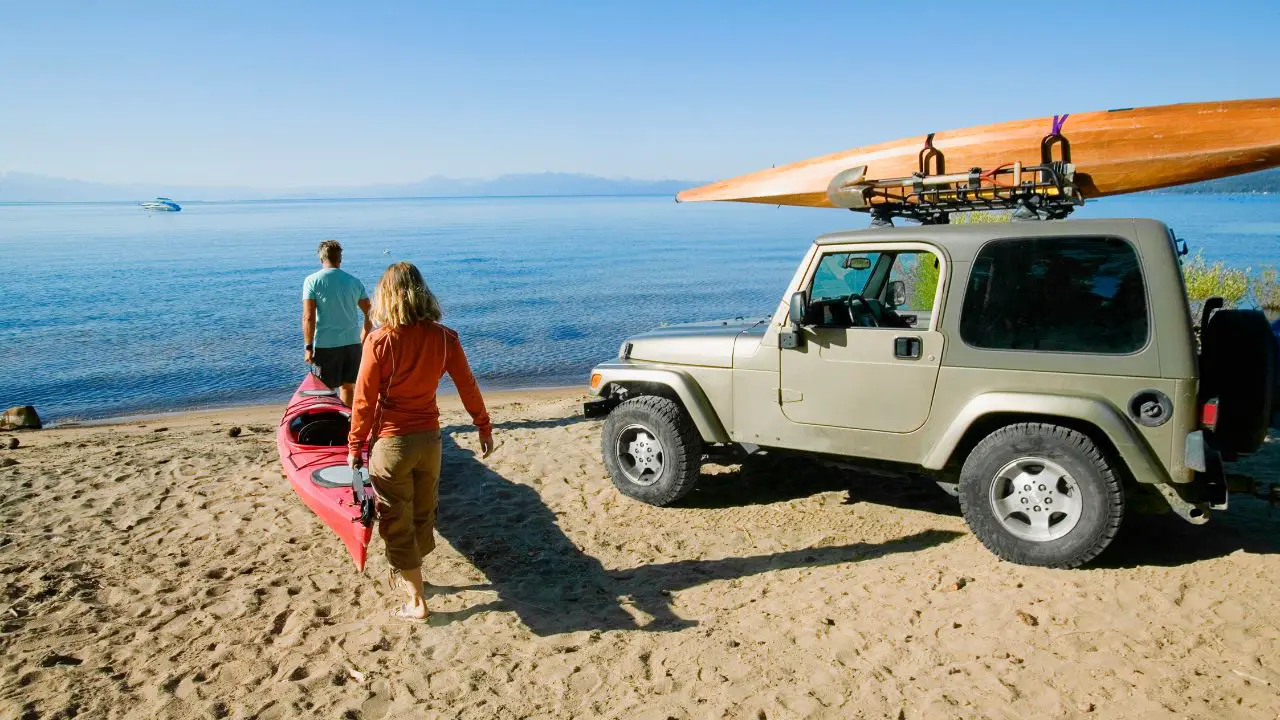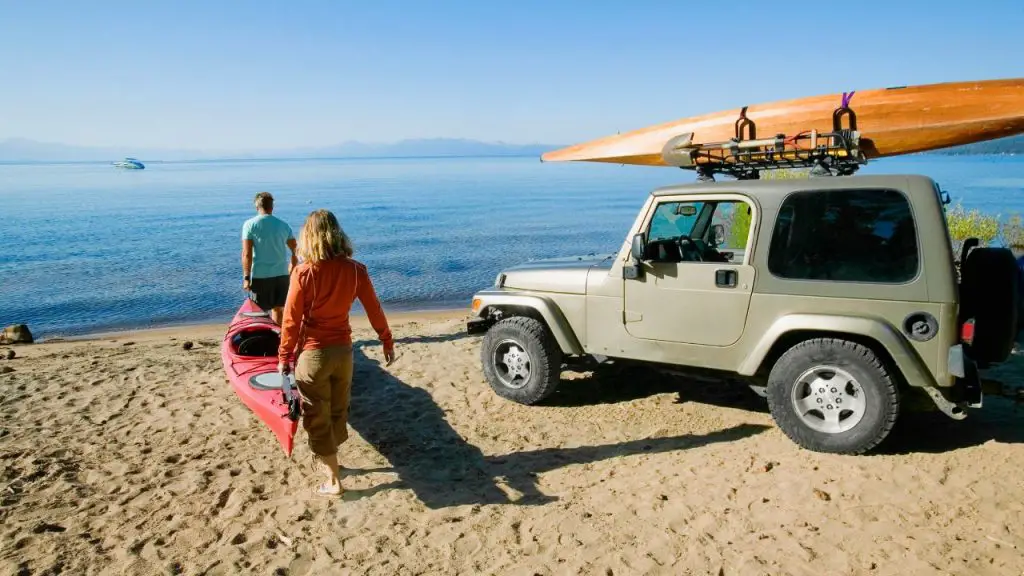 Measuring Your Vehicle's Roof And Choosing Roof Rack
The first step is to know the length of your Jeep Wrangler's roof. Different vehicle trims have varying lengths. That means there is no universal roof rack for all Jeep Wrangler models.
Measure the length of your vehicle's roof and width. You will need these specifications to buy an appropriate roof rack.
Cleaning The Entire Roof
Cleaning the roof of your Jeep Wrangler is straightforward. Just follow your usual routine, ensuring all debris and objects are removed. That applies to both soft-top and hard-top Jeep Wranglers.
Once cleaned, mask the spots where the roof rack will be laid. This will ensure you don't scratch the vehicle while installing the roof rack. The step, however, is unnecessary if you buy a no-drill roof rack or own a soft-top jeep.
Kayak Rack Installation
A kayak rack installation is also a straightforward DIY process. But depending on the type of roof rack purchased, you may have to loosen screws and bolts before the next step. You may go for a stacker, J-cradles, and pads and follow the manufacturer's instructions.
Attach crossbars, which must happen on the vehicle's roof. Do not pre-assemble them on the table. The procedure of installing crossbars may vary slightly for Jeep Wranglers with soft tops. They require a backbone structure to be bolted to the four corners. These offer support for the kayak rack and any load added on top.
Now position or center the kayak rack on the roof, considering the OEM safety guidelines and other aspects that may void your car's warranty and insurance.
The last step in installing the kayak rack is affixing it to the roof. Suppose you have purchased a standard roof rack system with gutter mounts and cross bars. You only need to fasten the kayak roof rack in place.
Additionally, you may need to install short roof adapters to increase the surface area and kayak rack's load-carrying capacity.
Load The Kayak
The next step is lifting your kayak off the ground and loading it on the just-installed roof rack. You can do that yourself if the kayak is lightweight. Otherwise, you will need help from a friend or a family member.  
For a lightweight kayak, lift it and put it on the roof rack. But for a heavy one, align it perpendicularly to the vehicle and push it up to balance on the roof rack.
Secure the Kayaks
Use a cam or ratchet strap to secure your kayak on the roof rack. Place one near the front and the other towards the back. Use a rope or twine to tie the kayak to the bumpers of your Jeep Wrangler. Don't over-tighten the kayak to avoid dents on the hull.
Sunferno Ratchet Straps Tie Down 2500Lbs Break Strength, 15 Foot
Can You Carry a Kayak on the Roof of a Jeep Wrangler Without a Roof Rack?
Yes. You can carry a kayak on the roof of a Jeep Wrangler without a roof rack, but it is not recommended. That is because the roll bars of your Jeep are not strong enough to securely hold the kayak.
Crossbars increase the load-carrying limit of your vehicle. It also ensures the safety of the kayak on the roof. But if you insist on using the roll bars, don't travel too far and keep your speed down. Also, stop more often to check the state of your kayak up there.
Best Roof Rack for Jeep Wrangler
Roof racks for Jeep Wranglers are designed differently from the ones you would fit on an ordinary vehicle. This car for outdoorsy people is uniquely shaped and requires specific roof racks, which come in different sizes and shapes.
The following are the most recommended roof rack for Jeep Wrangler:
This is one of the best roof racks for Jeep Wrangler available. It features a built-in boarding ramp, making it easy to load your kayak. It also has a fold-down technology, which increases overhead clearance.
The Malone Downloader is a universal roof rack that fits round, square, and oval cross rails. This kayak roof rack also has cam-style load straps that come with buckle protectors.
This is a cost-effective option featuring inflatable technology. Its air-filled bars cushion and protect your kayak and car's roof from scratch.
This roof rack is multipurpose equipment for transporting all cargo types on the roof of your Jeep Wrangler. It also fits all vehicle types, including 4x4s, but is unsuitable for cars with soft tops and should be removed from the vehicle after use.
Exposed Racks offers a cool way of carrying your kayak on top of the Jeep Wrangler and many other vehicle types and models. It is easy to install and fits both soft-top and hard-top Jeeps.
Unlike the previous roof rack, you don't need to remove these Exposed Racks after use. The crossbars are fully electroplated and powder coated to withstand any harsh weather element.
This roof rack can be used in different Jeep Wrangler model years, from 2007 to the latest model in the market. It features wind noise-reducing strips made of the highest quality aluminum alloy and ABS plastic.
The roof rack is made by assembling 2 crossbars and 4 mounting brackets. However, it has a relatively low weight carrying capacity of 88 pounds. It is ideal for lightweight kayaks and other accessories.
Like the previous Jeep Wrangler roof rack, this product also fits almost all Jeep Wrangler model years. But it gives you a double weight carrying capacity of 165 pounds with even weight distribution.
The Snailfly Crossbars are easy to install by mounting the rain gutter on the hard top. You don't have to drill or cut anything. You only need to assemble the various parts and fasten them on the Jeep.
The last recommendation is the Mopar Accessories Rack Kit for 2018 and 2019 Jeep Wranglers. Like the previous product, it is easy to install as no drilling is required. You can easily mount it to the hard-top drip rail.
This roof rack features all aluminum construction with a black powder-coated finish. These make it corrosion-proof for a longer lifespan.
FAQs
Can you strap a kayak to the top of a Jeep Wrangler?
Yes. You can strap a kayak to the top of your Jeep Wrangler without a roof rack. However, it is not recommended for long-distance hauling. That is because the rails are not strong enough to hold a kayak for a long time.
How do you secure a kayak to a Jeep soft top?
The best way to secure a kayak to a soft-top Jeep Wrangler is by installing a kayak rack. That makes it easy to use cam or ratchet straps to fasten your kayak.
Can I just tie my kayak to my roof rack?
Yes. You can tie a kayak to your roof rack by wrapping straps around it. Do it where the roof rack attaches to the car. And to secure your kayak, take the end of the strap and knot it against the straps, and you should be ready to hit the road.
Do you need to tie down the front and back of the kayak on the roof rack?
Yes. Do so to restrict your kayak movements when accelerating, braking, or negotiating corners. Ensure you strap a kayak at the front and back to secure it on the roof rack.
Wrapping Up
Jeep Wrangler is the best vehicle type for outdoor use. But it may be challenging to carry a kayak in because of the limited cargo space.
Fortunately, you can install a kayak rack on the roof, allowing you to transport the kayak on your Jeep Wrangler. Alternatively, you can buy a utility trailer, but the first option is the best.
Thank you for reading this article at the Windpaddle. We believe your questions are answered, and now, you can confidently carry a kayak on your Jeep Wrangler. Kindly share this article with friends and check our website for more related content.