Summer is the ideal season for kayaking, thanks to the sunshine and warm water. But the fun you derive from kayaking largely depends on what you wear when paddling. Yes, it's important to choose your outfit wisely. 
While experienced kayakers gradually figure out what outfits are appropriate for watersports in summer, beginners tend to care less about what they wear.
If you are planning to go kayaking on a hot summer day and wondering what to wear, keep reading. The goal of this post is to help you choose the right outfits for kayaking in summer. 
What To Wear Kayaking in the Summer?
Regardless of the time of the year, a kayaker should wear cloths that dry quickly. Choose cloths that provide adequate protection from the sun. Also, make sure the outfit is comfortable for you.
Dress in layers so that you can drop a layer or two when the temperature rises. You may choose to wear cool, thin cloths that are breathable but still provide protection from the sun. 
Your risk of getting hypothermia depends on the temperature of the water. So, take this factor into consideration when deciding on what to wear. We are providing a general guideline in the following table: 
| | | |
| --- | --- | --- |
| Water Temperature | Risk of Hypothermia | Appropriate Clothing |
| 60ºF and up | Low | Choose Clothing depending on the weather |
| 55-59ºF | Moderate | Wetsuit or drysuit |
| 45-54ºF | High | Dry suit recommended |
| Below 45ºF | Extreme | Dry suit strongly recommended  |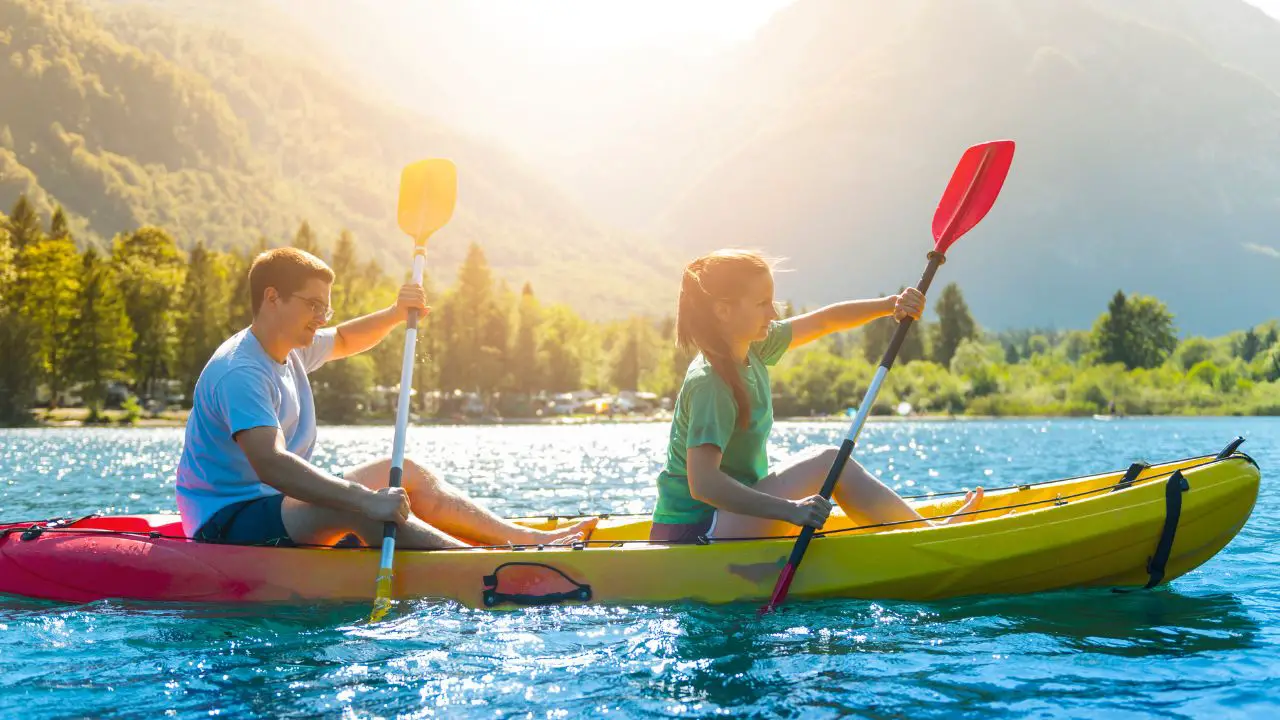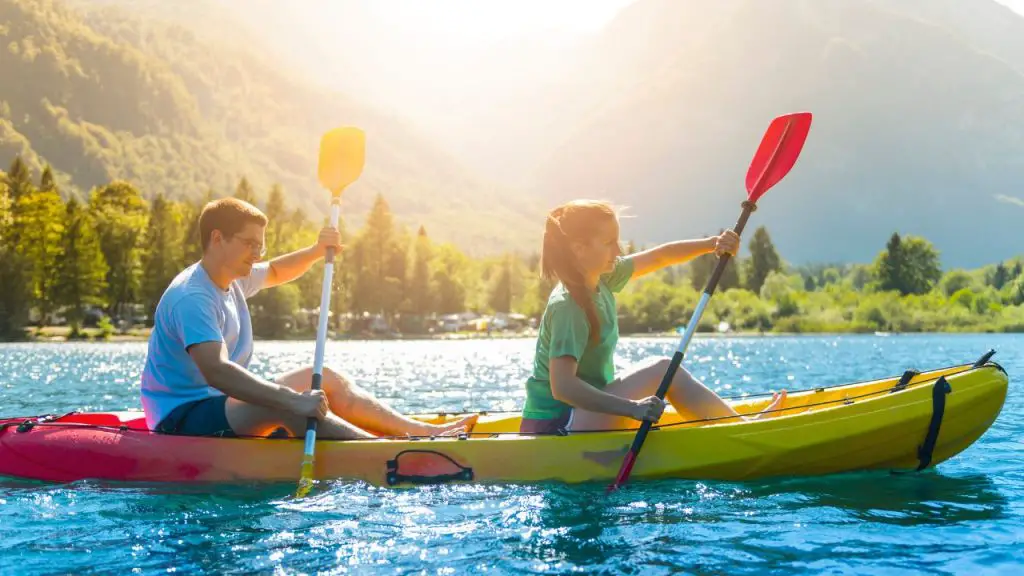 Quick-Drying and Comfortable Fabrics
No matter what type of weather it is, chances are that your cloths will get wet if you paddle for a long period of time. That's why you should opt for cloths that dry quickly, reducing your risk of catching a cold. 
But be sure to avoid pants made from super thin materials because they are not intended to be used in harsh environments. Do not choose jeans pants either, because they can be too tight or binding. Try to find something in between these two extremes. Quick -dry nylons and synthetic polyesters are pretty good options. 
If the water is warm and you would like to take a dip, consider wearing a swimsuit as your base layer. However, in a place with mild summers, the water can be chilly, even in summer. 
There's a precise way to tell if you should wear a wetsuit. Measure the temperature of the water and air, and add the two figures together. If the total is below 100°F, a wetsuit is the best option for you. 
Wear Cloths That Provide Protection from the Sun
Consider choosing cloths made from UPF (ultraviolet protection factor)-rated fabric. The factor is an indicator of how much protection the fabric can provide against the sun. A UPF of 50 blocks 98% of the rays of the sun, keeping you safe from UV rays. 
To protect your skin from overexposure to the sun, you can wear a spandex or lycra-made rash guard with long sleeves, a quick-drying top, or a technical shirt. 
Safety Gear
While kayaking is a relatively low-risk sport, things can go wrong in many ways. Therefore, make sure you are equipped with the right safety gear before you go to spend time on the water. 
Wear a PFD. Learn about the paddling environment, especially the water temperature and wind conditions, and choose your safety gear depending on safety gear requirements for that particular area. Items may include a bilge pump, backup paddle, compass, towel, anchor, and knife.
Onyx MoveVent Dynamic Paddle Sports CGA Life Vest
Accessories
First, of all, choose a pair of kayak shoes that fit smoothly without causing constriction, tightness or any kind of discomfort. 
Wear gloves made from neoprene or spandex. The gloves should fit snugly, and stretch over your fingers. They should allow freedom of movement and sufficient blood circulation. 
To protect your face and eyes from the scorching sun and ultraviolet rays, consider wearing a wide-brimmed hat. 
There are sunglasses that offer 100% UVA and UVB protection. UV rays can cause damage even when the sun is not shining brightly. So, wear sunglasses even if the sky looks cloudy. 
Pro Tips: Cotton absorbs plenty of water and takes a very long time to dry, so avoid cotton. Consider using a dry bag for storing some extra cloths, your phone, and other valuables. A lip balm can protect your lips from overexposure to sunlight.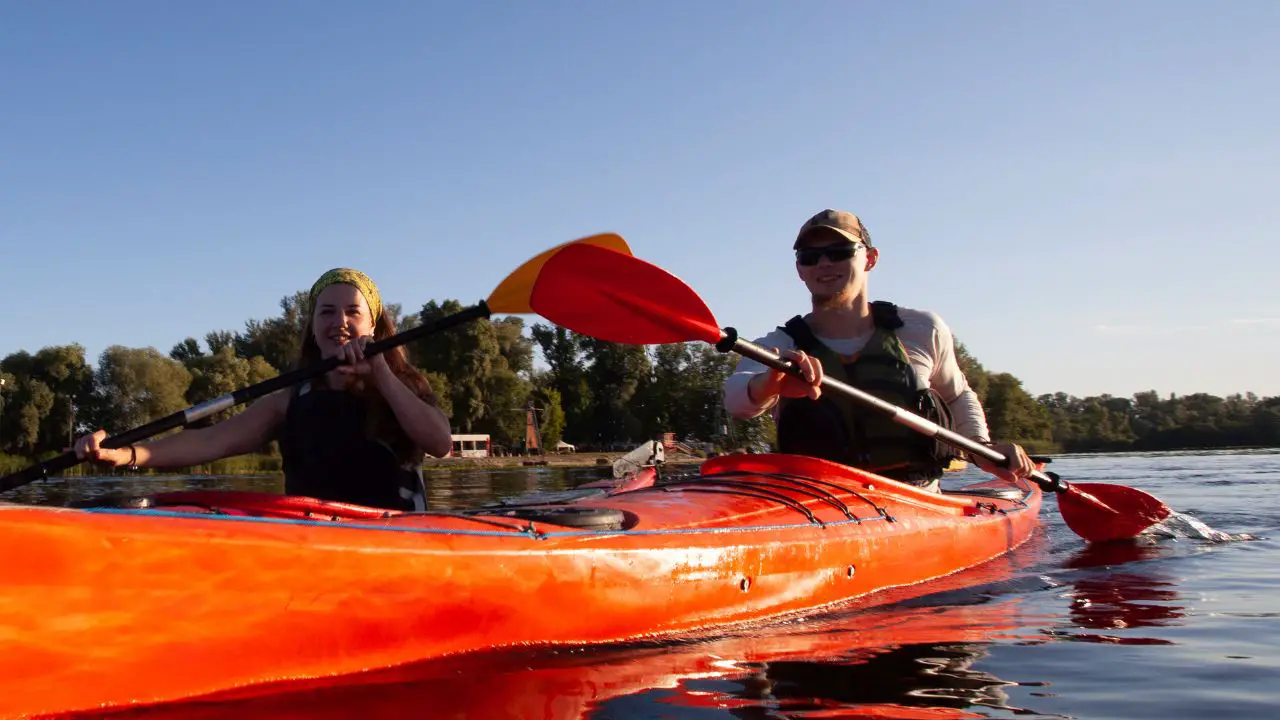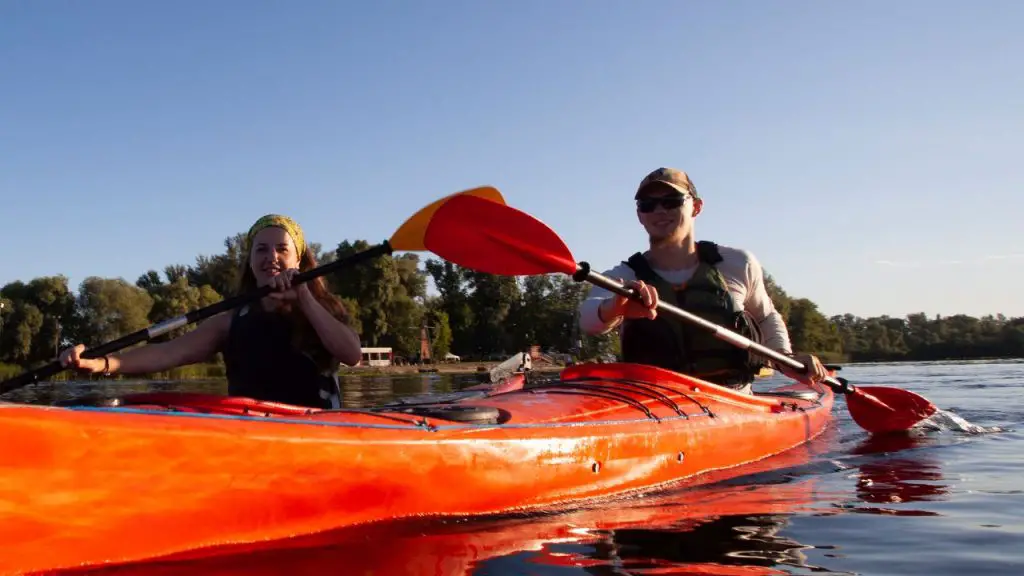 Ideal Outfit for a Perfect Summer Kayaking
When choosing your outfit, take at least these two factors into consideration: water temperature and your personal taste. Here are some recommendations for men and women: 
For men: 
Wear board shorts or swim shorts, or both. These knee-length Tormentor Waterman 5 Pocket Boardshorts are stylish and offer great comfort. And wear Tyhengta Swim Trunks underneath your boardshorts. Made from polyester, elastic and spandex, these quick-drying trunks are great for swimming, surfing and beach volleyball. 
Quiksilver Solid Streak Short Sleeve Rashguard is one of the best kayaking shirts for men. With 50+ UPV, the shirt provides complete protection from harsh UV rays. This spandex sleeve is machine-washable. It's not slim fit, which means it's more like a T-shirt. The fabric is moisture-wicking and chlorine-resistant. 
When choosing shoes for your kayak trip, make sure the shoes are breathable. DOUSSPRT Men's Water Shoes perfectly meet this criterion. These shoes are made from a quick-drying fabric, and the sole material is rubber. They are great for not only kayaking but also wake-boarding, walking, jogging, and cycling. 
And as we have stated, a wide-brimmed hat can offer protection from the sun. Columbia Bora Bora Booney Hat is made exactly for that purpose! 
For Women: 
A female kayaker can wear anything she is comfortable in. If you are comfortable in a Swimsuit, opt for one! Other options include board shorts and a rash guard. 
When it comes to choosing shoes, there are plenty of options. YALOX Water Shoes stand out in terms of style and breathability. The fabric consists of polyester and spandex, and the sole material is rubber. The soles are soft and offer firm grip. 
If you are looking for a beautiful hat, consider getting the stylish Konikit Wide Brim Hat. This hat offers UPF 50+ UV protection. 
What Should You Bring When Kayaking on a Hot Summer Day?
Spending time on water on a hot summer day can be fun and exhausting at the same time. Be sure to bring at least the necessary things such as water, snacks, a whistle, pocket knife, towel, and of course money!.
To stay hydrated, drink adequate water. Here's a loose guideline for your water intake: 
Before Kayaking: A couple of hours before exercise, drink, 17-20 oz  of water. 
While kayaking: Drink water in between paddling—preferably 7-10 oz every 20 minutes. 
After kayaking: Once you have finished paddling, drink 16-20 oz of water for each pound of body weight you have lost due to the session. However, do not attempt to drink this amount of water in one go! Consider spreading it over a few hours.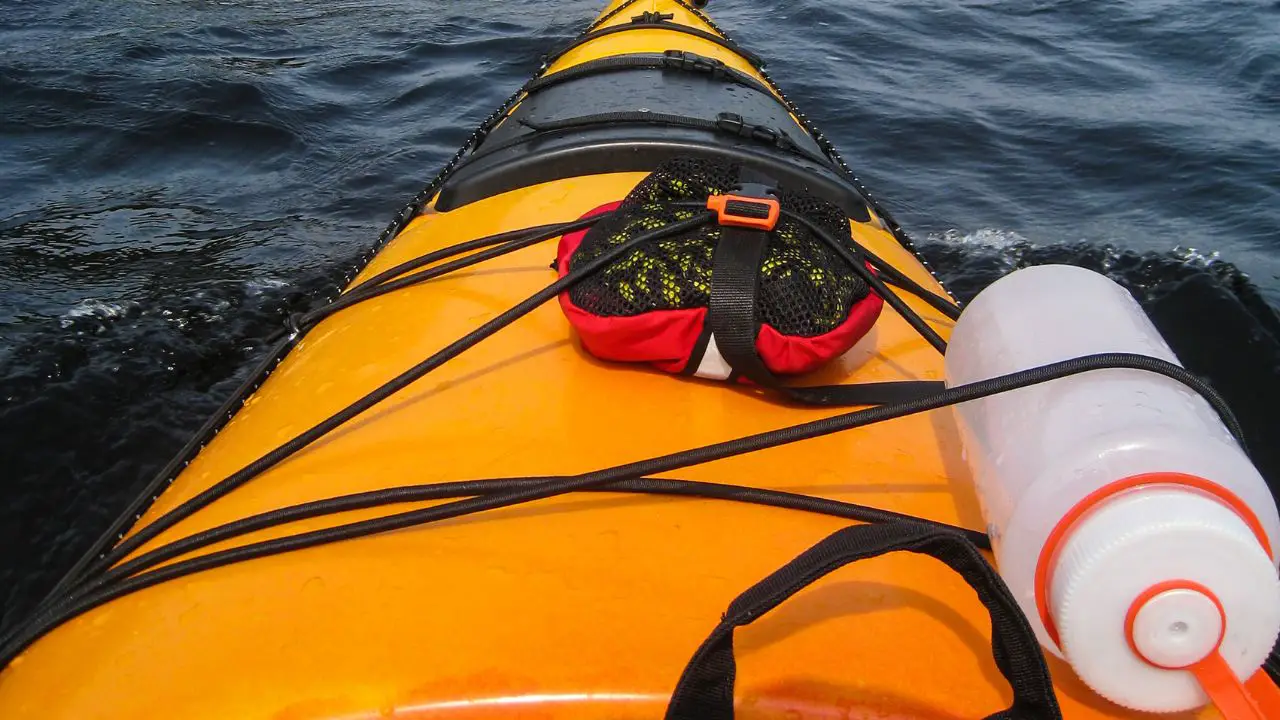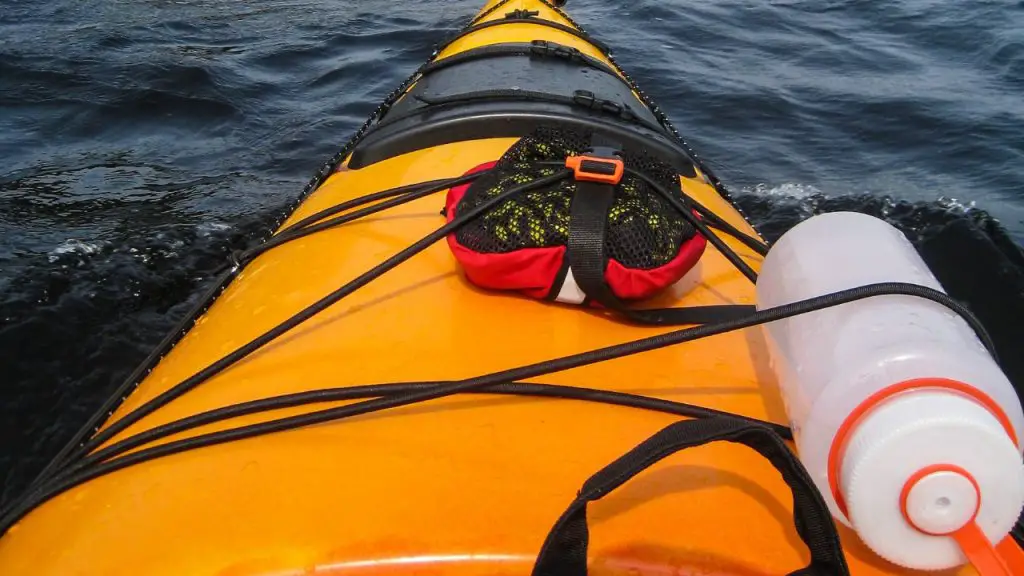 FAQs
What should you not wear while kayaking?
When you go kayaking, do not wear cloths with metal parts such as zippers. If these metal parts are exposed to salt water, they tend to rust.
Do not wear anything that is too tight or constricting. Also, avoid cotton cloths because they absorb plenty of water and take very long to dry. 
What should I wear for the first time kayaking?
As a rule of thumb, wear anything you are comfortable in. You should ideally choose cloths that dry quickly. Consider water temperature, not the air temperature when choosing your outfit. 
What to wear when kayaking 60 degrees?
When the water temperature is 60°F or lower, wear a dry suit, at least a wetsuit. The fabrics of your cloths should be quick-drying. Dress appropriately and wear water shoes. 
Should I wear pants or shorts for kayaking?
Both quick-drying pants and board shorts are good choices for kayakers. Try to avoid yoga pants or anything made from very thin materials. Pants that are too tight will make you feel uncomfortable when you paddle constantly. 
Can I wear leggings while kayaking?
Leggings that are too constricting may not be good for a kayaker. In general, you should opt for pants that are breathable and quick-drying. 
Conclusion
To get the best out of your kayak trip in summer, choose your outfit carefully. We have offered a general guideline in this post, but we encourage you to do some experiments and find something as per your comfort and personal preference. 
The bottom line is, you have to wear clothing and shoes that dry quickly. It all comes down to your comfort and safety. We hope now you are prepared to make informed decisions.