Have you ever wondered about how to kayak with a baby? It turns out that your baby can accompany you on any kayaking expedition, but only when the location is safe. You will not tag along with your baby to every kayaking adventure.
You can safely kayak with your baby if they are about 4-7 years of age, but there are challenges you may need to overcome. Also, carrying your baby is unsafe if the baby cannot sit still in the kayak. It is better to wait until they are strong enough.
Read on to learn how to paddle a kayak with a baby. The post will cover all information and tips you should know before heading to the waters.
Can You Kayak With Children?
Yes. You can kayak with your child within the 4-7 years age bracket. It can be the best feeling to kayak with your baby, but you should be ready to overcome the challenges of tagging a baby.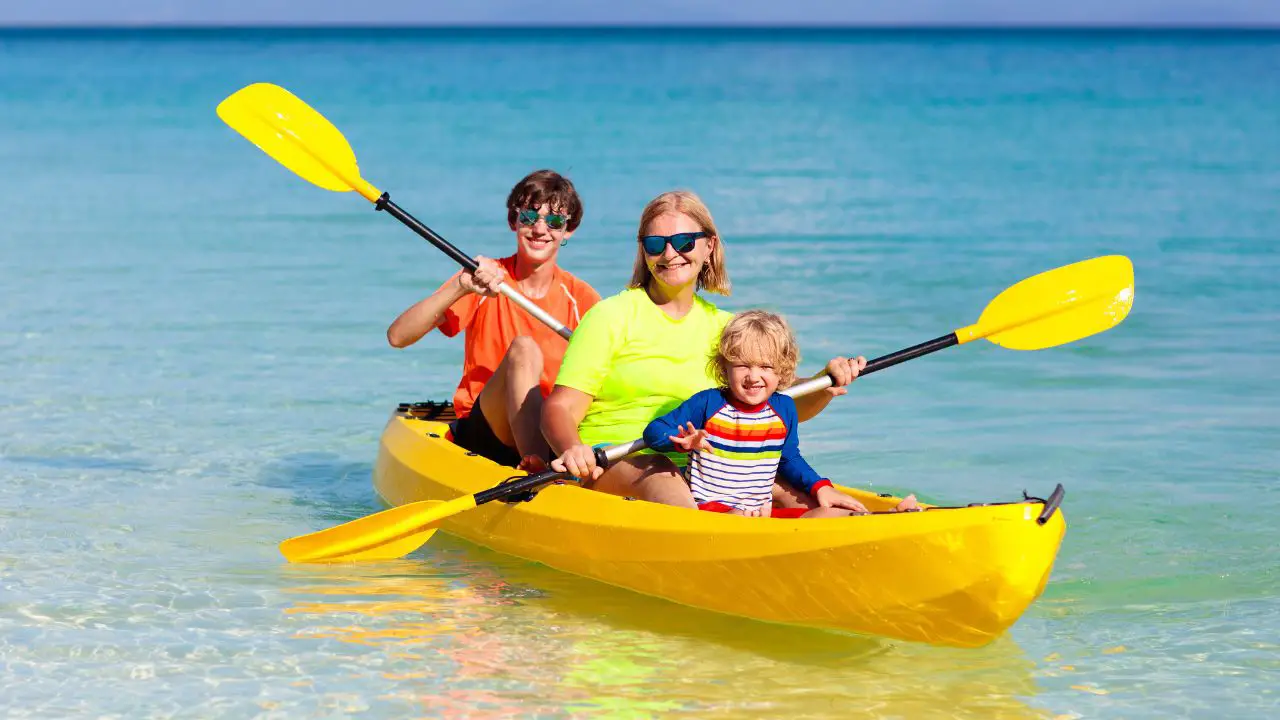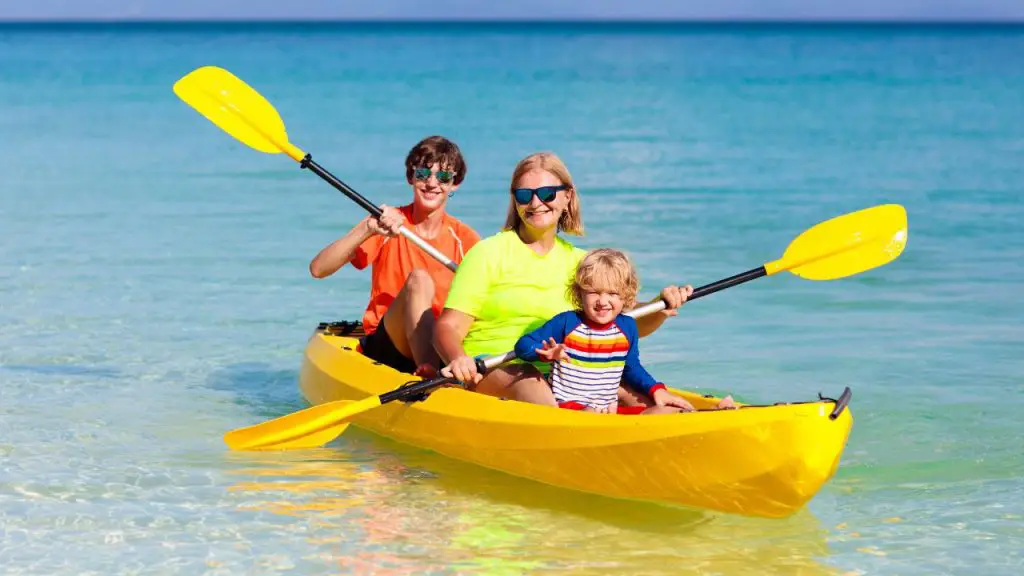 First, pools of water are always on the kayak floor, especially for a sit-on-top kayak. That means your baby will not find any dry place to hang out and will always be in your arms.
Kids between the ages of 4 and 7 can do fine in a kayak. They are assumed old and strong enough to sit still on the bow. However, they cannot provide propulsion. That means you will need extra effort to paddle, which will reduce the distance you often cover when kayaking alone.
Some kids of 4 years can handle a paddle in the bow position if they sit in a tandem kayak, but they cannot paddle just yet. Some between 5 and 6 years old can start to paddle, but you can only expect a little propulsion from these minors. It also depends on the child and kayak.
Most children are ready to paddle when they turn 8 years of age. Some can also learn and pull off some paddling skills to maneuver a kayak.
Caution:
Never tie a baby to a kayak. It is better to skip the kayaking trip if the toddler cannot sit still in the kayak until a later date when they are capable. Avoid tying him with a big-person kayak for safety reasons, It is better not to kayak with a baby than to say sorry.
The content on this site is not intended to replace the advice of your own physician or other professionals.  We suggest that you discuss this information with professionals.

Disclaimer
9 Important Things To Know When Kayaking With a Child
Kayaking with a baby can increase the chances of something going wrong. You should only try it if you are experienced as a paddler or if you have someone skillful with you. Ensure the child can swim or is wearing a personal floatation device (PFD).
Also, ensure you stay in the safe and protected kayaking areas when having a baby on board. Don't explore unsafe kayaking locations with a kid. Also, consider weather elements such as rain and storms before heading out with your baby.
The following tips can enhance your safety when kayaking with your baby.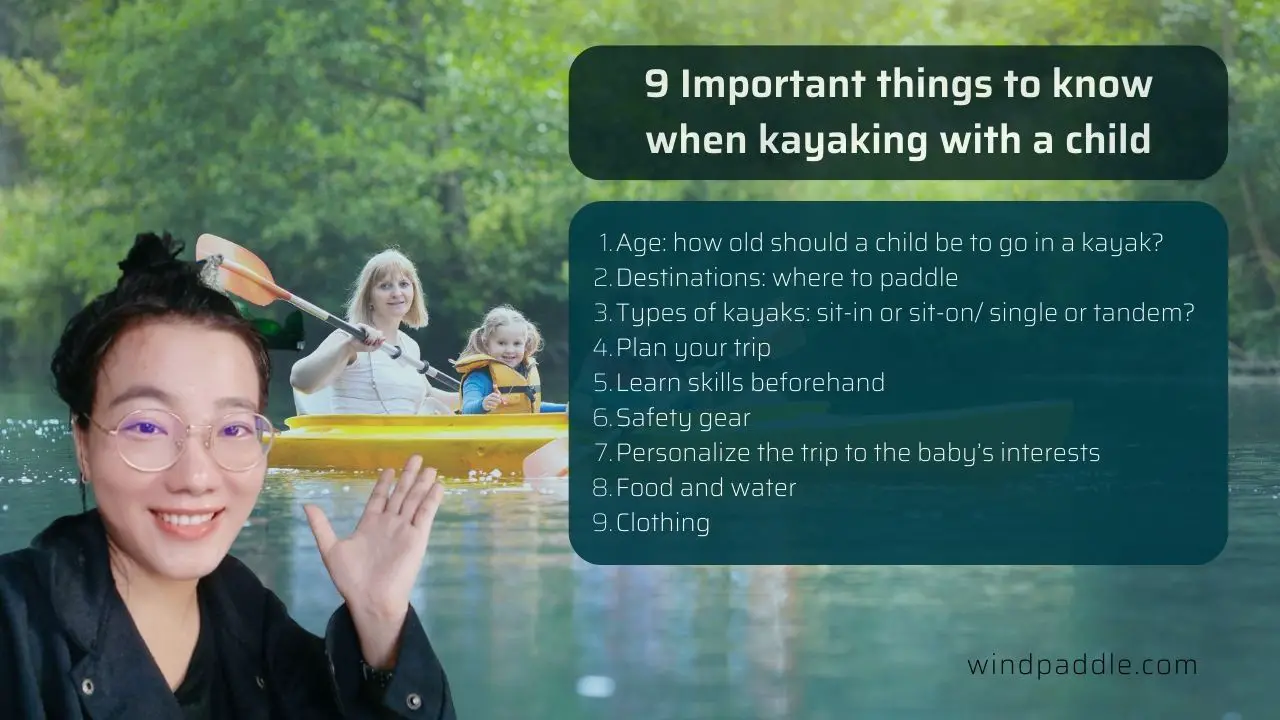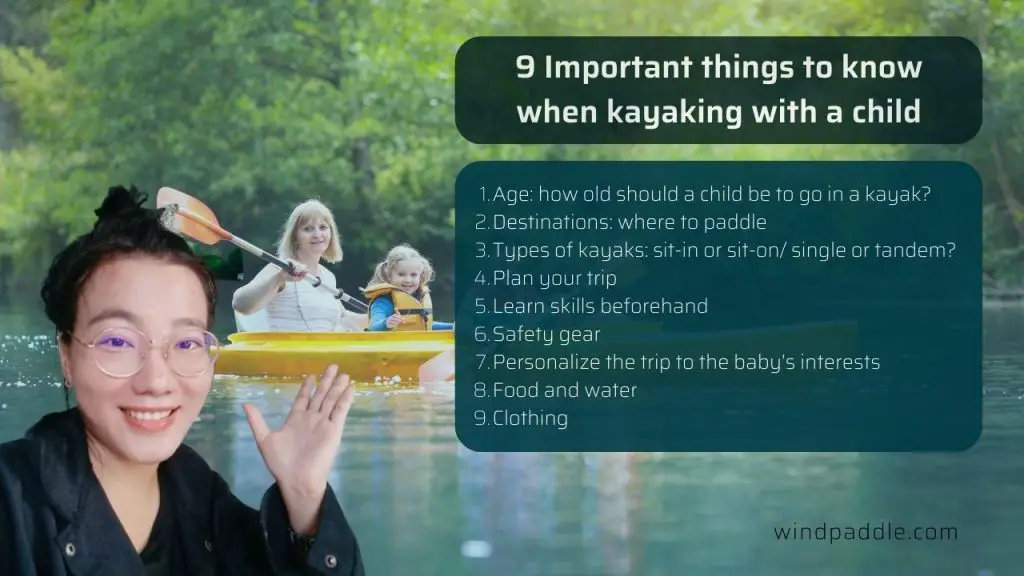 Age: How Old Should a Child Be To Go In a Kayak?
Some babies cannot handle harsh outdoor conditions because their body immunities are still developing. Put the health of your child first before the kayaking experience, however tempting it is.
The American Academy of Pediatrics (AAP) does not have official age limits for when babies should be taken on a kayaking adventure. But generally, it is not recommended to go with a baby below two year of age on a kayaking expedition.
Infants under one year old should not go in a kayak due to the risk of neck injuries, wait until your baby is old enough to hold their head up.
If a parent wishes to enroll his/her baby in a kayak program, it should be on a one-to-one basis with the parent or a responsible adult. Instruction should be carried out by instructors in properly qualified and experienced.
Organized group kayaking instruction should be reserved for children more than 3 years old. Infants with known medical problems should receive clearance from their physician. With proper supervision and instruction,kayaking can be a safe and enjoyable activity for the whole family.
Be patient for the right time to show your baby what your kayaking world is made of.
Destinations: Where to Paddle
You cannot take your baby to any kayaking location due to safety concerns. Some places are too dangerous for the kid and only improves the risk of something unexpected happening.
Choose a safe place for your baby with less risk. Protected waters are the best, but you can also explore calm waters. Choppy water or water with strong currents is not safe for any child.
Consider protected lakes, bays, and slow-flowing rivers before advancing to more challenging paddling locations. It will help the kid to adapt to the conditions and reduce stress levels because of that gradual progress.
But finding a kid-friendly paddling location can be a challenge. Talk to an experienced paddler or any paddling expert in your area for any recommendations.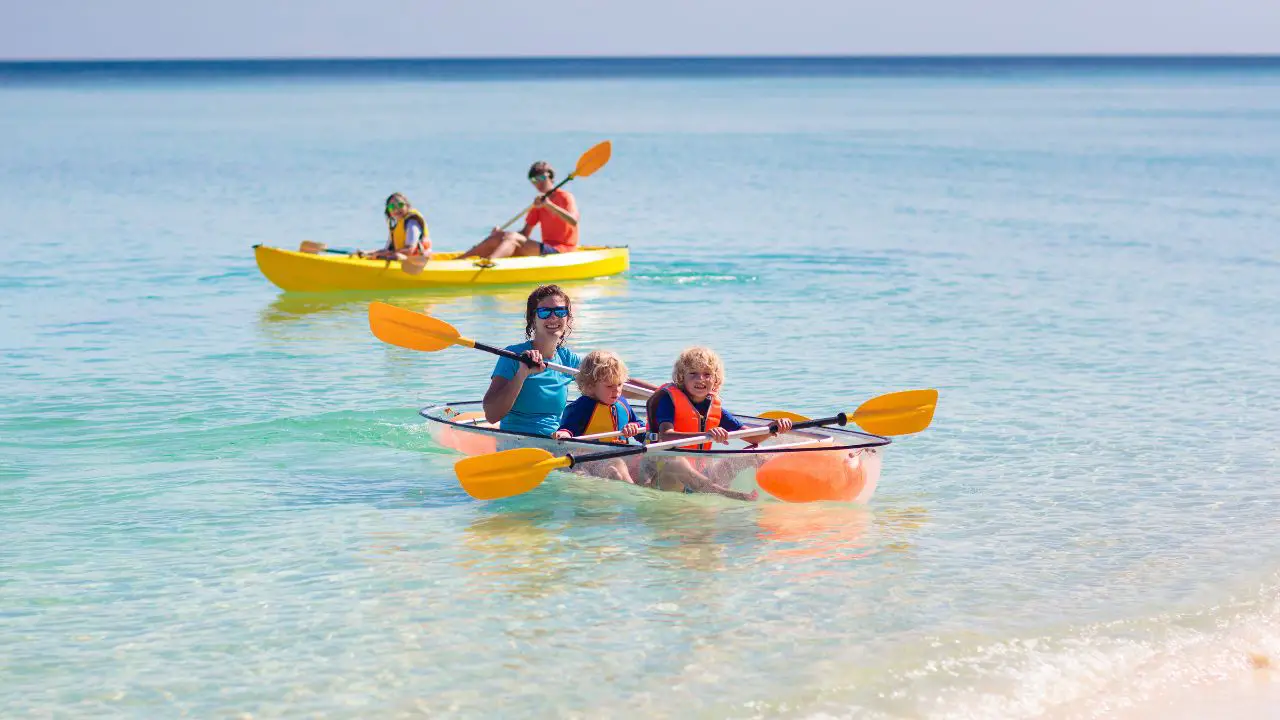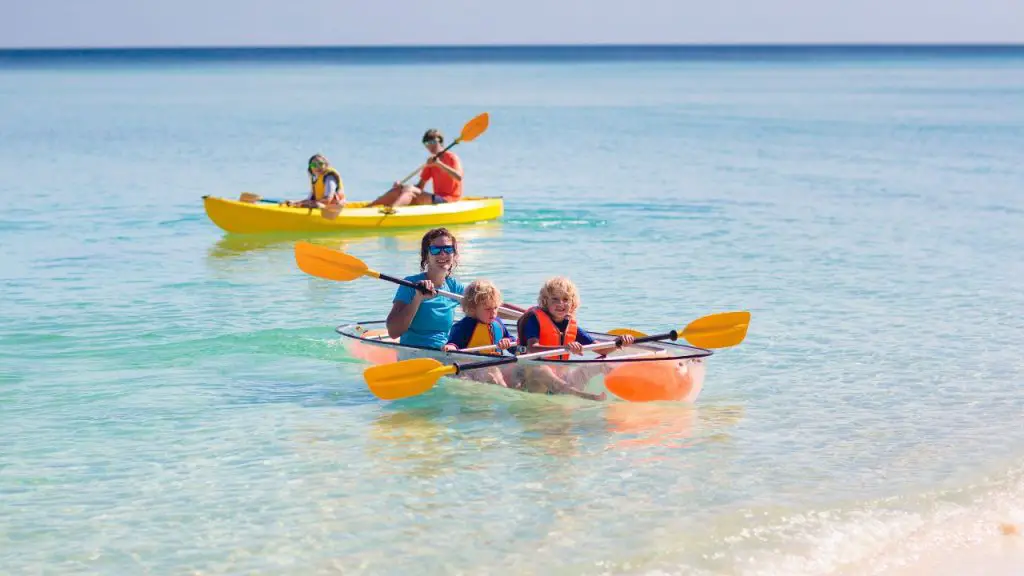 Types of Kayaks: Sit-in or Sit-on/ Single or Tandem?
Your baby becomes the second person in your kayak. So, you should choose a kayak with a space for them. Also, you want your baby to stay out of the water pools often in the kayak. So, what is the best kayak type if you wish to paddle with your baby?
The kayak type to choose depends on your child's age, body size, physical ability, paddling experience, and other qualities. Consider the information presented in this table to help you in making the right decision:
| | |
| --- | --- |
| Age | Recommended |
| 4 to 7 years old | Bow rider/paddler in a double kayak or canoe |
| 8 and younger | Duffer in kayak or canoe |
| 8 to older | Bow paddler in a double kayak or canoe |
| 10 to older (if skilled). | Single small kayak |
| 14 to older (if skilled) | Single medium kayak or Single small canoe |
You can sit your kid on the bow or in the middle part until they gain enough paddling experience to handle a single. But this middle compartment is designed to hold your gear, not your baby. It is prone to occasional water splashes but should be safe enough in calm waters.
Also, find the appropriate paddle size for your kid if they can handle it. Go for a 200 cm long paddle with a narrow shaft.
Pelican Boats – Kid Size Kayak Paddle
Plan Your Trip
A kayaking trip with a baby should be well-planned and executed. Planning helps you to understand the route and determine the weather patterns and what to expect on that day.
Also, consider your baby's health. You don't want to stress your baby. It is better to skip the trip if you realize the kid is not ready to face it. Make sure your baby can comfortably adapt to the outdoor conditions by checking your kid's:
Familiarity with water
Experience with boats and paddling
Age or level of maturity
Swimming ability
Physical strength
Coordination level
You should also consider short trips if you want to kayak with your baby. Make it about one-third the usual distance you kayak with an adult counterpart. That is because a kid gets tired and develops fatigue much faster than adults.
Plan your kayaking trip with a kid about one month ahead. It will give you time to monitor the baby and arrange everything you need during your trip. Take your time with everything!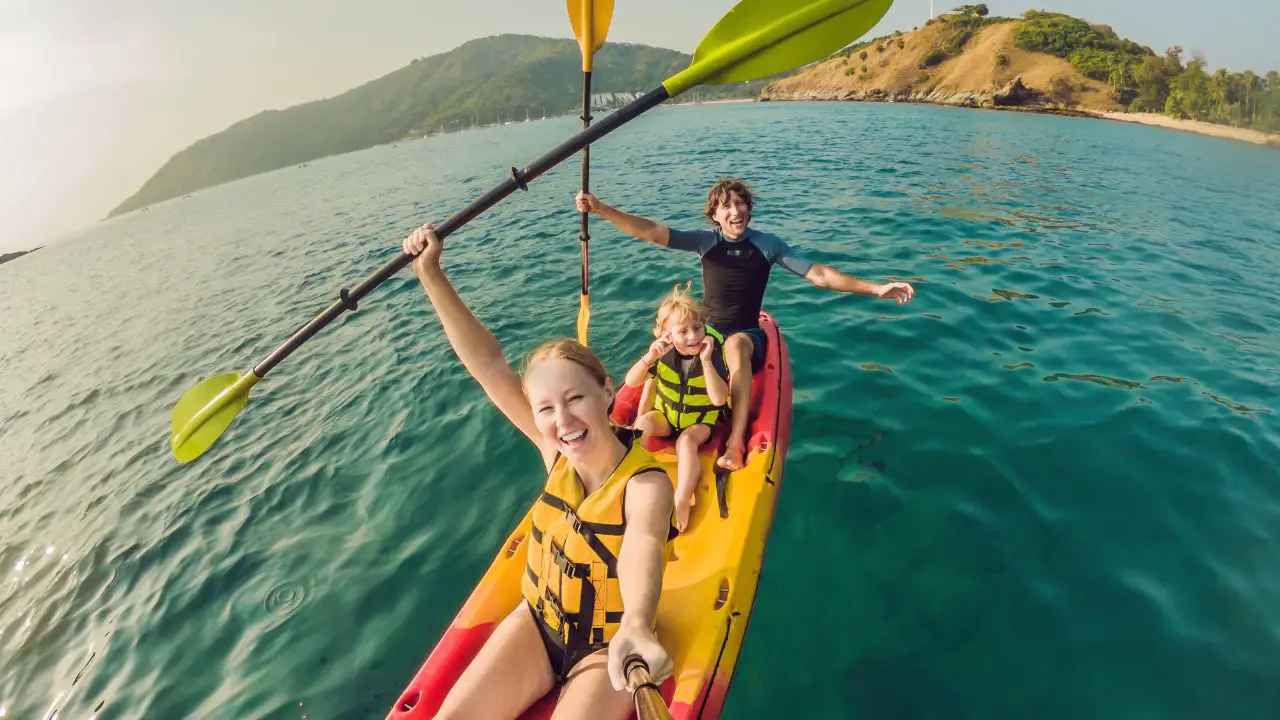 Learn Skills Beforehand
Is it the first time you want to kayak with your kid? If yes, you should do more than plan your trip. Spare time to teach your kid wet exits, braces, and other safety techniques. It can help save a life in case an unexpected happens.
Learning a few skills can also ensure the success of your trip. It will make your kid well psychologically prepared for this watersport. You can sign yourself and your kid up for swimming and kayaking lessons to give him an advantage when you finally get into the water.
Teach your kid some fun workouts and ensure they learn how to get back into a kayak if they fall out.
Kids over 7 years should be ready to paddle the bow of a kayak or canoe and learn a few paddling techniques. You can help them practice them before the trip.
Safety Gear
Prepare for the worse and hope for the best on a kayaking trip with your kid. That is why you should not take any safety concerns lightly.
Buy safety gear, and ensure it is approved by the US Coast Guard. Follow the usage and sizing instructions according to the manufacturer. PFDs are sized for weight ranges as follows:
The safety gear you need includes the following:
Lines and Floats
Sunglasses that are well-liked and fit well.
Seat pads or short seats for a low center of gravity.
Spray decks and skirts (cover the open compartment areas).
Tow/throw rope.
Personal maps and compasses
As you might have noticed, the safety gear will help you respond to every situation and save a life. For example, an emergency whistle sends a distress call if you need help from other kayakers. Maps and compasses help you with navigation.
Oceans 7 Us Coast Guard Approved
Personalize The Trip to The Baby's Interests
The next big task is to make your kid interested in the kayaking trip rather than imposing it on them. Share the maps, photos, and past kayaking experience to give the kid a reason to want to go on the trip. Let the kid invite their friend to make it even more enjoyable.
Once the kid accepts to be part of the trip, involve them in packaging and throw compliments for the effort the kid put in. The essence is to make the kid feel part of the trip.
Food and Water
Kayaking trips are one of the most tiring outdoor activities. It can take a toll on your kid if it is their first time. As a result, carry food to provide energy and drinking water for rehydration.
Estimate the trip duration to know the amount of food and water to carry. Consider healthy and easy-to-bring items and keep water bottles at hand. You will remind the kid to drink enough water throughout the day.
Clothing
Your kayaking trip should be on a nice day when rainfall or storm is least expected. Always watch or listen to the weather forecast to know what it will be like on the planned day.
Carry extra clothes in a waterproof bag in case you need to change. And for kids below 7 years of age, include additional pants.
Also, carry a wide-brimmed hat for rain and sun. Direct sun's heat can cause exhaustion even before covering half the trip.
Tips:
Apply sun protection
Bring some fun toys
What To Do on Your Kayak Trip With Babies
A kayak trip with babies is fun, but what can you do with your kid on the trip? Before setting off, review the wet-exit procedures with everyone accompanying you on the trip. Also, recheck safety gear to ensure you packed everything you need.
Pre-Launch
Direct the kid to the bathroom and put sunscreen on for protection. Also, it would help if you offered a handful of gorp.   
On the Water
Once you get into the water, your responsibilities become more than paddling the kayak. Maintain a slow speed and restate the rules, ensuring everything is clear. Do not criticize the kid's performance to avoid making them feel incapable unless it is a safety concern.
Once the trip progresses smoothly, you can enjoy the scenery and take beautiful photos. Documenting your kayaking trip is the best way to preserve memories.
These are the exact moments you will remember your hand-you-down waterproof Nikon Coolpix camera and a brightly-colored camera floatation device.
Take a break to let the kid rest or have some snacks by the shoreline. Find a safe spot on the shore to anchor your kayak as you prepare for the remaining part of the trip.
Finish the Trip
Your trip ends, and it's time to go back home. Appreciate the kids for their conduct during the trips and reward them with whatever gift you promised before the journey. Ensure everyone is happy as you head back home!
FAQs
Can you kayak with a 2-year-old?
Yes. You can kayak with a 2-year-old baby, but you should be more careful. The recommended children ages for kayaking trips are between 4 and 7 years. Consider a canoe to a kayak because it is more stable and spacious.
How old should a child be to go in a kayak?
Most pediatricians recommend that only babies above 6 months can go on a kayak. But it is better to wait until your baby turns one year old. It is even better to be patient until the child can sit still in a kayak without support.
Is kayaking hard for kids?
Yes. Kayaking is a challenging watersport since paddling requires skills and muscle power. Some kids cannot just handle these situations, but that depends on their age, body size, and physical capabilities. Don'tDon't force your kid to kayak if they are incapable!
How do you swim with a 2-month-old?
You can swim with a 2-month-old baby only in a heated pool. But keep the baby in the swimming pool for at most 10 minutes if it is the first time. Take the baby out as soon as they start to shiver. Generally, babies under 12 should not stay in the water for more than 30 minutes.
Key Takeaways
You can go on a kayaking trip with your kid older than 4 years if they can sit still in the kayak. But don't expect the kid that young to handle paddle well. Kids should start paddling when they are over 7 years of age. Some can even learn paddling techniques and go on singles at that age.
But always stay around your kid and ensure you address all safety concerns. Stay within safe waters and plan your trip on a day when the weather is favorable. Never kayak with your kids if they are still not ready. It is better to leave them at home or skip the trip.
Thank you for reading this article at Windpaddle. We appreciate your time and look forward to seeing you in our next post. Also, kindly share it with fellow paddlers planning to kayak with their kids to keep them informed.