Are you a kayak lover? Do you want to add more adventure during kayaking? Kayaking in the rain will give you a unique and memorable experience. 
When you get a rainy day, you can use it as a gift from God. Kayaking on a rainy day will enable you to enlarge your outdoor adventure.
Though it is adventurous, you might have several questions regarding the safety, skills, and experience of kayaking in the rain.
In this writing, we reveal the possibilities and challenges of kayaking in the rain. Besides, we provide tips to make your kayaking safe on a rainy day. Let's explore. 
Can You Kayal in The Rain?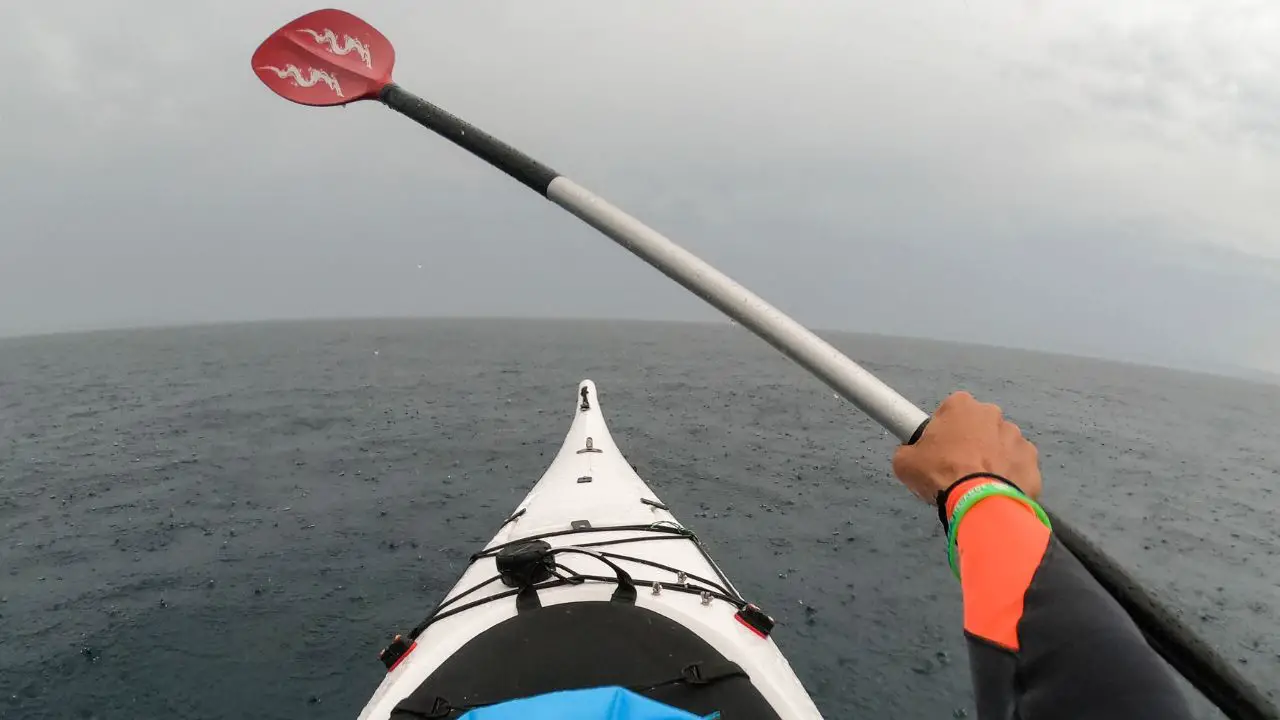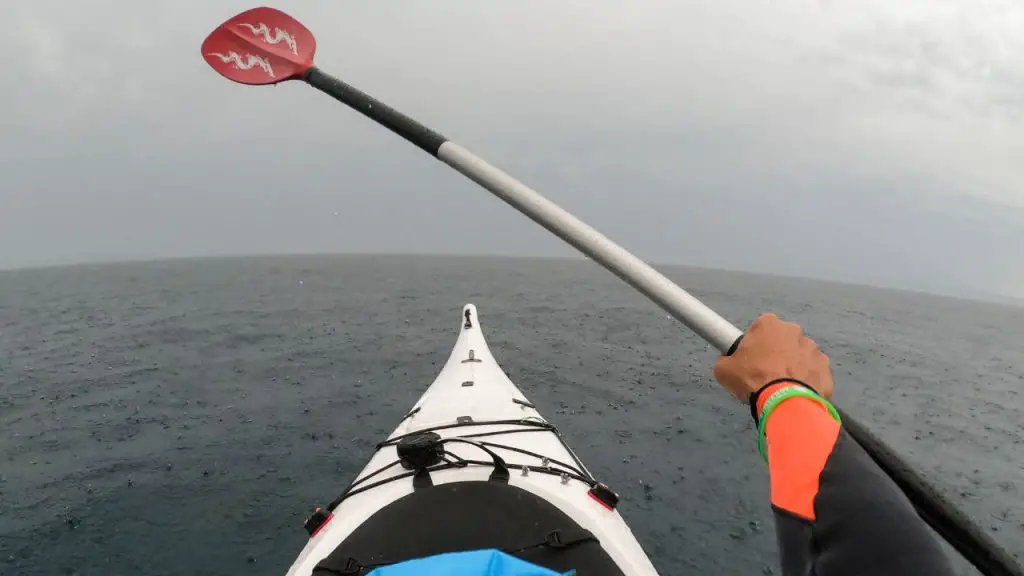 Yes, you can kayak in the rain. It is completely safe for paddlers if they understand the condition and how to paddle on a rainy day. 
You will enjoy kayaking in the rain. It is full of fun and adventure. This memorable experience is a higher than normal feeling.
But, you have to remember some issues while kayaking in the rain. For instance, rain can increase the water level higher than regular. Besides, there might be strong currents and high waves. 
You should stop kayaking if there are a lot of thunderstorms. Water is a super conductor of electricity. So, it will be a terrible idea during a thunderstorm.
How Dangerous Is Kayaking In the Rain?
We already revealed that kayaking in the rain is possible and perfectly safe. But, there might be some risks on a rainy day.
 If you are aware about the risks, it is possible to avoid them. So, how dangerous is kayaking when it's raining?
First, you have to consider strong currents and waves of the water. It might be suddenly dangerous. You have to understand the water level and safety. 
Next, a thunderstorm is the most dangerous thing that can destroy you when you kayak in the rain. Water is the conductor of electricity. 
Then, you need more energy to kayak in the rain. You have to struggle more to control the boat because of strong currents and high waves.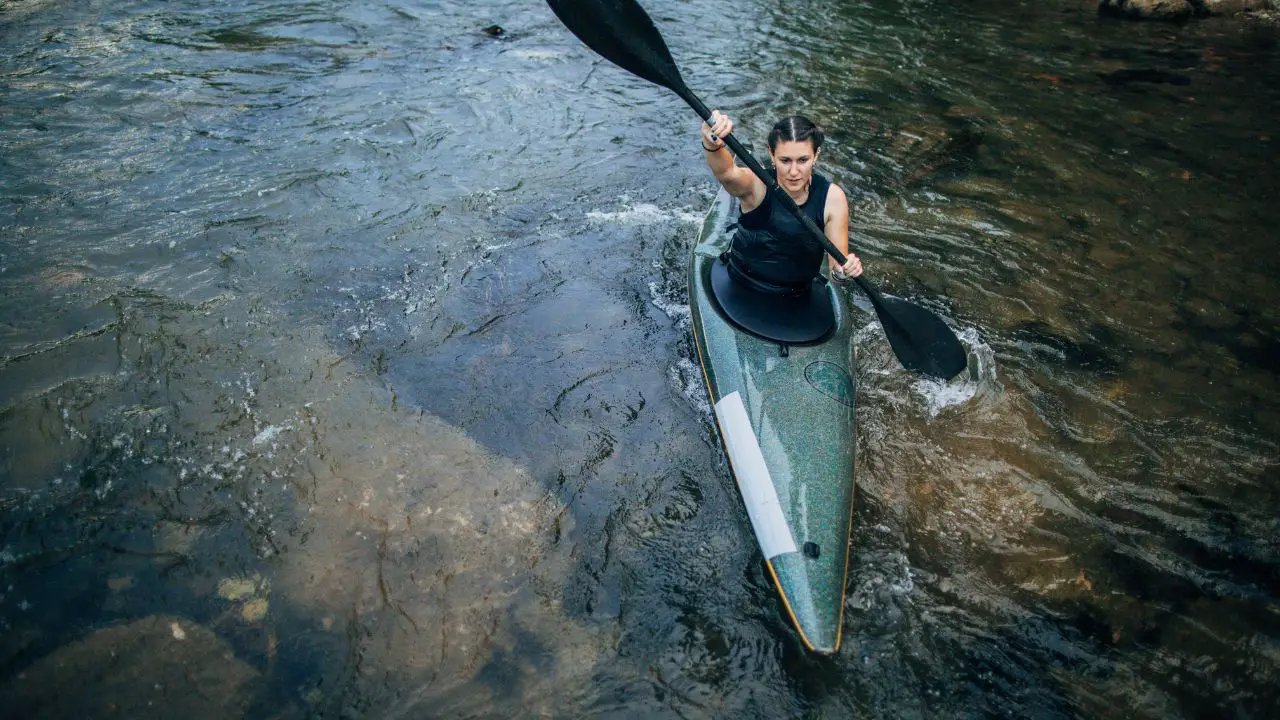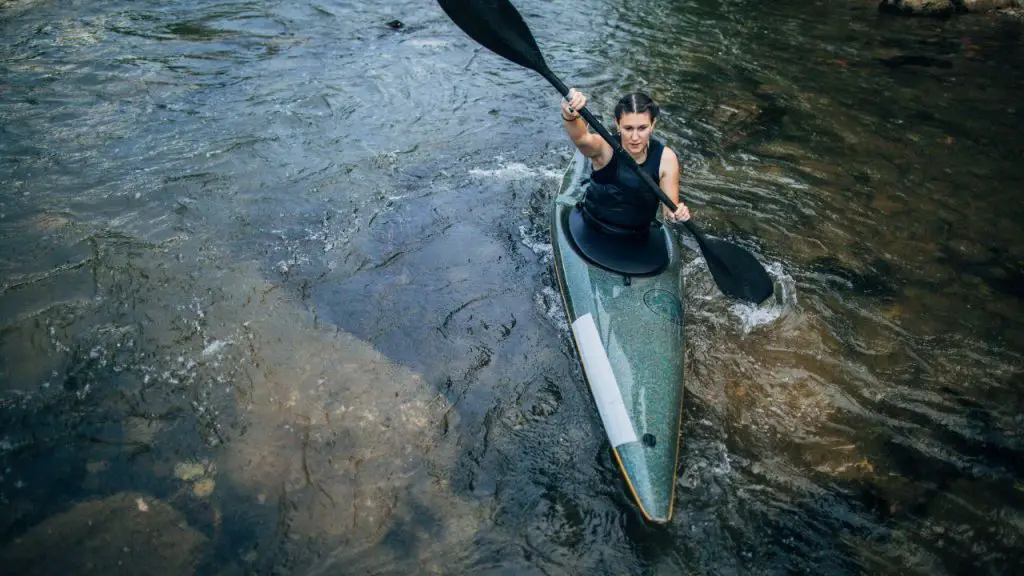 What Do You Do If You Are Caught In a Thunderstorm While Kayaking?
The thunderstorm is very uncertain. If you are caught in a thunderstorm, you have to move towards a safe place as soon as possible. You can paddle faster towards safety.
During a thunderstorm, it is important to get out of the water immediately. 
We recommend using a personal flotation device to avoid the risk of a sudden thunderstorm. 
For more safety, you can kayak beside the river bank on a rainy day. It will allow you to get to a safe place within the shortest possible time.
How to Stay Safe when Kayaking in the Rain
Kayaking in the rain depends on several safety issues. You will get a memorable paddling experience if you follow some safety guidelines. 
Check the weather, place, and nearest safe place when starting kayaking. Similarly, it is important to take safety and emergency gear. For example, you can use GPS to track your location and find the route. 
Furthermore, route planning is a significant part of kayaking in the rain. You have to analyze the route and be aware of possible dangers. 
If possible, bring repair tools with you. In case of a sudden accident, you can repair the boat and use it again.
Check the Weather and Water Condition
Weather is the most uncertain issue when you are planning an outdoor adventure. You have to prioritize weather conditions. Bad weather is not suitable for any outdoor activities, including kayaking. 
Remember, bad weather means a rainy day. But, the weather with extreme thunderstorms, lightning, and heavy wind might have gone wrong.
Before kayaking in the rain, you should check the weather forecast of the location. It will help you to understand the upcoming condition. 
Similarly, you have to check the water condition. It is not possible to paddle on extremely cold water. 
Besides, heavy waves and strong currents will make it more dangerous on a rainy day.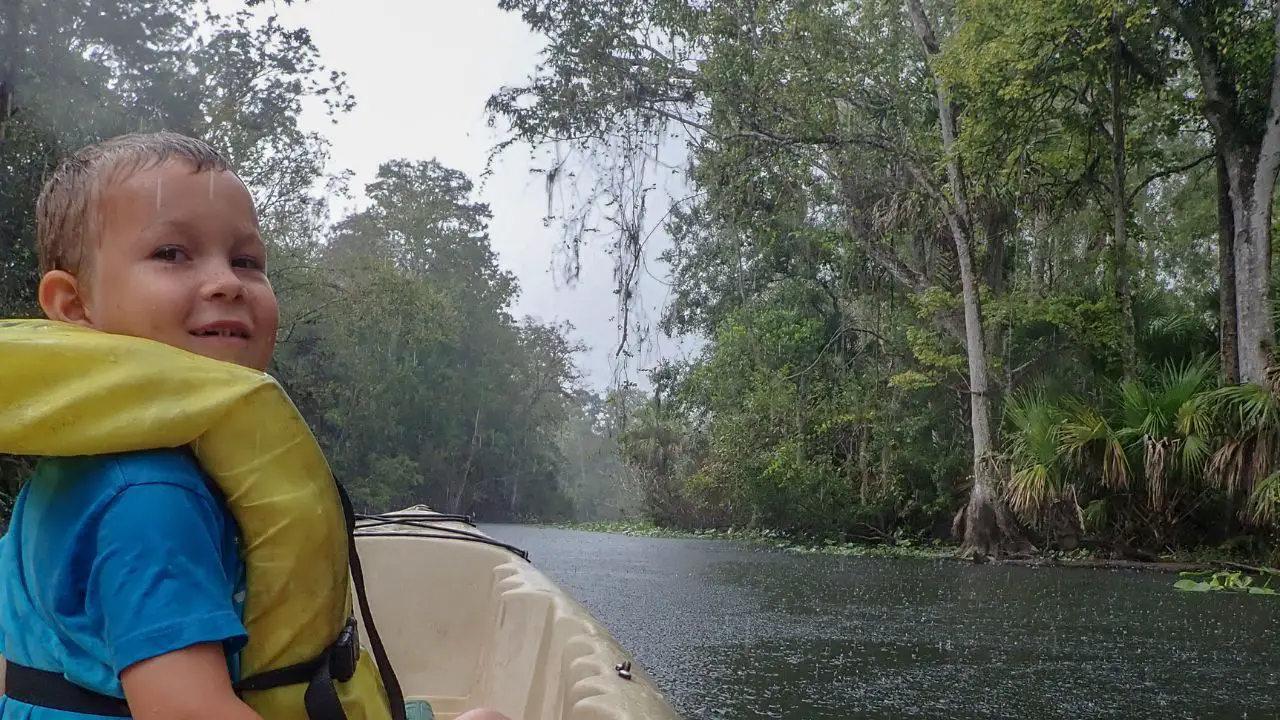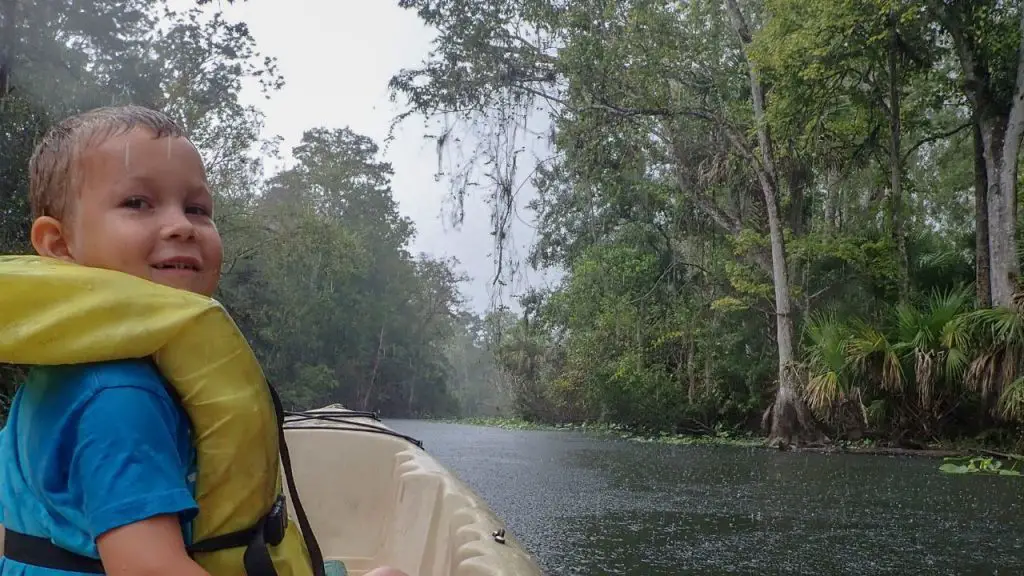 Hone Your Skills
Kayaking is a physical exercise. Your kayaking skill is a significant matter in the rain. You have to paddle based on the situation.
You will get more stability and safety during kayaking if you are experienced. 
An expert paddler can understand the currents, waves, water conditions, and more. It will keep him safe even in the rain. 
You can hone your skill and practice regularly to improve paddling proficiency in any weather condition.
Additionally, the knowledge and skills will allow you to escape from a dangerous situation.
No matter how many gears and devices you have. Your skills and experience are the most useful things when kayaking in the rain. 
Know Your Route before You Leave
You should have a complete plan for your adventure. If you know and understand the route, it will enable you to get a comfortable kayaking experience. 
You can not use all the places and routes in the rain. You have to find the most suitable and safest one. Similarly, the knowledge of the route will give you more confidence, even in a bad situation.
You can check the map or collect data locally before leaving. Don't waste your time by following unauthentic information about the place. 
Make sure that the place is safe in the rain. Ensure that there is a place for shelter near the water body.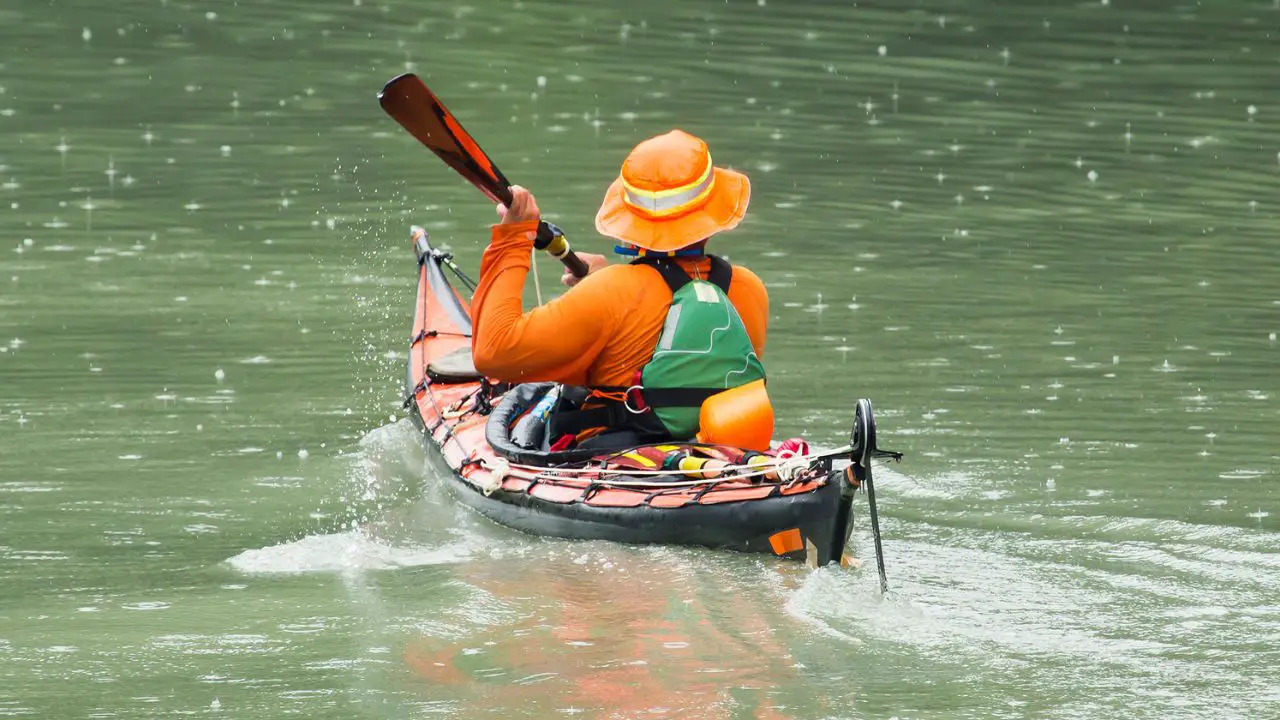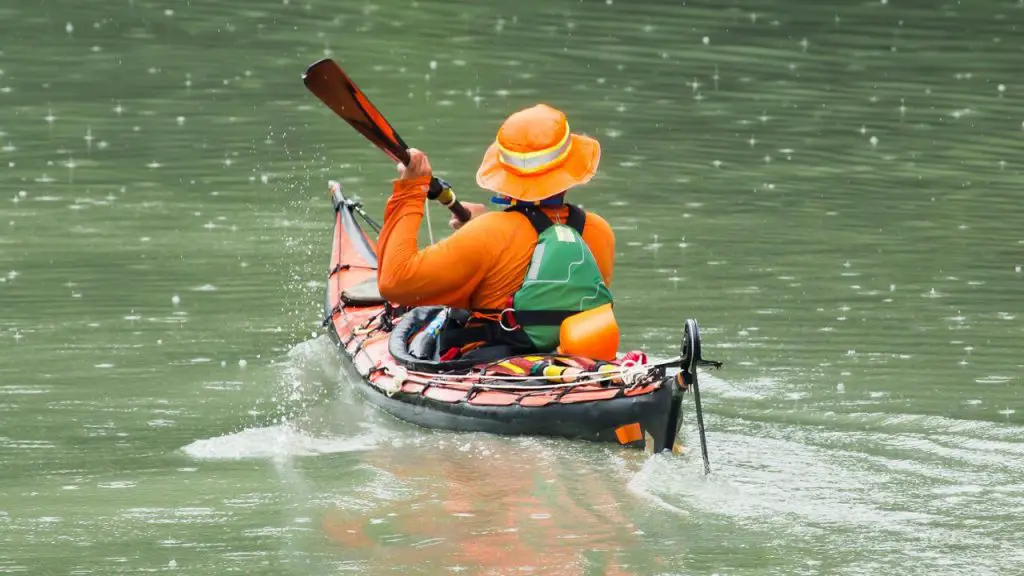 Share Your Paddling Plan with Others
Unfamiliar situations will become more dangerous if you are alone there. Kayaking in the rain is not normal, and you might face sudden difficulty. You can share your paddling plan with others to overcome such a bad moment.
The best idea is to make a plan with your friends or family and enjoy the rainy day kayaking together. You will be accompanied by some interesting and trusted people on the water. 
Besides, group kayaking will make you more confident and enable you to enjoy the time. You can arrange a race and take some rewards for the game. The plan and safety depend on you. So, don't make it lonely and complex. 
Don't Paddle Alone
It is better to paddle together. You can select a multi-paddlers kayak for a rainy day. It will keep you safe and give you more strength in the rain. 
You can face upcoming difficulties like high waves, strong currents, and wind. Similarly, kayaking together will allow you to struggle and survive for a long time. 
Furthermore, you can reach your destination shortly by raising the speed if there is lightning or a thunderstorm. So, try to paddle together and enjoy the unique moments of kayaking in the rain.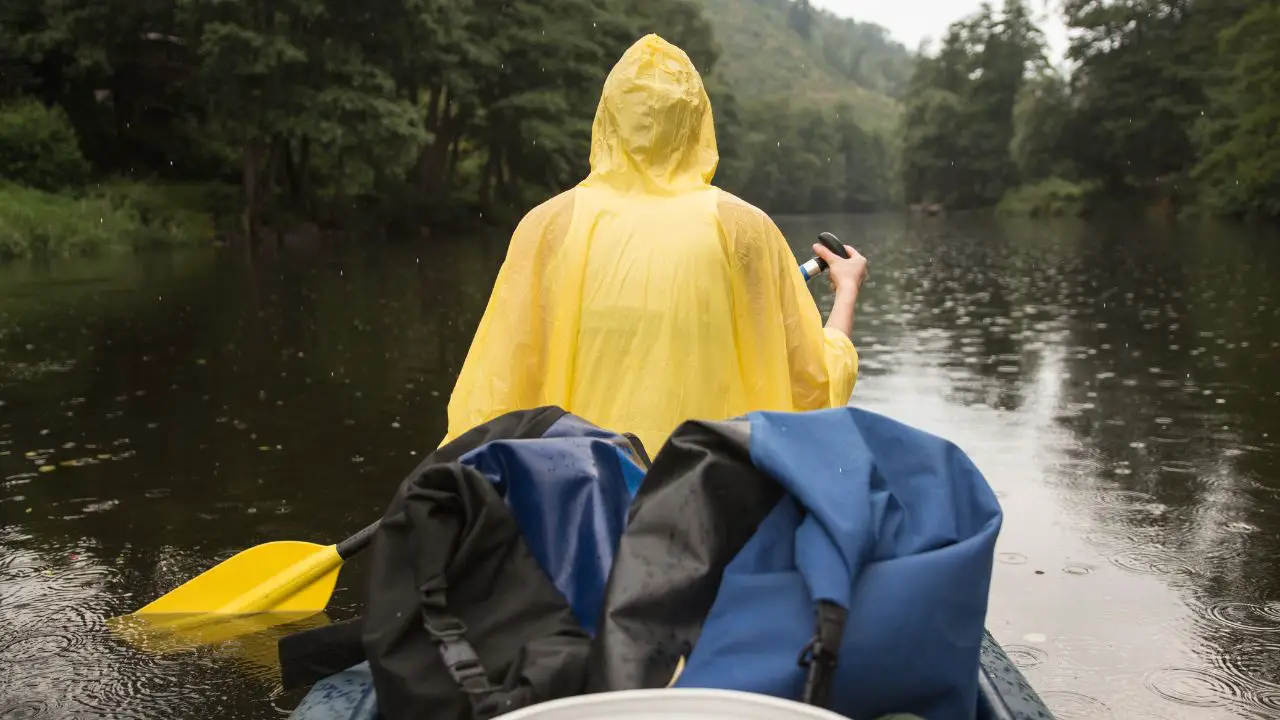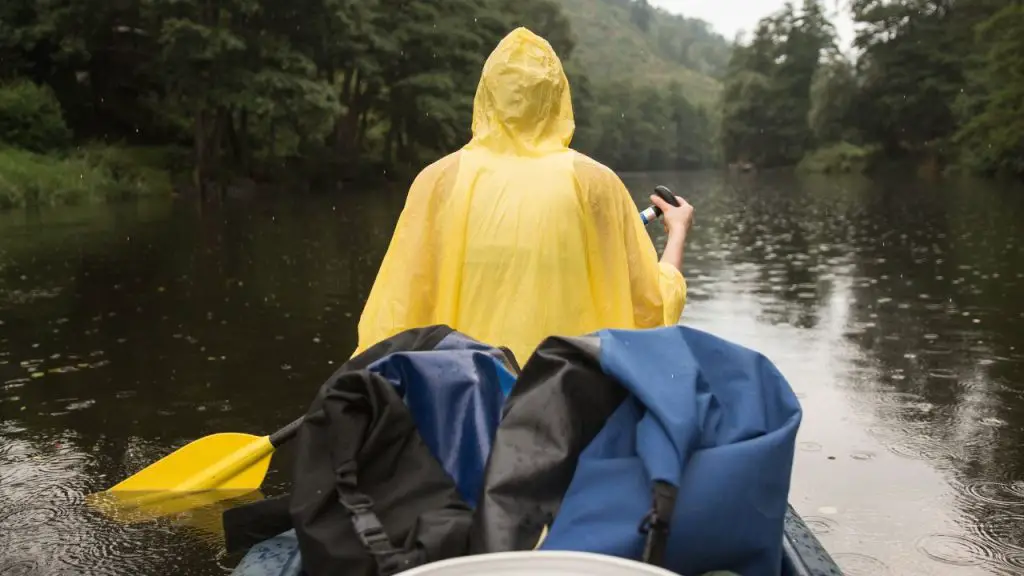 Make Yourself Visible
It is important to make yourself visible in the rain. You can select a more visible place. A secure place will enable you to escape easily in case of any danger. 
Furthermore, an open or visible place will give you more opportunities to enjoy the environment. However, it depends on your choice. 
It is recommended to use a visible jacket or body belt while paddling on a rainy day. It helps people to find a boat even in cloudy weather. 
Keep Water Outside of the Kayak
The kayak can be filled with water in the rain. It will increase the load and reduce the floating capacity. 
You should be conscious of the issue. An overloaded kayak will be unstable and difficult to handle. 
Besides, there might be a risk of a sink. You can not operate it smoothly.
You can use gadgets to remove the water from the kayak's surface. It will be faster and easier.
It is better to wait sometime to remove the excess water from the kayak and start paddling again.
Perception Bilge Pump for Kayaks – Expels Water From Your Boat
Always Prepare Right Gear
Kayaking on a normal day and a rainy day is completely different. 
You need more control, strength, focus, and gear to kayak in the rain.
A small geat can save your life and keep you on track. You should consider the upcoming situation and select useful devices. 
Remember, don't bring unnecessary devices or gears. It will increase the load of the boat. You need more energy to paddle the kayak. 
Prioritize significant things and keep a first aid box. It will be more helpful. Here are the top gears for kayaking in the rain. 
Perception Kayak Sponge | Kayaking Water Absorbing Sponge
Kayak in the Rain: What Should I Wear?
You have to select comfortable and useful things to wear in the rain. You can use a dry suit made with synthetic fabrics. It is better to select multiple numbers of layers for the suit. 
Next, you can try non-slip sandals and waterproof socks. A dry suit and waterproof socks keep you dry in the rain. Besides, it will be comfortable to wear regular rainwear. 
Furthermore, you can use glasses. Remember, you should avoid any form of intoxicants before embarking on your trip.
Kokatat Supernova Hydrus Angler Semi-Dry Suit
Can You Kayak After It Rains?
Yes, you can kayak after it rains. It will be an enjoyable moment. 
Kayaking after raining is a popular idea for people who love adventure. The lovely environment offers you more than regular days.
For a conscious and skilled paddler, it will be safe for you. Make sure you bring all the gear and prepare for paddling in the rain or after that. Be safe.
What Weather Is Bad for Kayaking?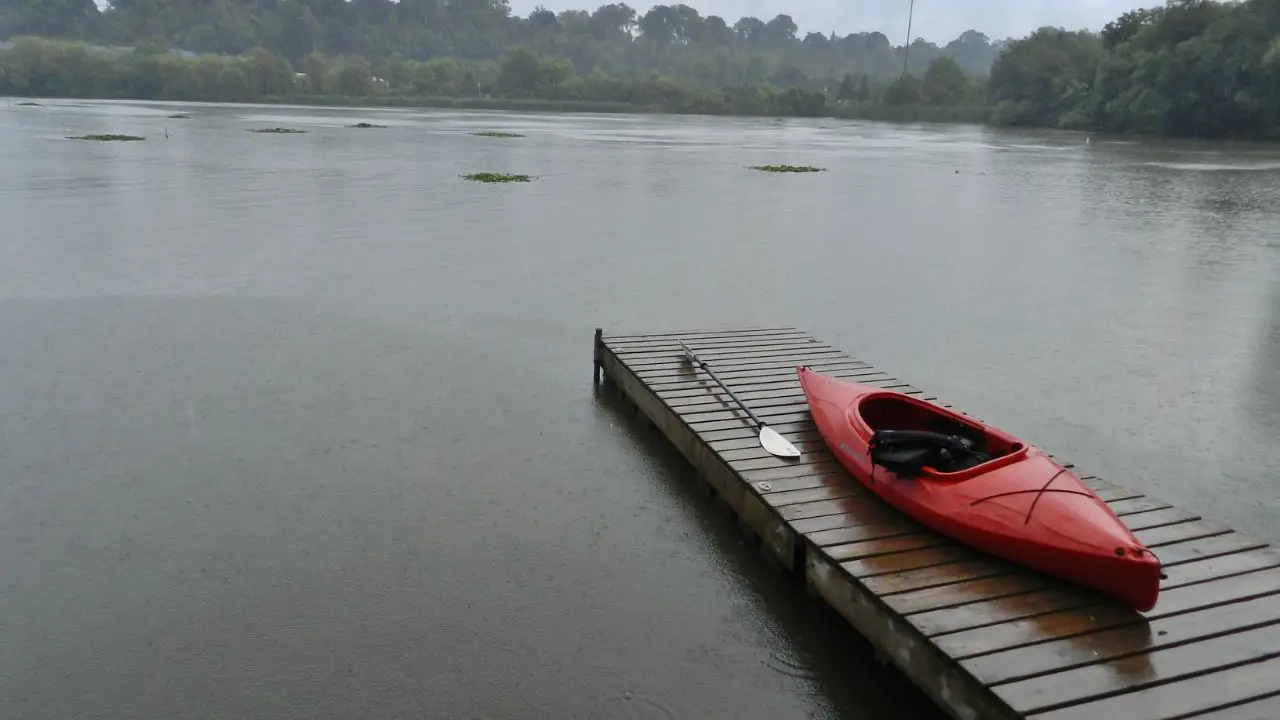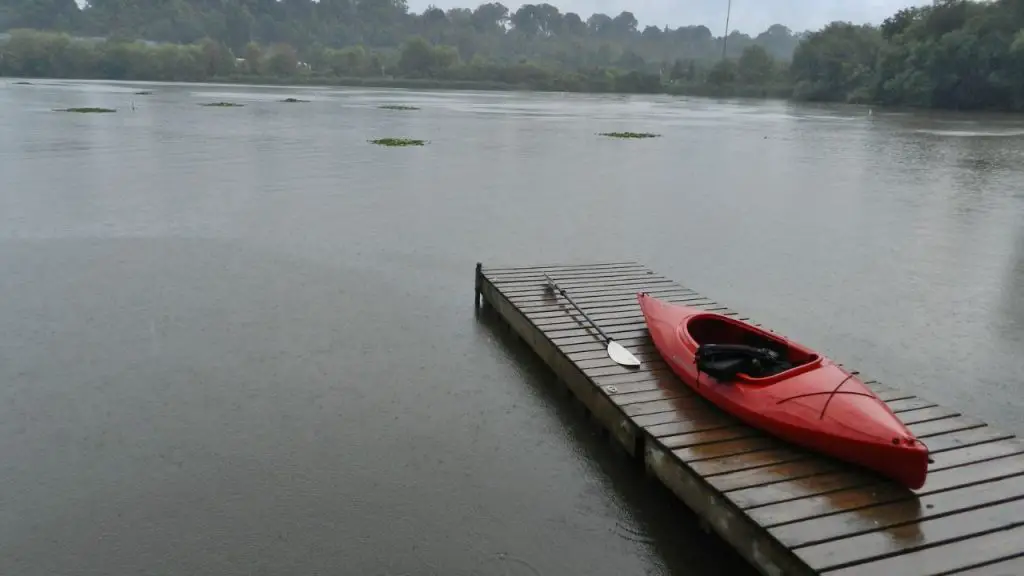 You can enjoy kayaking in any weather condition. But, it will be safe to avoid kayaking in some specific weather. 
For instance, kayaking during thunderstorms and lighting is risky. The water is a conductor of lighting, and you might be affected by the currents.
Next, it is very dangerous to kayak in a storm or heavy wind. You can not control your kayak in this condition. 
What Is the Best Weather to Kayak In?
The best weather for kayaking is calm water and regular wind. You will get a smooth paddling experience and over control to operate the kayak. 
Besides, the weather will make your kayaking experience safe. Always need gear or extra safety for kayaking regardless of whether it's a rainy day or a regular day. The weather can change suddenly. It's better to be safe than sorry.
Kayaking in the Rain FAQs
Is it safe to kayak in a thunderstorm?
No, it is not safe to kayak in a thunderstorm. You have to find a safe place if there is a thunderstorm suddenly.
Can a kayak drown you?
Yes, a kayak can bring you down. If you overload the boat and paddle carelessly, it will sink.
What should you not do in a kayak?
Don't overload the kayak and carry excessive things. Make sure you are paddling perfectly. Reckless paddling will be risky for you. 
Do kayaks flip easily?
No, most kayaks are made with highly floatable technology. You should select a kayak that comes with a floating design in any situation. 
Can you get stuck in a kayak if it flips over?
You can get stuck in a kayak when it is upside down. We recommend that you keep a good balance of the kayak and enjoy your journey. 
Wrapping Up
In conclusion, it can be said that kayaking in the rain is an enjoyable thing. You will get a unique paddling experience while kayaking on a rainy day. 
You have to be conscious of the things that can destroy your life. You can follow our rainy day kayaking tips to avoid risks. 
If possible, take someone experienced with you for the first few days to understand the situation and paddling experience. 
Don't do anything emotionally. Kayaking in the rain is a practical thing. You have to handle it practically. When you are conscious, it will be safe, enjoyable, and adventurous.