Why are Hobie kayaks that expensive, and are they worth the money? Buying a new kayak is exciting and makes any kayaker happy. But that excitement can subside when you see the price tags on some kayak types.
If you are looking for a Hobbie kayak, you will definitely ask why they are highly-priced. They are made of quality material, which lasts much longer than other kayaks. Hobie kayaks also have more features and come with many accessories.
Read on for detailed information about the high price tags of Hobbie kayaks, including reasons why they are that expensive.
How Much Do Hobie Kayaks Cost?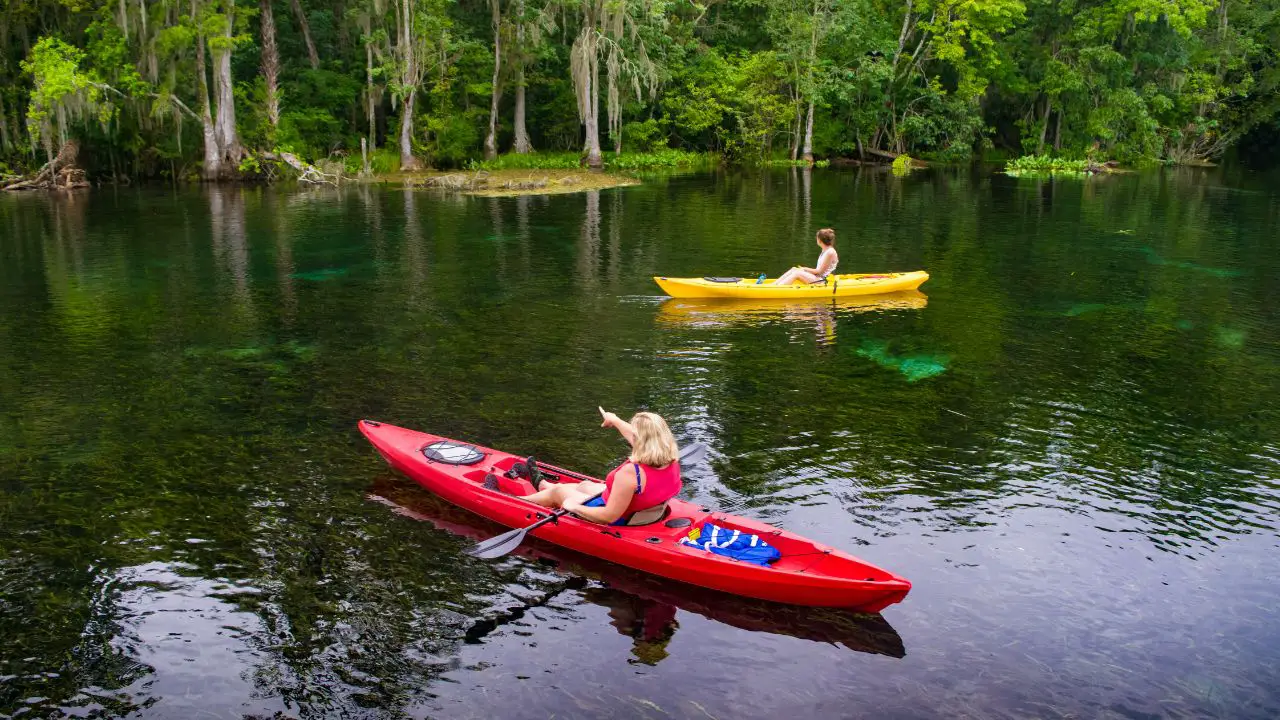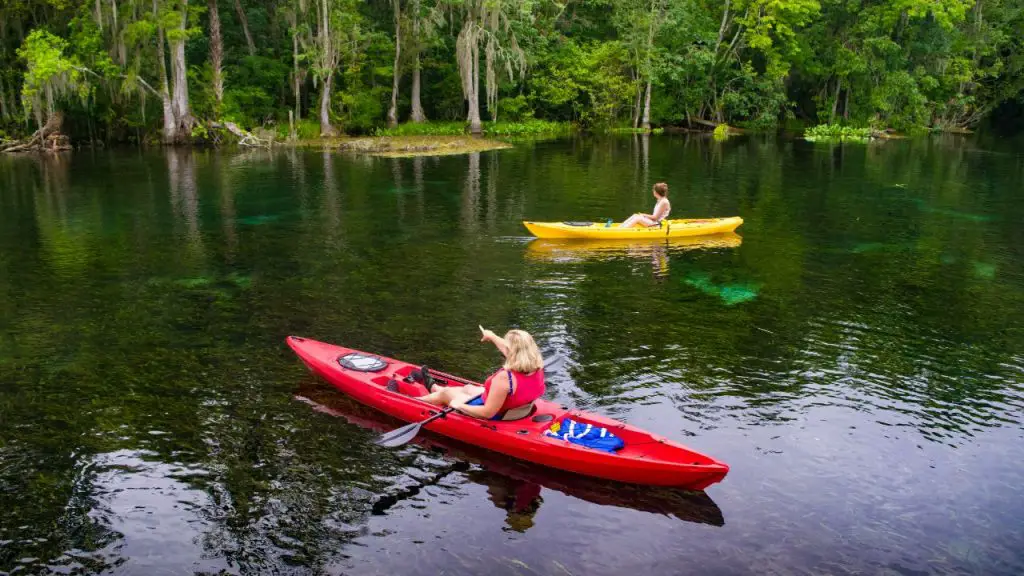 Hobbie kayaks are the most expensive kayaks. They typically cost about $2,000 to $4,000, but the premium models can cost upwards of $5,000, especially for a new Hobbie fishing kayak.
Hobie kayaks are priced according to the type and model. That is why there is a wide price range given above.
The chart below shows the approximate cost of different Hobbie kayak models and types. The prices indicated are only for reference purposes and not final values. They can also vary depending on the season or even the location.
odel
Cost (around)
Mirage pedal kayak series
1. Mirage passport 10.5
2. Mirage lynx
3. Mirage compass
4. Mirage passport 12.0
5. Mirage compass duo
6. Mirage outback
7. Mirage revolution 11
8. Mirage revolution 13
9. Mirage oasis
$1,649
$2,999
$2,599
$1,869
$3,849
$3,449
$2,999
$3,199
$4,849
Mirage inflatable pedal kayaks
1. Mirage Itrek 9 ultralight
2. Mirage Itrek 11
3. Mirage Itrek 14 Duo
4. Mirage Itrek fiesta
$2,449
$2,799
$4,199
$5,399
Mirage pro angler 360 series
1. Mirage pro angler 12
2. Mirage pro angler 14
3. Mirage pro angler 14 mike Iaconelli edition
$4,299
$4,449
$5,799

Mirage pro angler fishing kayak series
1. Mirage pro angler 12
2. Mirage pro angler 14
$4,299
$4,449
Mirage island series
1. Mirage adventure island
$8,299
4 Reasons Why Hobie Kayaks Are Expensive
Hobbie kayaks are more expensive than other kayak types because they have many more features, are more durable, and have many accessories. They are made of quality material, and the design is done through Kick-Up Fin technology and sail kits, significantly increasing the production cost.
These kayaks also use MirageDrive pedal technology. You can stop paddling and use your feet to propel the boat. Read on for detailed reasons why Hobbies Kayaks are so expensive.
Made With High-Quality Materials
Most Hobie kayaks are made of high-quality linear polythene. This is more than the standard plastic used for making other kayak types and items. It is engineered to be hard-wearing, increasing the lifespan of Hobie kayaks.
Some Hobie kayak manufacturers use aluminum to make their boat's hulls and decks. But rotomolded polythene plastic is the most commonly used material.
The rotational molding (rotomolding) process used to make Hobie kayaks is time-consuming. It involves heating up the polythene material and then transferring it into the cast or molds, which cools to form the kayak's shape. The molds must be accurate, and everything must be checked throughout the production process.
Other Hobie kayaks are also made of other expensive materials, such as fiberglass or carbon fiber. These are time-consuming to source and require more resources than polythene plastics. Additionally, they are more delicate to mold into the desired kayak shape.
Hobbie kayaks also have ACE-TEC construction to make them nearly indestructible while maintaining their peak performance.
Unique Hobie Design and Feature
Hobbie kayaks have more features than just ordinary boats. These features can impact the cost of the kayak. And the more you want, the more you will pay for your Hobie kayak.
High-end Hobie kayaks are packed with many features. In contrast, the more affordable ones look basic, with standard features for recreational paddling. Most expensive ones often feature pedal-driven systems, fishing rod holders, cup holders, removable tackle boxes, and many others.
Some Hobbie kayaks have some degree of dry storage for storing gear. Others have more seats, which increases the production cost. You can also find these kayaks with roller bars for dragging them and paddle racks.
As mentioned, the more features the kayak has, the more expensive it will be. And undoubtedly, Hobbie kayaks are packed with many of them.
Also, the type of your kayak can add to its price tag. For instance, deep sea kayaks are the most expensive because of their size and built quality. They have to resist harsher conditions at sea, which requires the material to be of the highest quality. They are often made of fiberglass.
That, however, does not mean other Hobie kayak types are more affordable. Even a freestyle kayak can cost more than the standard market price of other ordinary kayaks.
Old Town Sportsman BigWater
Anything Made in the USA Is Going To Be More Expensive
USA-made products are known for high quality and come at the highest prices. If you don't reside in the country, you have to pay more for the shipping fee to get a Hobbie kayak in your location. But that's not all!
The production process in the USA is more expensive than in many other countries. The labor cost, operational costs, and additional production costs are all higher in the USA. And since Hobie Kayaks are manufactured there, you can expect the prices to be increased.
They Have Well-Thought-Out Accessories
Like features, the more accessories a kayak has, the more expensive it will be. Hobie kayaks have well-thought-of accessories to enhance comfort and aesthetic reasons.
A high-end Hobie kayak comes with all accessories you need to start with as a beginner. These include a dry bag, comfortable seat, paddle, waterproof phone case, high output hand pump, and storage bag if it is an inflatable kayak.
Although accessories are vital to get you started, they will drive the kayak process to the roof. But as a beginner, it is better to get a fully loaded Hobie kayak.
How Long Do Hobie Kayaks Last?
Hobie kayaks are made of high-quality material and constructed through a delicate process that makes them last longer than other kayak types. They typically have a lifespan of about 10-20 years, depending on the type and model. The durability also depends on the usage and maintenance.
However, you may need to replace the accessories of your Hobie kayak from time to time. The hull remains relatively solid and undamaged throughout the boat's life.
Generally, Hobie kayaks are durable and deliver maximum performance throughout the years. They also have many features and come fully loaded with accessories. So, though they are expensive, you get the best value for your money. Consider buying one for yourself!
FAQs
Why are Hobie kayaks so good?
Hobie kayaks are the best choice because they are designed for efficiency and reliability. They feature Mirage pedal drive systems for propulsion. This frees your hands for other tasks, such as casting your nets or pulling your catch to the boat.
Is a Hobie worth it?
Yes. Although Hobie kayaks are expensive, they offer the best value for money. They are durable, comfortable, and have many features. They also come with a bunch of accessories to get you started. The comfort they offer is also unmatched.
What are Hobie kayaks made from?
Most Hobie kayaks are made from rotomolded plastic, and a few from fiberglass. These materials are more expensive but boast the best resistance to scratches and wear. They are practically indestructible and able to last for more than a decade.  
Where are Hobie kayaks built?
Hobie kayaks are manufactured in California, USA. And since it is an American brand, you can expect premium quality. However, you can expect to pay more for the quality you get from these kayaks.
Wrapping Up
Hobie kayaks are engineered for reliability and durability. They are made of the best-rotomolded polythene or fiberglass that effectively resists wear and tear.
These kayaks also feature a Mirage pedal drive system, the best propulsion system in the market. Lastly, Hobie kayaks are fully loaded with all accessories to get you started. Though expensive, they are worth every penny you spend.
Thank you for your time at Windpaddle. We appreciate you reading this article to the end, and we believe your questions are answered. Kindly share it with fellow paddlers and check our website for related content.