Kayaking is fun and exciting, but it can soon become exhausting if you do not wear proper clothing and footwear. While some novice kayakers wear flip flops while kayaking, experienced ones usually don't. But why?
In this post, we are going to explain why you shouldn't wear flip flops while kayaking. Hopefully, here you will find answers to some of your nagging questions regarding the right type of footwear for kayaking.
Can I Wear Flip Flops Kayaking?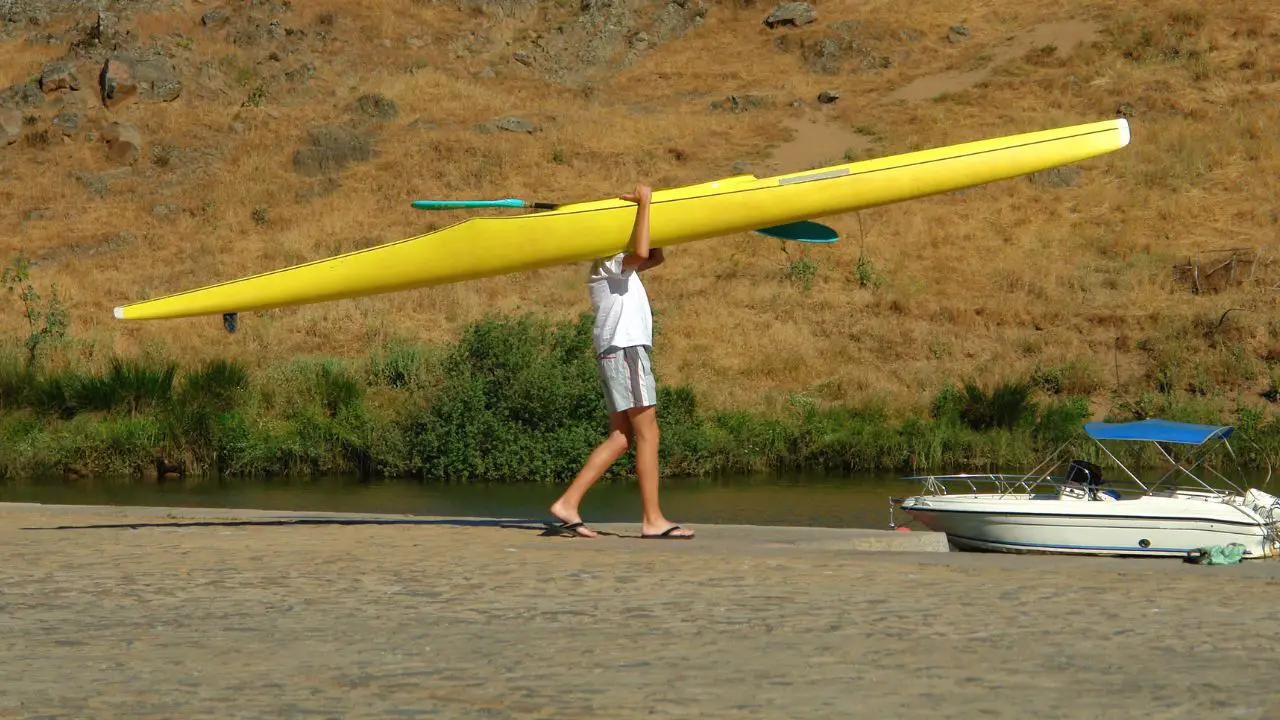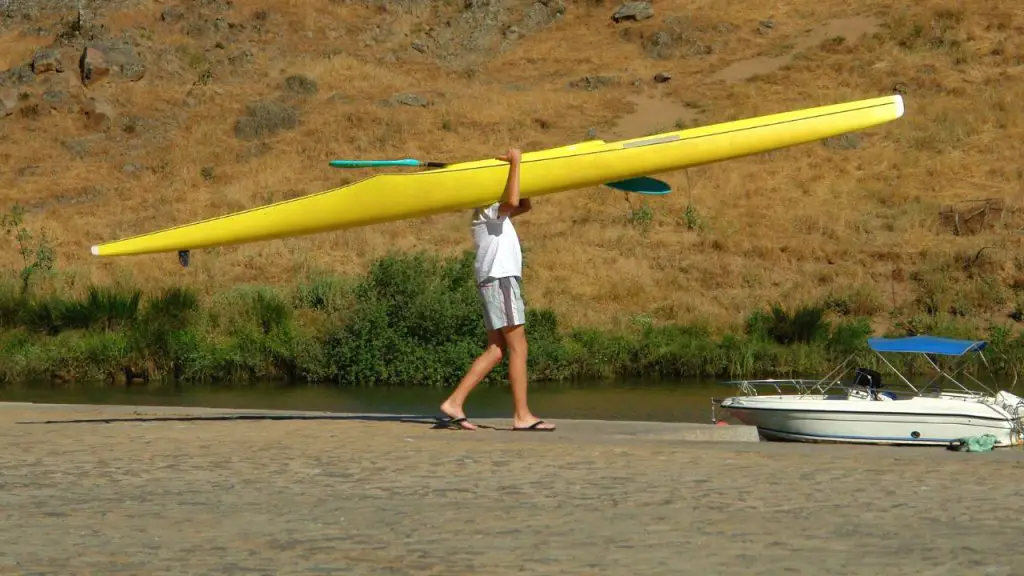 We do not recommend wearing flip flops while kayaking. Flip flops easily slip off your feet, so you might end up losing your flip flops in the water.
Their soles are slippery, and therefore do not provide adequate support and traction when you walk or step onto wet rocks. In general, water shoes are a better alternative to flip flops. 
Why Do You Need Avoid Wearing Flip Flops While Kayaking
To begin with, the construction of flip flops is rather flimsy. Flip flops, with their flimsy sole and straps, provide little support for your heels and arch. As a result, you may notice your feet getting strained over time. 
In addition, flip flops are slippery, and therefore provide inadequate traction. On their soles, flip flops do not usually have defined treads. When walking on some surfaces, you may even end up getting injured. 
Another reason you should not wear flip flops while kayaking is that they can cause blisters. The thong that goes between your toes can rub the skin and cause blisters and sores. Pathogens present murky waters can infect the blisters.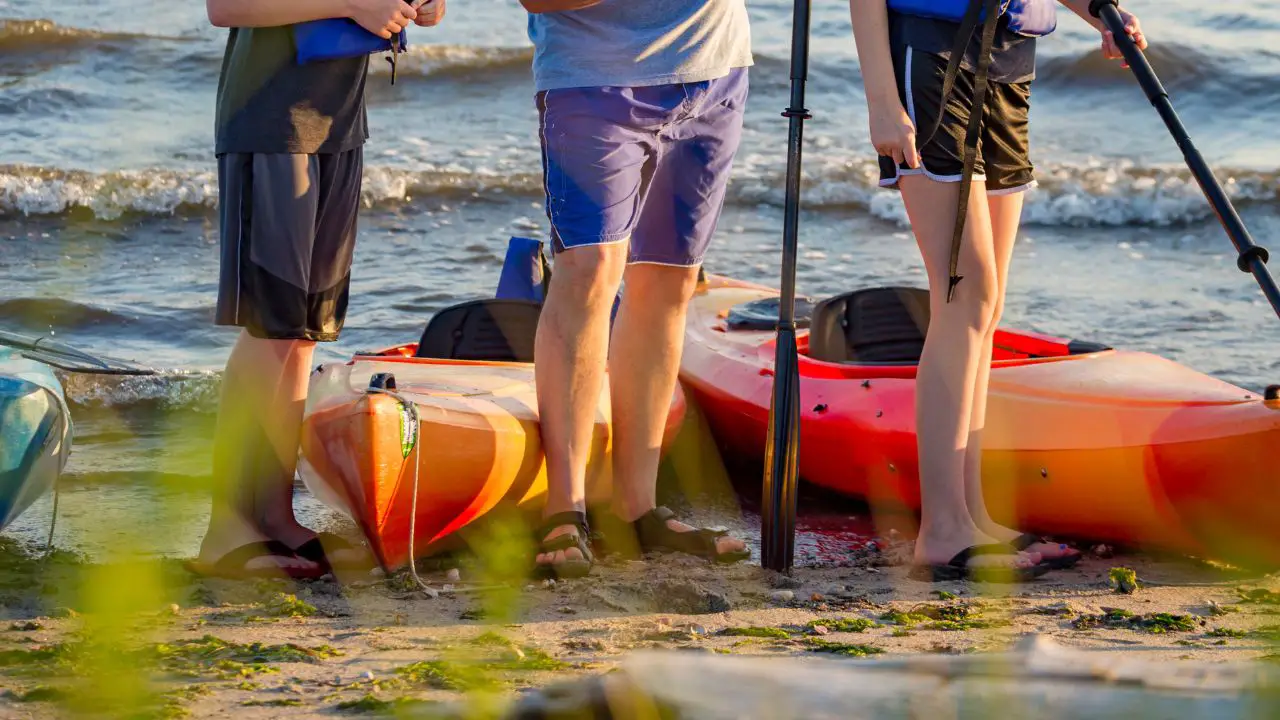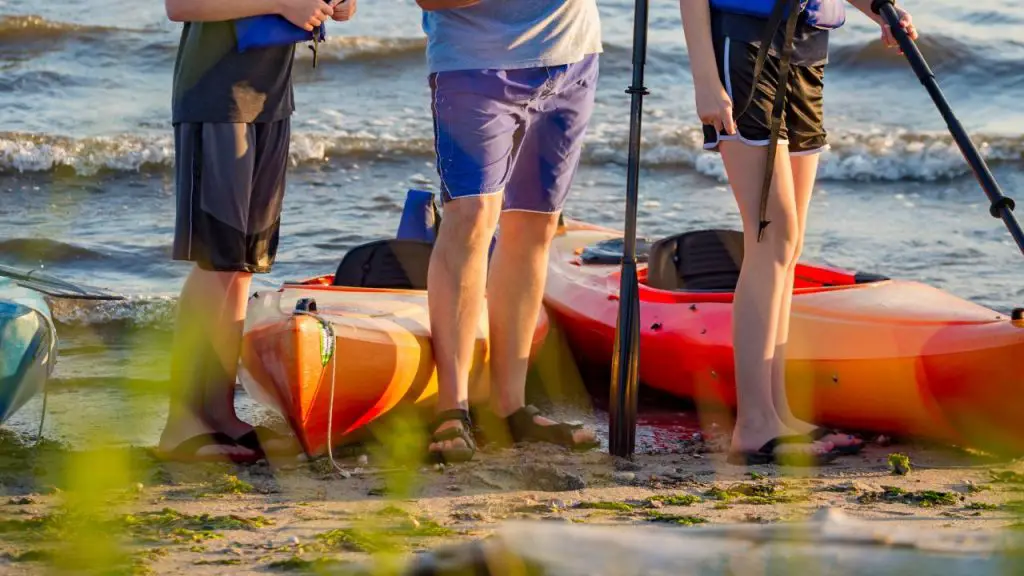 Pros and Cons When Wearing Flip Flops While Kayaking
Some kayakers wear flip flops, and there are reasons for that choice. It turns out that wearing flip flops has both advantages and disadvantages. Let's see the pros and cons at a glance.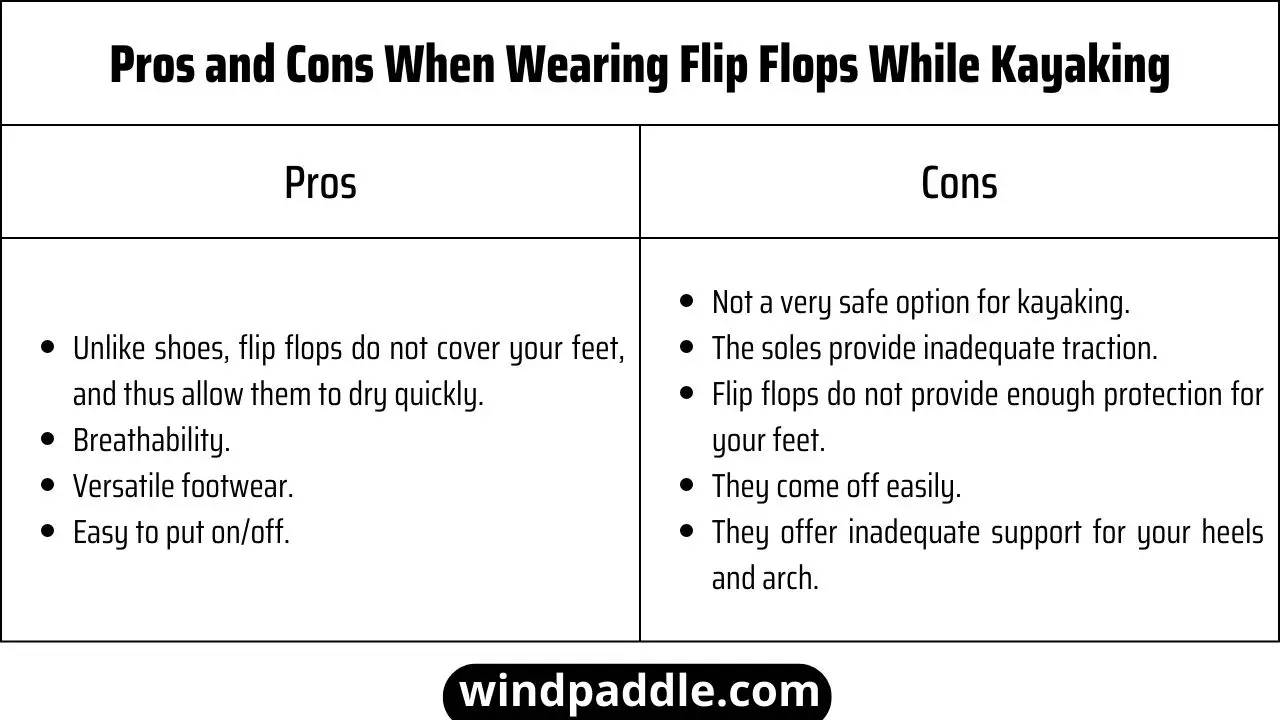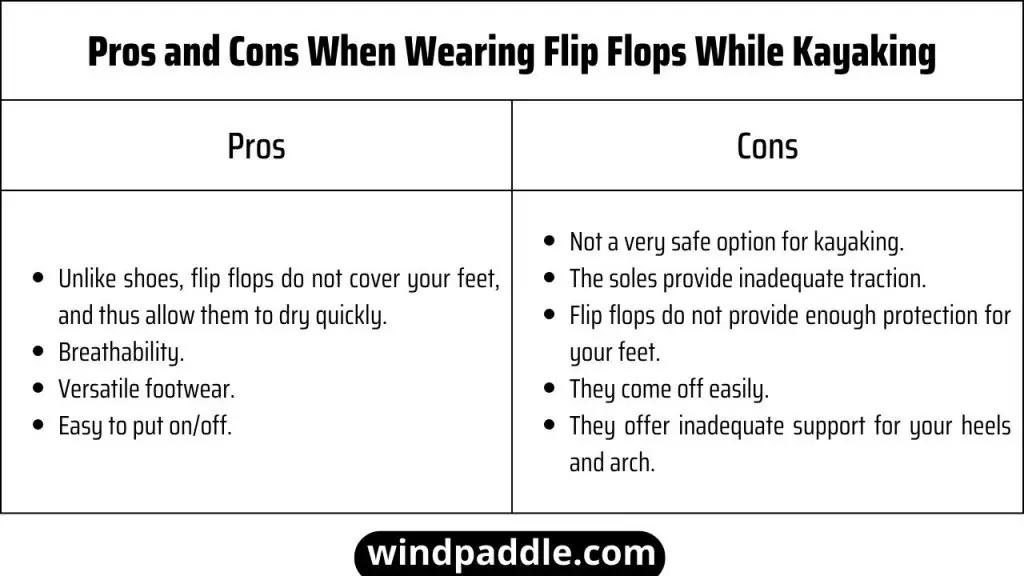 What Should You Wear In Your Feet When Kayaking?
To some extent, it depends on your personal preference. The ideal choice, however, is a pair of water shoes or water booties.
Water shoes come with thick, slip-resistant soles that remarkably reduce the risk of injuries and accidents when you walk on rocky surfaces. You can wear these shoes for long periods without feeling uncomfortable. 
Some water shoes even come with tiny holes that drain water and allow the shoes to dry quickly. Many different types of stylish water shoes are available on the market. 
As a rule of thumb, you should choose footwear that does not come off easily. If you choose to wear sandals, make sure they have proper straps. In cold weather, however, sandals will not provide enough protection, and your feet will get chilly.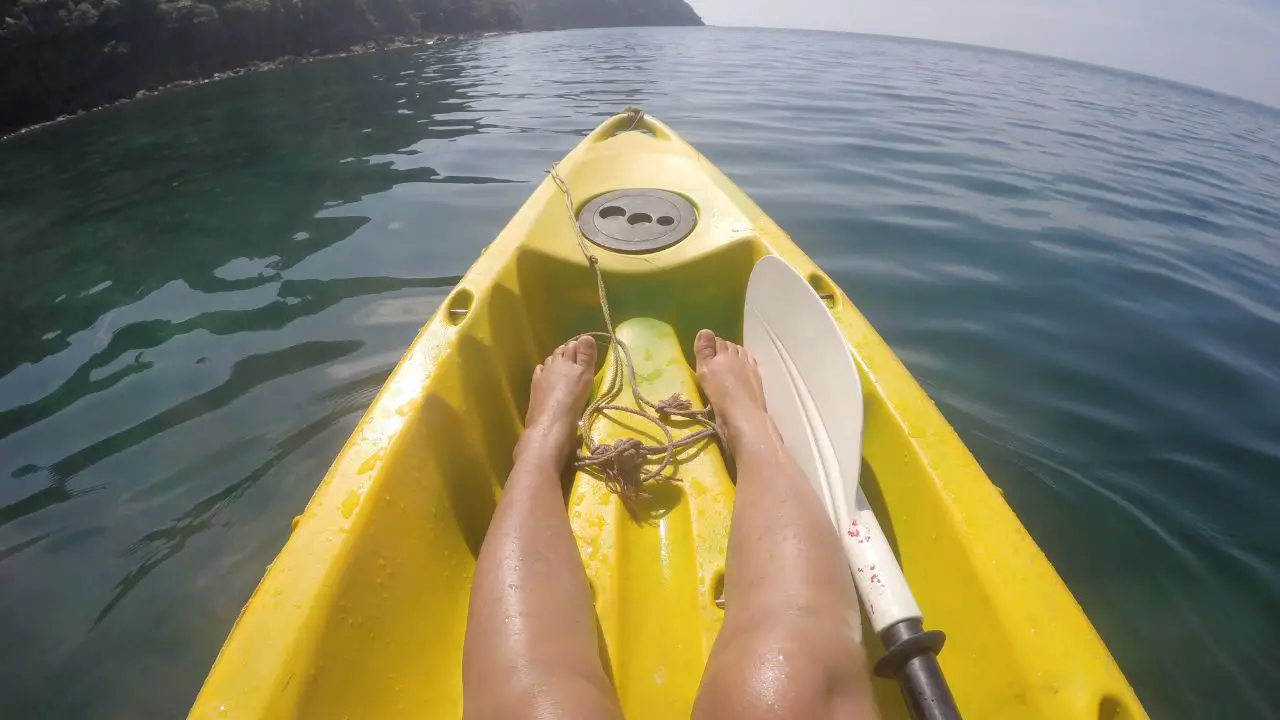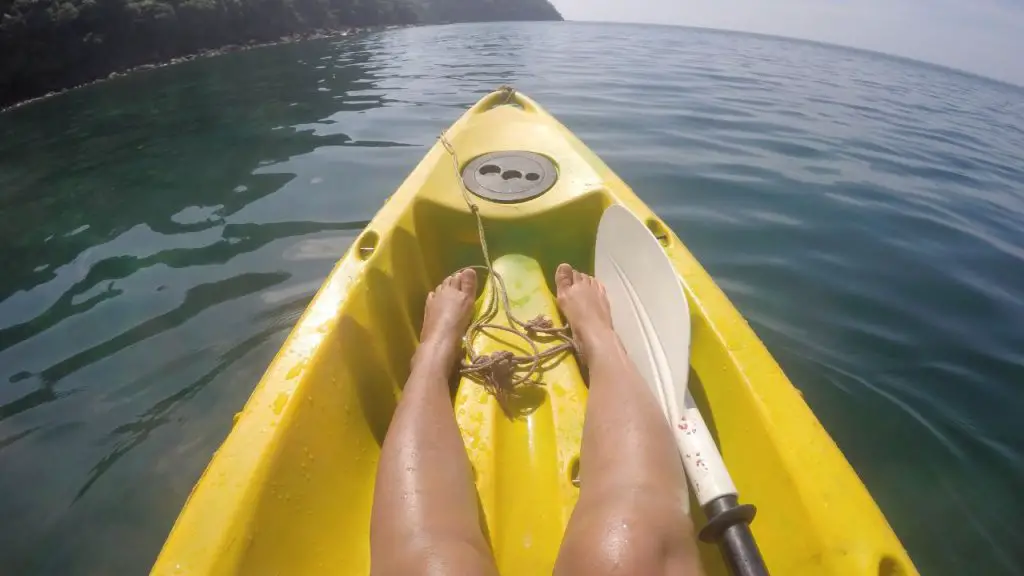 How to Choose a Good Kayaking Footwear
We have explained that flip flops are not ideal for kayaking and water shoes are better alternatives. But there are many different types of water shoes, and it's important to make an informed buying decision. Here are some factors to keep in mind when purchasing footwear for kayaking. 
Material – Neoprene is the most commonly used material for kayaking footwear. Neoprene is flexible, lightweight, and non-slip. To improve durability, titanium is sometimes used with neoprene. So, look for shoes that are made of both neoprene and titanium. Ideally, the soles should be constructed from rubber. 
Breathability – If you are going to spend time in a hot environment, make sure you choose breathable footwear. Lack of breathability will cause your feet to sweat profusely, and your shoes will become a breeding ground for bacteria. To make kayaking footwear breathable, some manufacturers use a waterproof breathable fabric called Gore-Tex. 
Quick-drying – To some extent, it relates to breathability. In general, shoes that are breathable dry quickly. Shoes made from cotton, polyester, rayon, lycra, and polypropylene dry pretty fast. 
Traction – As a kayaker, you should choose shoes with soles that provide enough traction, which reduces the risk of injuries and accidents when you walk on wet and rocky surfaces. Rubber-made treaded soles provide great traction.
Durability – Kayaking shoes should be durable and tough. Yes, finding a balance between durability can be a bit tricky, because shoes that are very durable tend to be less comfortable to wear. As a rule of thumb, you should look for kayaking shoes made from a combination of neoprene and titanium.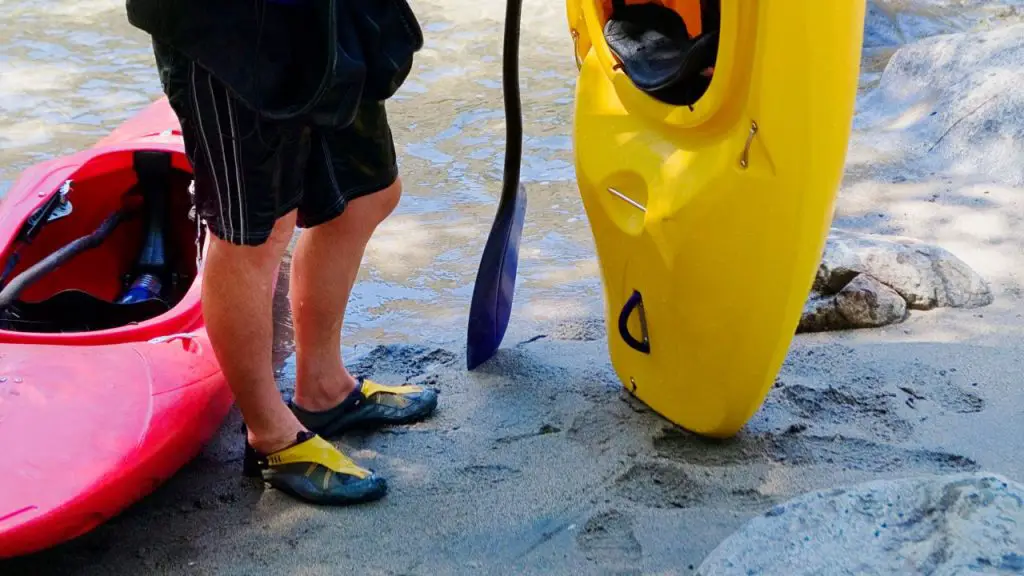 Size and Fit – Typically, kayaking shoes come in three different designs: low-cut, ankle-cut, and knee-high. Your choice should depend on two factors: your personal preference, and the weather. 
Weather –  If the weather is relatively warm, consider choosing low-cut shoes. Ankle–cut shoes provide some additional protection by covering your feet. And if you are kayaking in cold weather, choose knee-high shoes that provide protection against the cold. 
Water Environment – The spot where you are going to launch your adventure is another important factor to take into consideration. The shoes that work just fine on a beach may not be a good option for an adventure that involves walking on sharp rocks. 
Type of Kayak – To some extent, your choice of kayaking shoes should be determined by the design of your kayak. Water shoes that are large in size may not be a good option if you are going to launch a freestyle river kayak. 
Personal needs and Preferences – While it's good to take all relevant factors into consideration, your personal preference matters most. Choose the color and features that you like. It all comes down to choosing a pair of durable and comfortable kayaking shoes that appeal to you. 
Top 5 Best Shoes to Wear While Kayaking
With so many brands of kayak shoes out there, making a buying decision can be a bit tricky. To make things easier for you, we are going to recommend some kayak shoes. Learn about these options and choose one that fits your needs. 
Best Slip On Water Shoes – Native Shoes, Jefferson
These stylish and ultralight shoes come with perforations all over, that let your feet breathe. The shoes are odor-resistant, comfortable to wear, and super easy to clean. The soles are made from ethylene vinyl acetate. 
The Jefferson is available in a multitude of colors, so you will find a color that you really like. If you value simplicity, lightness, and sustainability, you will love these incredibly comfy shoes. These shoes are also pretty affordable, costing around $60.
Best Overall – Merrell Men's All Out Blaze Sieve Water Shoes
Looking for a pair of shoes you can wear even when you are not kayaking? Here you go! Made of leather and fabric, Marrell Men's All Out Blaze Sieve Water Shoes are suitable for kayaking, hiking, trail running, casual use, and work. 
The upper portion of the shoes is waterproof while the sole material is leather. The Lycra neoprene stretch collar makes it easy for you to put the shoes on and off. The UniFly midsole provides great protection against rough terrain. This versatile footwear costs around $60.
Best Breathability– Aleader Mesh Slip On Water Shoe
Founded in 2013, this Aleader has already gained and consolidated its reputation as a manufacturer of high-quality adventure shoes. The mesh upper of the shoes are remarkably breathable, which allows them to dry fast. 
The solyte midsole of the shoes make them incredibly lightweight yet durable. The rubber outsole drains water, making it super easy for the wearer to move in the water. Thanks to the elastic buckle, adjusting tightness is quick and easy. There are distinct designs for men and women, and the price is around $40.
Best Water Sandal – Keen Women's Water Sandals
Made of leather and textile fabric, this footwear is another great option for kayakers. It's characterized by superior grip and sturdy construction. The rubber outsole is non-marking, and therefore leaves no imprint if you walk indoors. 
Thanks to their bungee capture system, the sandals will fit neatly with your feet. The lace lock system allows you to easily put the sandals on and off. The midsole is sturdy, yet provides great cushioning. Depending on the size, the prices start at $48 and can go up to $200.
Don't Miss – Speedo Women's Surfwalker 3.0 Water Shoe
Speedo Women's Surfwalker 3.0 Water Shoe is another great option for those looking for a pair of durable, comfortable and breathable water shoes. The upper portion, which is made of 100% neoprene, is stretchable and therefore offers a secure fit. 
The insole is cushioned, and offers pretty good impact protection. The outsole provides very good slip resistance and traction. This one is the most affordable option on this list. The shoe costs only $28.
Can You Go Kayaking Barefoot?
The answer depends on the site you choose for kayaking. If you are going to a sandy beach that's not riddled with shells or rocks, go barefoot. But if there are rocks and other sharp items on the site, wear shoes to protect your feet. 
If you are planning to explore an unexplored kayaking site, don't forget to wear shoes when you go. Do not go barefoot if your adventure involves walking through the woods. 
FAQs
What should you not wear while kayaking?
You should not wear cotton cloths while kayaking because they tend to make you cold pretty quickly. It's also important to be careful about the footwear you choose. Instead of wearing flip flops, consider wearing water shoes
Can you wear sneakers while kayaking?
Sneakers absorb water, and therefore are not good footwear for kayaking. Instead of wearing sneakers, consider getting water shoes made from breathable and fast-drying materials such as neoprene and titanium.
What do you wear while kayaking?
Wear cloths that provide protection from the sun. Dress in layers. Instead of cotton, which absorbs water, choose fabrics that dry quickly. And when it comes to choosing footwear, water shoes are always better than flip flops.
Can you wear Crocs while kayaking?
Crocs are breathable, comfortable, and come with tiny holes that drain water. Rather than sinking, crocs float on water. All these features make crocs pretty good kayaking shoes.
Key Takeaways
You can wear flip flops while kayaking, especially if the site is a sandy beach with no sharp objects. But water shoes are definitely better alternatives. Flip flops do not provide enough protection and traction, so they can be outright dangerous in some cases. 
There are many brands of water shoes on the market, and not all brands are made equal. So, it's important to make an informed buying decision. It all comes down to choosing a pair of comfortable, durable and breathable shoes.