Do you own a Toyota RAV4? Do you want to know how to attach a kayak to a RAV4? If you answered yes to any of these questions, we have you covered in this post.
You can safely transport your kayak using a RAV4, and different ways exist. A kayak may not fit inside the car. But using a roof rack or a utility trailer, your vehicle can help you carry a kayak or any type and length.
Continue reading for details on how to attach a kayak to a RAV4 using different methods and safety rules to observe.
Can a Kayak Fit In a RAV4?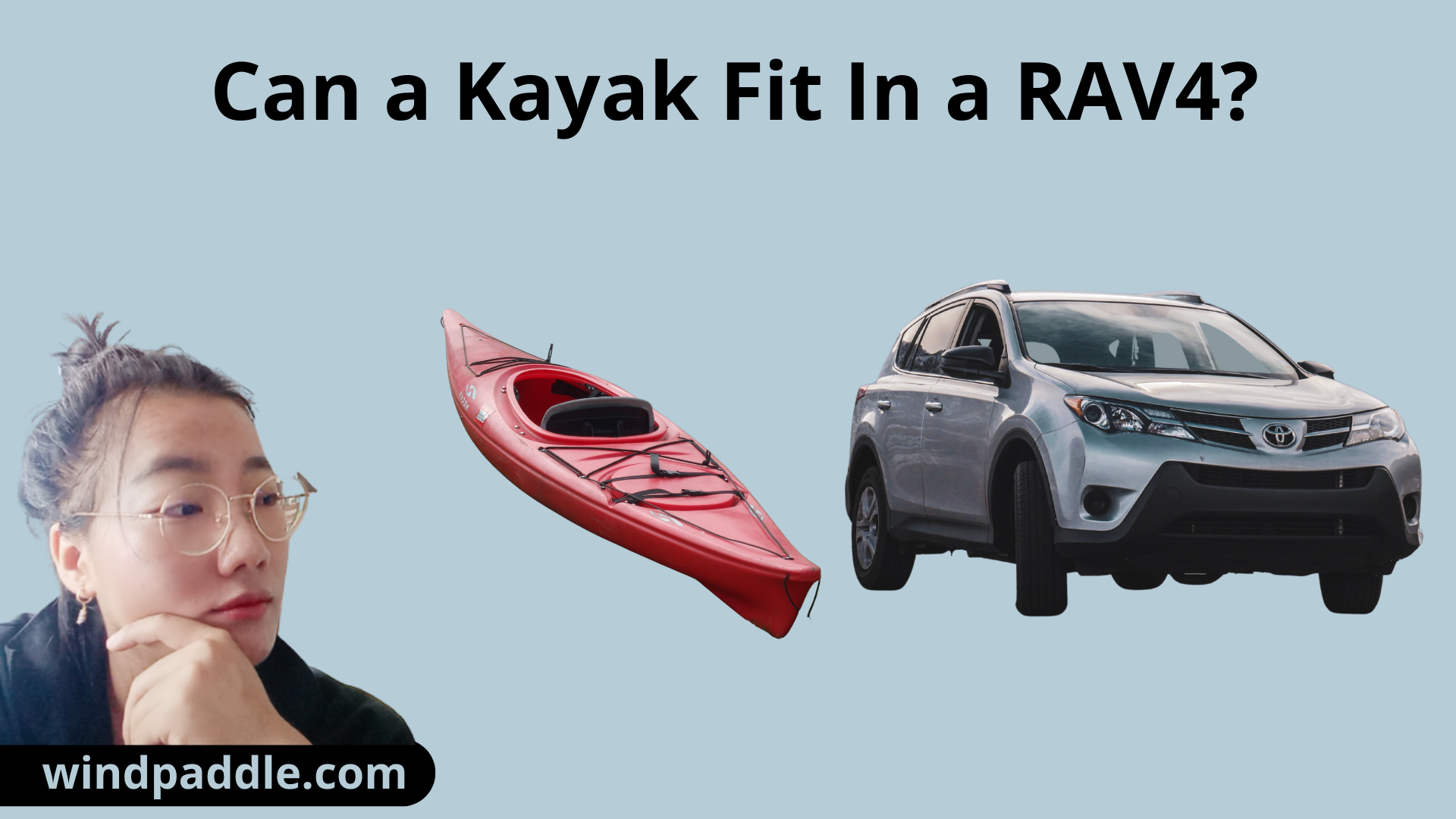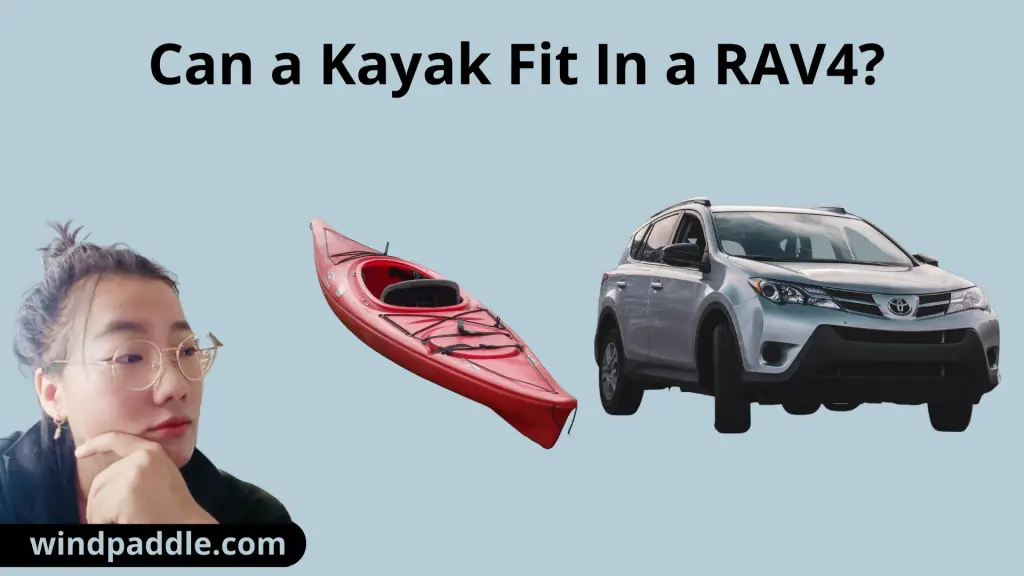 It all depends on the kayak type and size. A 2021 Toyota RAV4 has a total cargo space of 69.8 cubic feet, with the rear seats folded. Unfortunately, this is not enough for hardshell kayaks.
The only possible way to carry a kayak inside a Toyota RAV4 is when you are comfortable driving with the rear door open. That way, you can let two-thirds of the boat inside and the rest outside. Unfortunately, some states do not allow driving on the highways with the trunk door open.
Transporting a kayak inside a RAV4 can be challenging and risky. The boat can potentially damage the car's interior and pose threats to the vehicle's occupants. Besides, there will be less space for passengers. You can only comfortably fit an inflatable or foldable kayak in a RAV4 and still have room for other occupants.
Consider using a roof rack or a utility trailer to enhance the kayak-carrying ability of a Toyota RAV4. These alternatives are safer and recommended for long and short trips.
How to Attach a Kayak to a RAV4
It is not advisable to carry a hardshell kayak inside a Toyota RAV4 because of the risks and dangers involved. Doing so can ruin the car's interior and make the driver uncomfortable, especially if the boat is pushed too close to the driver.
But does it mean you can only carry an inflatable or foldable kayak inside a RAV4? Yes. It is the most recommended, but you can use attachments to transport hardshell kayaks with a RAV4. 
Like most SUVs, Toyota RAV4 has a rigid roof structure to bear the kayak's weight and towing ability to pull a utility trailer.
Use Utility Trailer
Toyota RAV4 are of different models, and all can tow a utility track without a problem. Ones equipped with 2.5L 4-cylinder engines have a towing capacity of 1,500 pounds, while the upgraded AWD models can tow a maximum of 3,500 pounds.
Pulling a 200-pound utility trailer won't pose any challenge to a RAV4. You can see you have enough room to load more than one kayak inside a utility trailer attached to a Toyota RAV4. However, you should confirm the towing capacity of your car, especially if you have older models.
Overloading your RAV4 or other SUV will stress the engine and transmission system. That can lead to premature failure, and the warranty won't cover it. Just remain within the limit to be on the safe side.
How do you install the trailer hitch on a Toyota RAV4? You can call a technician to help you at a fee of about $100. Alternatively, you can use a DIY method to handle it yourself.
The next big task is to attach the trailer and install the wiring harness. You cannot go to the highway pulling a utility trailer if this is not done.
Using a utility trailer to transport your kayak is more expensive than the next option. You will need an additional hitch for your RAV4 if you don't own a newer model that comes with it. Also, expect to spend about $800-$1,500 on a utility trailer. It may seem expensive, but a long-term investment that can serve many other purposes. It is also safer than other methods.
1195 lb. Capacity 48 in. x 96 in. Heavy Duty Folding Trailer Special
Use Roof Rack
Using a roof rack is more affordable, making most SUV owners opt for it. A correctly installed roof rack is ideal for carrying kayaks, canoes, bicycles, and other bulky equipment that cannot fit inside the cargo area.
Most newer SUV models, such as the 2021 Toyota RAV4, come with pre-installed roof rails. That makes it easy to attach any aftermarket roof rack. Ensure you have it before buying a roof rack.
A Toyota RAV4 has a rooftop weight carrying limit of 165 pounds. This is enough to accommodate two kayaks, even the heaviest ones.
Installing a roof rack on a RAV4 is straightforward, just like any other SUV. You can install a J-rack or a combo rack with ease. Here is a video tutorial with a step-by-step guide on roof rack installation on a Toyota RAV4.
But can you carry a kayak on a RAV4 without a roof rack? Yes, but it is not recommended, especially for long trips. If you have a limited budget, buy foam pads or pool noodles and straps to help you secure your kayak on RAV4.  
Powder-Coated Stainless Steel Kayak J-Bar Roof Rack Car
Safe Rules When Attach a Kayak to a RAV4
Transporting a kayak is not straightforward for beginners. There are many factors and precautions you should consider to enhance safety. Let's quickly highlight just a few of them.
Consider going over short trips for your first couple of trips to gain experience transporting a kayak.
Lifting and strapping kayaks on a roof rack require skills and experience. So, consider practicing at home before you embark on your outdoor adventures.
Learn the art of attaching and transporting kayak from others
Tie a red or orange warning flag to the protruding end to warn other drivers If the kayak sticks out more than three feet from the rear.
Check the laws if you are allowed to pull a utility trailer or carry an oversize load in or on your car.
Keeper – 18″ x 18″ Bungee Safety Flag
Alternative for Attaching a Kayak
Instead of struggling to transport your kayak, consider renting one when you get to the destination. Most kayaking locations have kayak rental services that can serve you well.
But how much does it cost to rent a kayak? It depends on the area and the type of kayak. For example, it costs $45.00 for a single-seat kayak and $55.00 for a atwo-seat kayak in Crystal River, Florida.
The cost of kayak rental also depends on the duration you will take with the boat. In Lake Tahoe (located on the California-Nevada border), it costs $30 and $45 to rent a single and tandem kayak for one hour. The cost is $90 and $110 for a single and tandem kayak for a full day.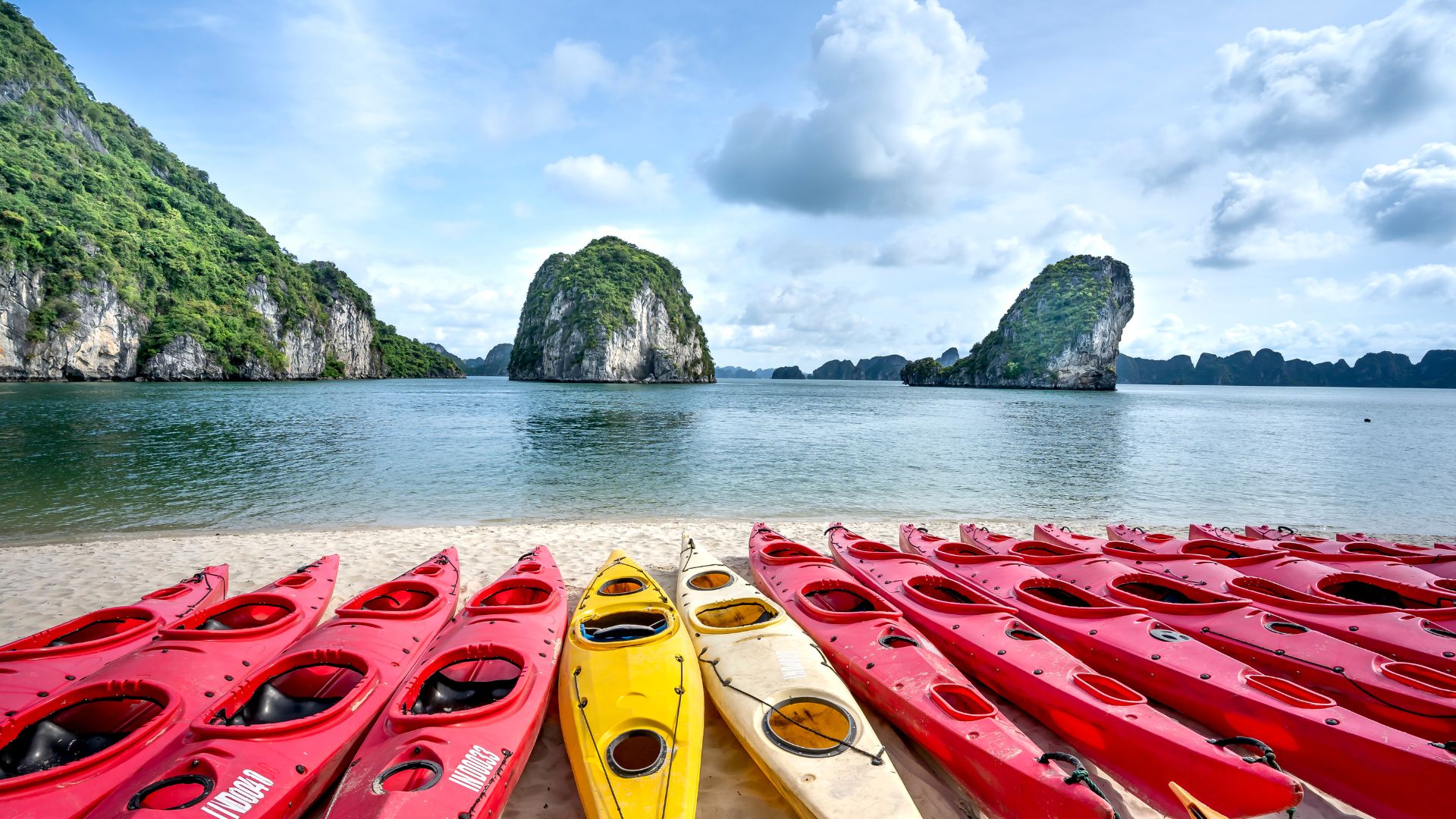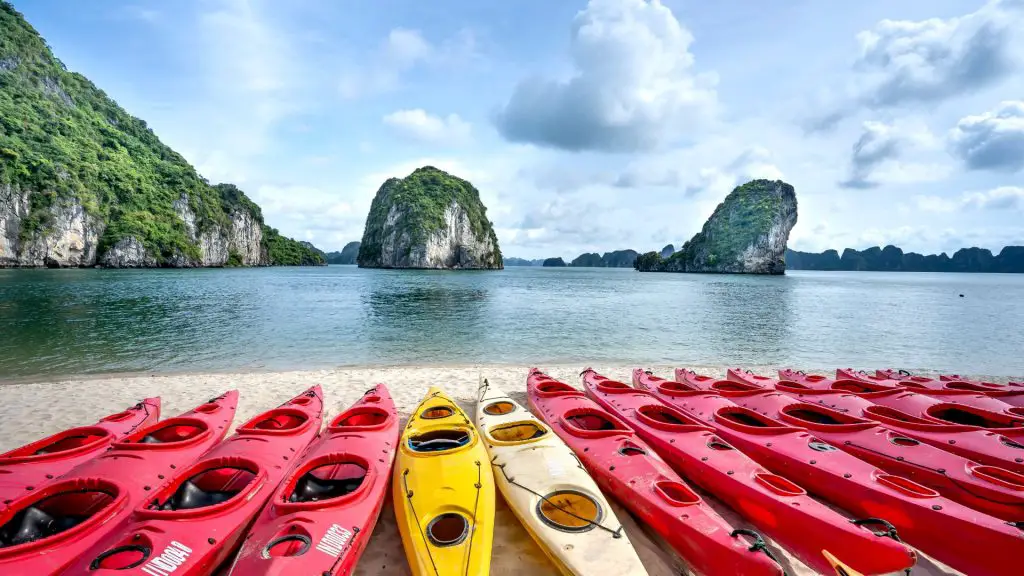 FAQs
How do you put a kayak on a Toyota RAV4?
You can put a kayak on a Toyota RAV4 by yourself or call for assistance. If you have a buddy, let everyone grab each end.
Position the kayak next to and parallel to the car with the bow towards the front of the vehicle. Lift the boat by holding at each end of the hull and placing it directly above the rack. Lower it gently.
Can You Put A Roof Rack On A RAV4?
Yes. RAV4 comes with pre-installed crossbars that make it possible to attach aftermarket roof racks. You can buy one and put it on the car effortlessly.
Can You Carry A Kayak On A RAV4 Without A Roof Rack?
Yes. You can carry a kayak on a RAV4 without a roof rack with pool noodles and straps. But you need skills in loading and securing the boat on the car to avoid accidents.
How do I secure my kayak to my SUV?
You need at least two 12-foot-long cam or ratchet straps to secure a kayak on your SUV. Once you tie the boat, you should lock the straps to avoid slackening. Find detailed instructions on how to tie a kayak to a car.
How do you strap a kayak on an SUV without a roof rack?
Strapping kayaks on roof racks is easy, but you can also do it without a roof rack. In this case, you will need pool noodles, waterproof tarps, and cam straps.
Can I put a kayak directly on the roof rack?
Yes, but it is not recommended. That is because of the possible dents on the boat's hull, which can interfere with its maneuverability. A kayak with indentions does not easily track straight.
Do you need to tie down the front and back of a kayak
Yes. You need to tie down the bow and stern of your kayak to avoid back-and-forth movement if you suddenly apply brakes. It will protect your boat and car and minimize accidents on the road.
Conclusion
You can transport a kayak using a Toyota RAV4 if you use the most appropriate attachment. These include a utility trailer and a roof rack that you can install on the crossbars. You can also fit an inflatable or foldable kayak inside the car, but not the hardshell ones. These are riskier and should only be transported using the methods mentioned.
Thank you for your time at Windpaddle reading this article. We appreciate you for being our audience and invite you to share this article with fellow paddlers. Also, consider checking our previous posts on related topics.