How do you transport two kayaks without a roof rack? We are often asked this question and have decided to make an entire post about it. You can do so in many ways, which is our focus today.
You don't need a roof rack to transport two kayaks to the destination. Consider using a utility trailer, pickup truck, pool noodles, or foam blocks.
Read on for details of these options, including their pros and cons.
How Do You Transport Two Kayaks Without a Roof Rack?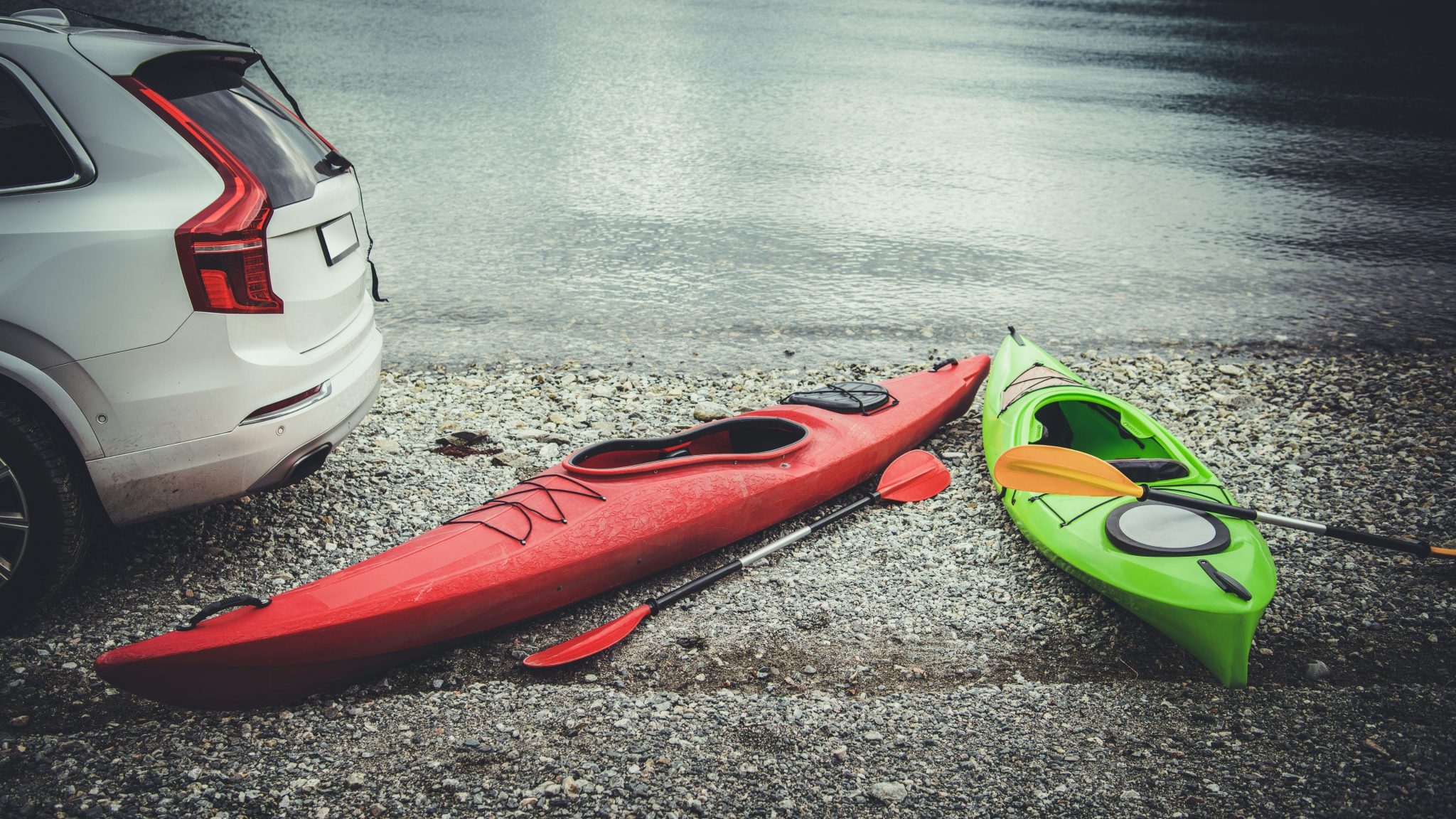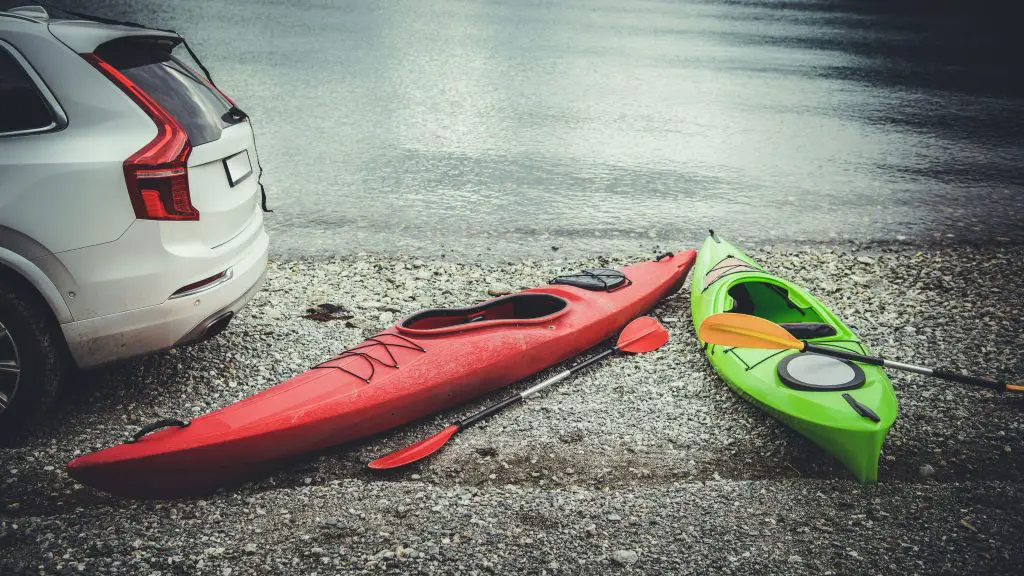 Transporting a kayak without a roof rack is a challenging task, let alone two. Though it seems impossible, you can actually do it if you have all the items you need.
Fortunately, different methods of transporting two kayaks without a roof rack exist. You can use a utility trailer, a pickup truck, pool noodles, and other options. Your choice depends on what's available to you.
Let's get into the details of each method.
Use a Utility Trailer
The utility trailer method is one the easiest if you want to transport two kayaks without a roof rack. You can buy or rent a trailer to transport two or more kayaks without a roof rack.
Many people have utility trailers for hauling and other purposes. It can be your lucky day if you have one because it is the best option for transporting more kayaks.
You can visualize it as a truck bed, only that it is lower to the ground. That makes leading kayaks onto it even easier.
You should set up the trailer bed to safely carry two or more kayaks. Do that by customizing the utility trailer, as illustrated by Popo's Woodworks on YouTube.
The resulting structure makes hauling kayaks easier. And with just one vehicle, you can transport many kayaks for a group.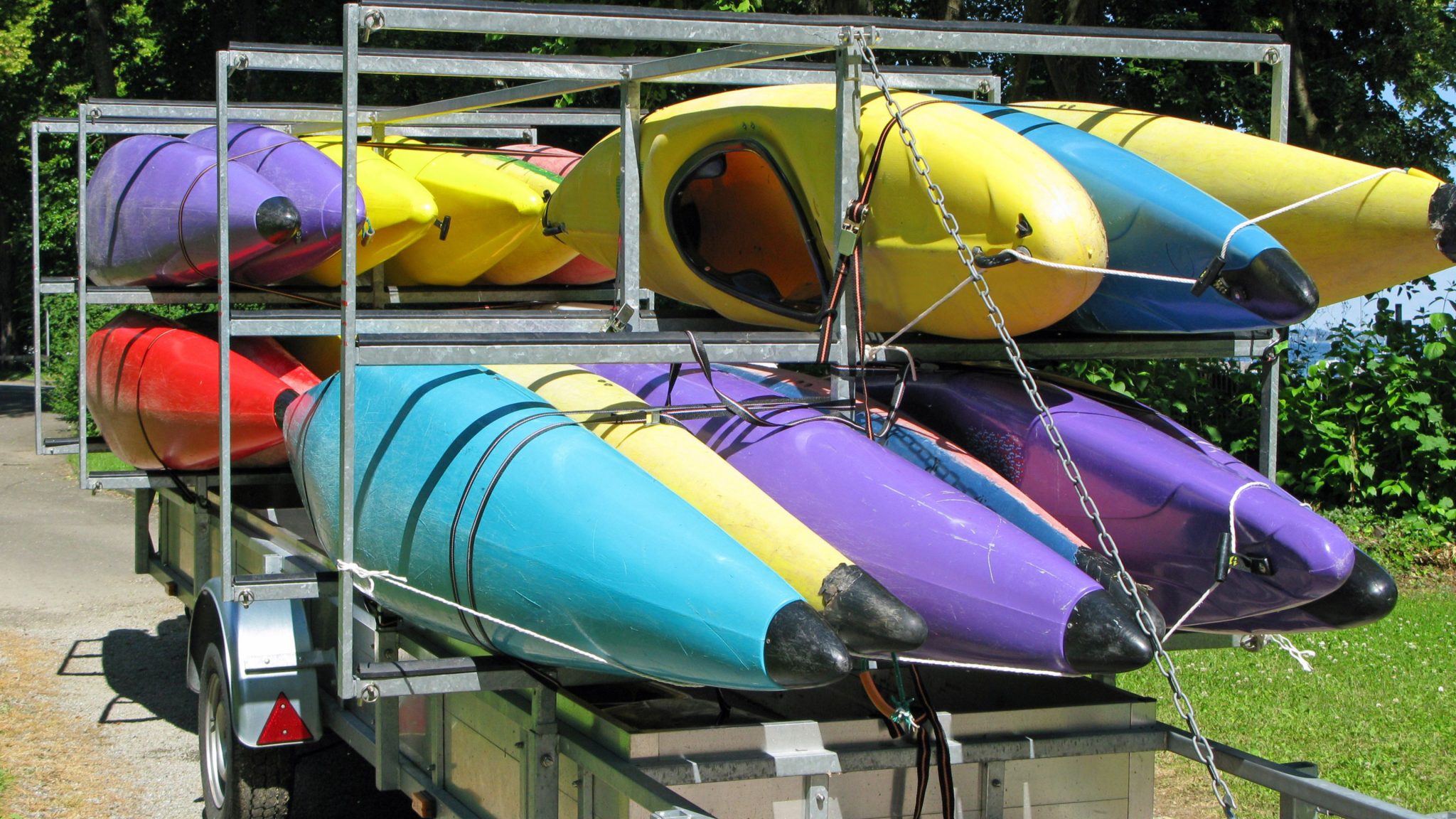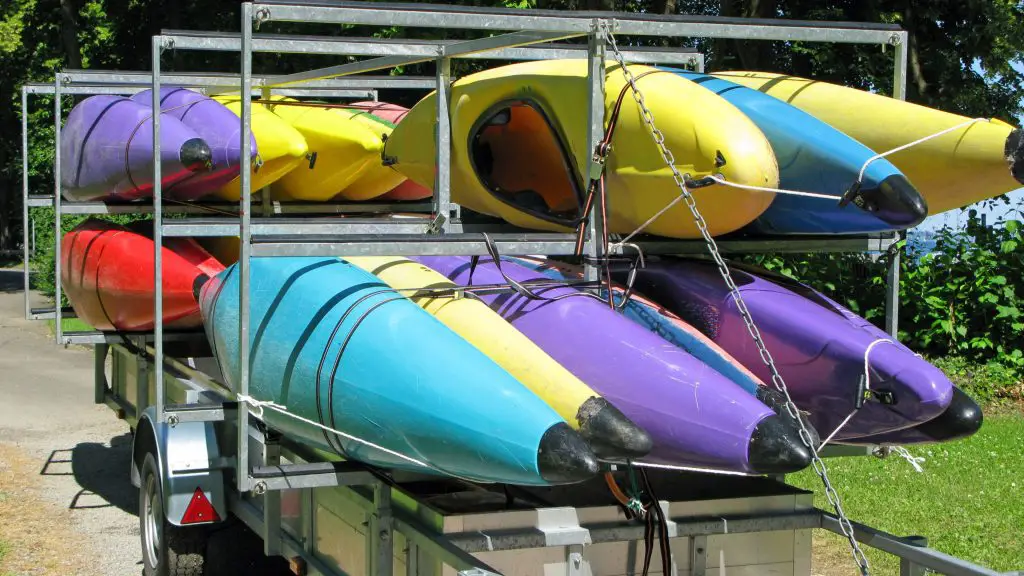 Pros and cons of a Utility Trailer
Using a utility trailer to transport two kayaks is an excellent choice. However, it comes with downsides that can make you explore other options. Let's highlight the pros and cons of this method.
Pros:
Can carry more than two kayaks
The safest way of hauling kayaks over long distance
Easy to load and secure kayaks onto the trailer
Suitable for all types of kayaks
Ideal for long-distance hauling
Cons
Expensive if you don't have the utility trailer ready
Ruff-Sport Trailer – Galvanized Finish for Kayak, Bicycle, and SUP
Your Truck
You are also lucky if you own a pickup truck. It has a spacious bed where you can load and secure two kayaks you want to transport. However, transporting two kayaks in your pickup truck has its challenges and may not seem as easy as it is.
Many ways of transporting two kayaks in your truck exist. You can use the truck bed, truck bed extender, or truck bed ruck.
Each presents challenges, but we will only focus on using a truck bed. It is the most common and less expensive option.
Using a truck bed to transport two kayaks is one of the most straightforward methods on this list. You don't have to purchase any other equipment, making it the cheapest. But how do you do it?
Step 1: Prepare the Truck Bed
Your truck bed is not ready to receive your kayaks just the way they are. You, therefore, need to make it. That involves cleaning it and removing dirt that can accidentally bruise your kayak.
Also, you can spread a rubber mat or truck bed liner to protect the truck and kayaks.
Step 2: Load the Kayaks onto the Truck Bed
You can load your kayaks onto the truck bed by yourself if they are lightweight. Otherwise, find someone to help you.
Grab the kayak using the grab handle and slowly slide it up the boat ramp and onto the truck bed. Do that with the kayak's hull facing up to avoid unnecessary damage. You can use foam blocks to offer further protection.
Adjust the kayaks to create room for the next one, which you will also load onto the truck using the same procedure. Your kayaks should be 70% inside the truck bed and only 30% hanging. If that's not the case, consider a truck bed extender.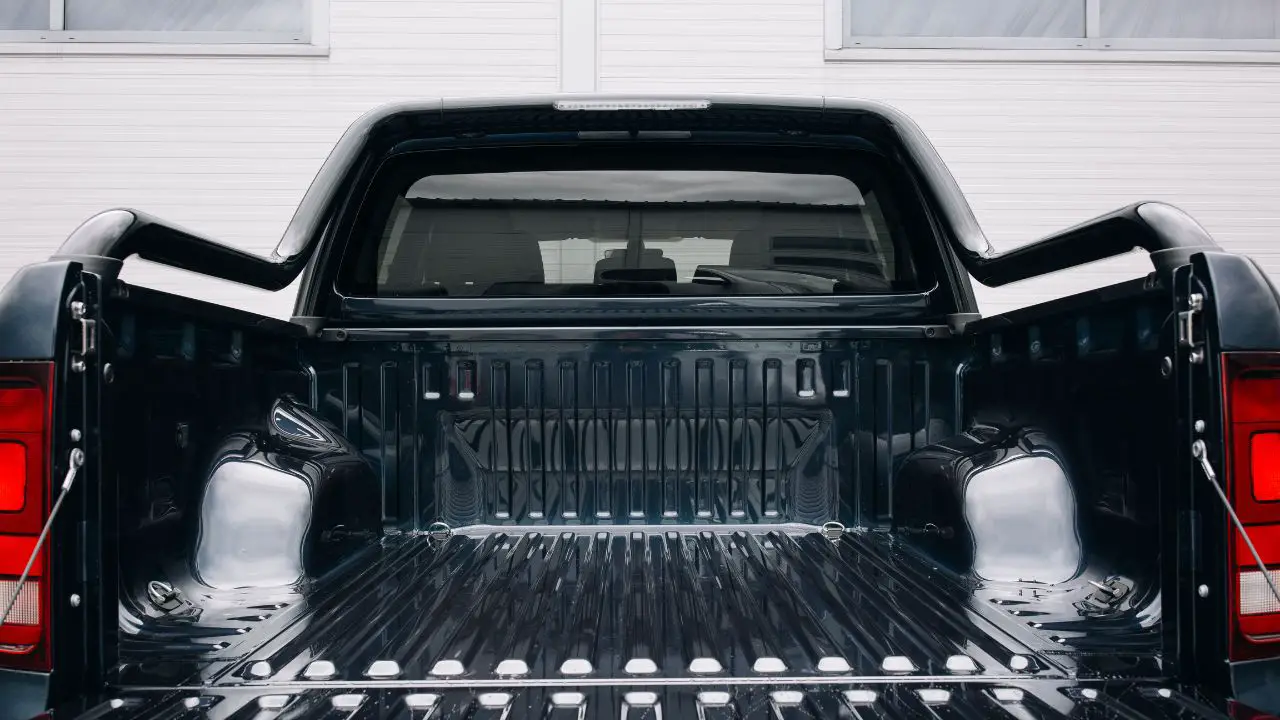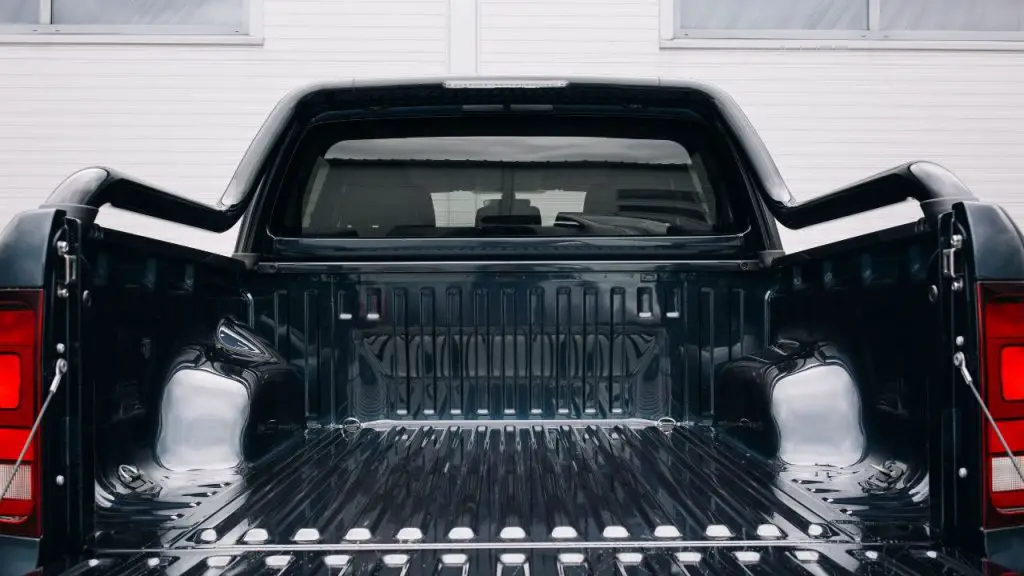 Step 3: Secure the Kayaks
Find the anchor points in the truck bed. Next, pass a cam strap through the anchor point nearest to the front. Move it over the kayaks to the anchor point on the opposite side and back and lock it.
Repeat the same procedure at the rear end and fasten the two cam straps to hold your kayaks.
Step 4: Attach a Red Flag
This is a requirement by law if you carry an overhanging load in your truck's bed or trunk. It warns other drivers to keep their distance from your vehicle.
Lastly, strap down the bow and stern lines. Use the kayak's grab handle to secure the bow and tie the stern to your truck's rear anchor point using the other grab handle.
4 Pieces 18 x 18 Inch Hook Safety Warning Flag Mesh Safety Flag
Pros and cons of  the truck bed
Transporting two kayaks in a truck bed seems a straightforward process but not without its challenges. Let's quickly highlight the pros and cons of using this method.
Pros:
The most affordable method
Quick and convenient
Easy to load even heavy kayaks onto a truck bed because it is relatively low
Cons:
Not very secure – you may need to lock the kayaks
Not suitable for long kayaks
MaxxHaul 70231 Hitch Mount Pick Up Truck Bed Extender For Ladder
Use Pool Noodles
Pool Noodles are another dominant method paddlers use to transport two kayaks without a roof rack.
Using pool noodles is your next option if you can't access a utility trailer or don't own a pickup truck. It is more affordable than buying a utility trailer. Besides, little knowledge is required to install kayaks using pool noodles.
However, this method is less secure, and emergency braking can make the kayaks slide. That means you should learn how to do it right and lock your kayaks to avoid theft.
You can transport two kayaks using the pool noodles method through the following steps: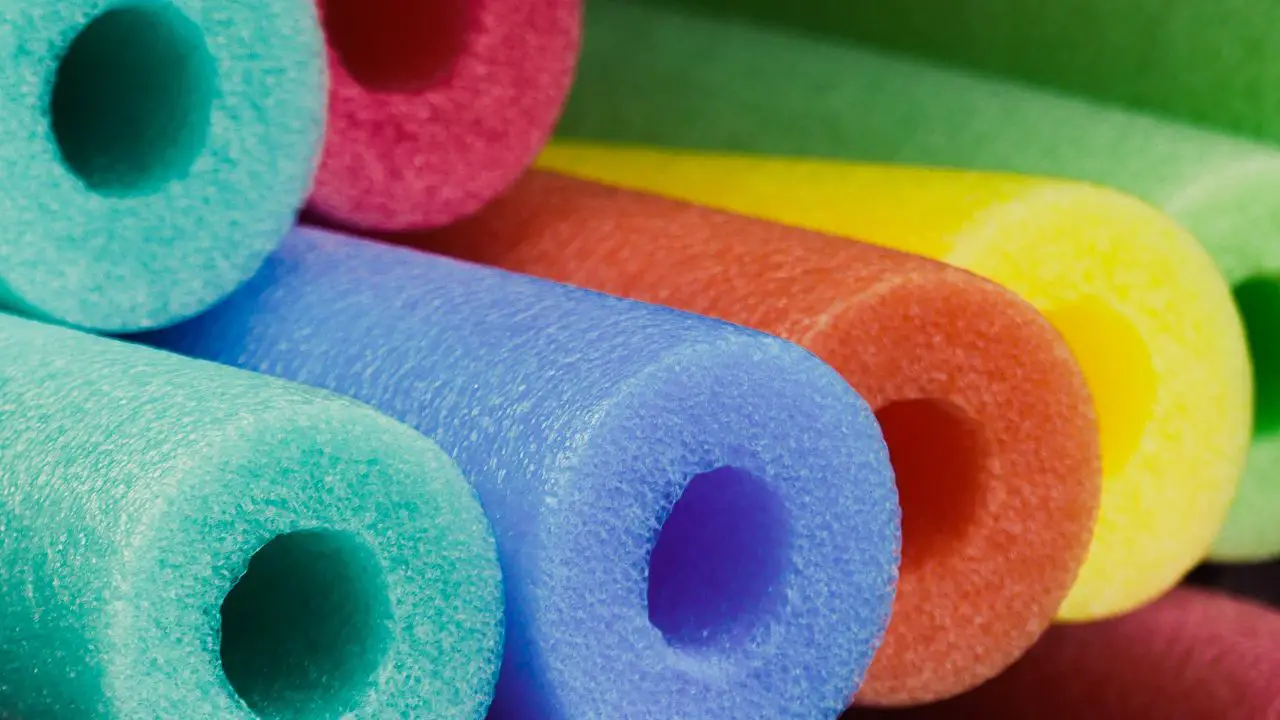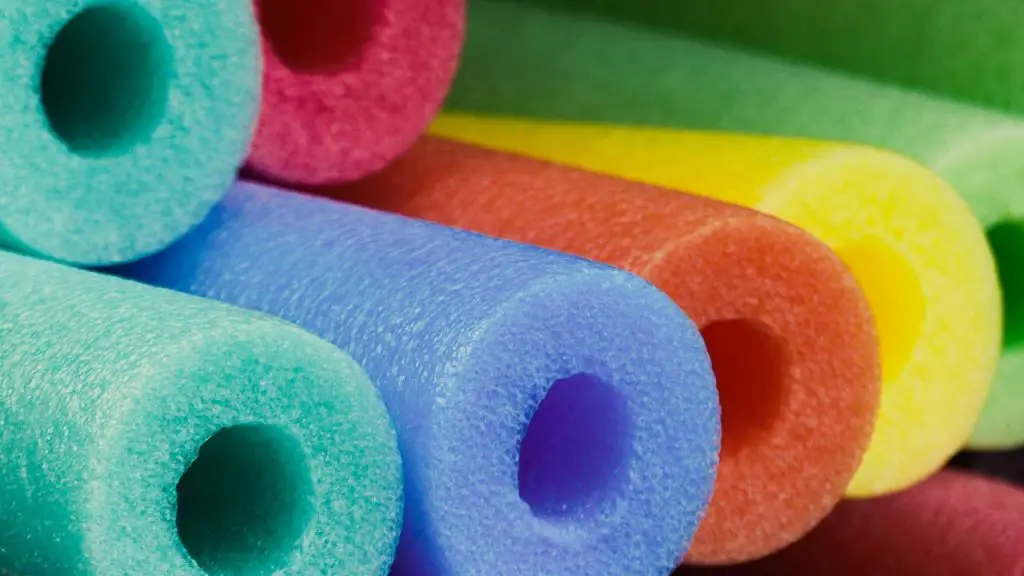 Prepare Tools And Material
Before you buy the pool noodles and other tools you will use in this step, find out the length and number you want for the job. You can find these items at an automotive or hardware store.
In this case, you will need pool noodles of about 3-3.5 inches thick and with holes through them. Two pool noodles are sufficient, but a third or a fourth is better.
Also, make the pool noodles a little shorter than the width of your car. That means you should measure your vehicle's width before you head to the shop.
Next, you need cam straps or ratchet straps, whichever is readily available. But cam straps are the most recommended for transporting kayaks without a roof rack.
If you want two pool noodles, you will need six cam straps and 9 cam straps for 3 pool noodles. In general, multiply the number of pool noodles used by 3.
The last item you need is stainless-steel tubes. The number you buy should be the same as the number of pool noodles you intend to use.
Also, they should pass through the holes in pool noodles slightly longer. However, ensure they don't get longer than your side mirrors.
The metal tubes offer reinforcement needed to safely hold the two kayaks on the roof of your car.
Installing Pool Noodles on Top of Your Vehicle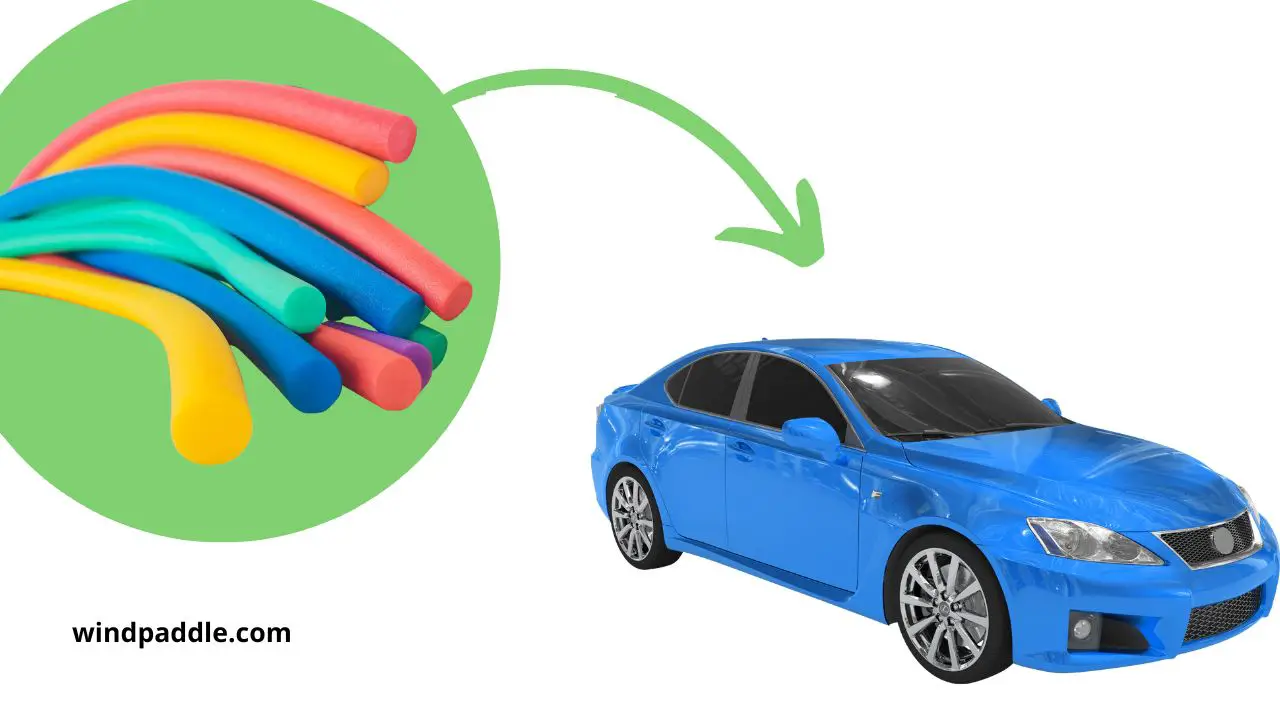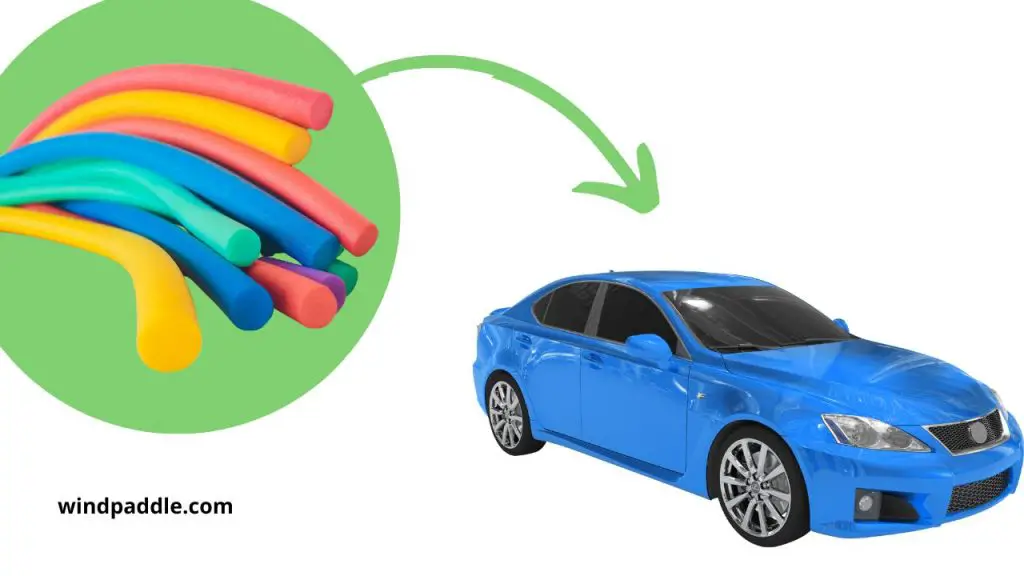 The golden rule is to have pool noodles placed on the roof of your car every three feet, but that depends on the length of your vehicle. But before that, ensure the pool noodles are not hanging on the edges of the car's roof.
Open the doors to test it out. If you cannot open the door, your pool noodles are long and need to be trimmed.
Feed the cam straps or ratchet straps through the hole in the pool noodles. Ensure the strap hangs out from one end and the locking mechanism on the other. Repeat this procedure for all the poll noodles you want to use.
Three pool noodles are the most recommended. That way, you place one in the front, center, and rear end. To know where exactly to put them on the roof, measure the length of your kayak.
The front pool noodle should be about 4-6 inches from the cockpit and the rear one the same distance behind the cockpit.
Attach the cam straps onto your car. It should be in a way that the locking mechanism is centrally placed inside the vehicle. You can start with the front or rear strap, ensuring the correct spacing.
Now, feed the stainless-steel tube through the holes in the pool noodles with 6 inches hanging out on both sides.
Double check the cam or ratchet straps to ensure the tension is appropriate. You don't want to damage your car with them.
Set Your Kayaks On Top of Pool Noodles
Once your pool noodles are in the desired locations, load the kayaks onto them. The most preferred method is to let the kayaks face down, but that's only possible if your car's roof is wide enough for the two.
If that is not the case, place them side by side, with the top of one facing the bottom side of the other.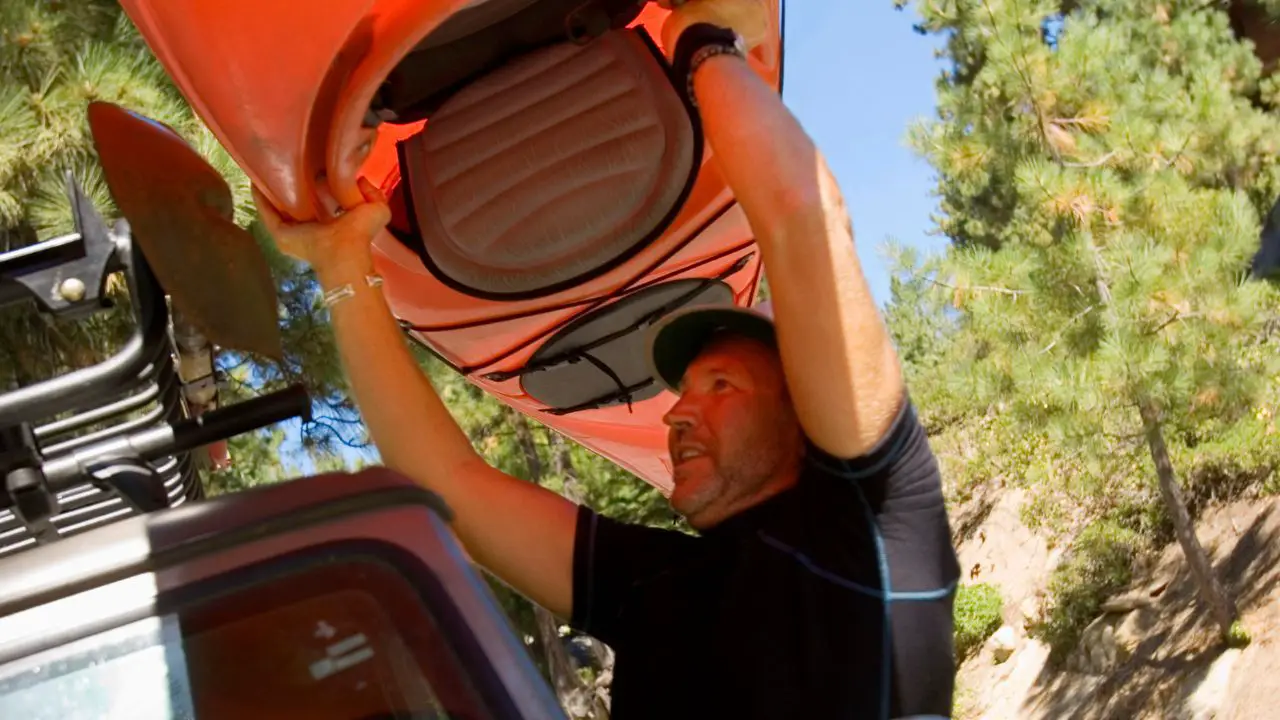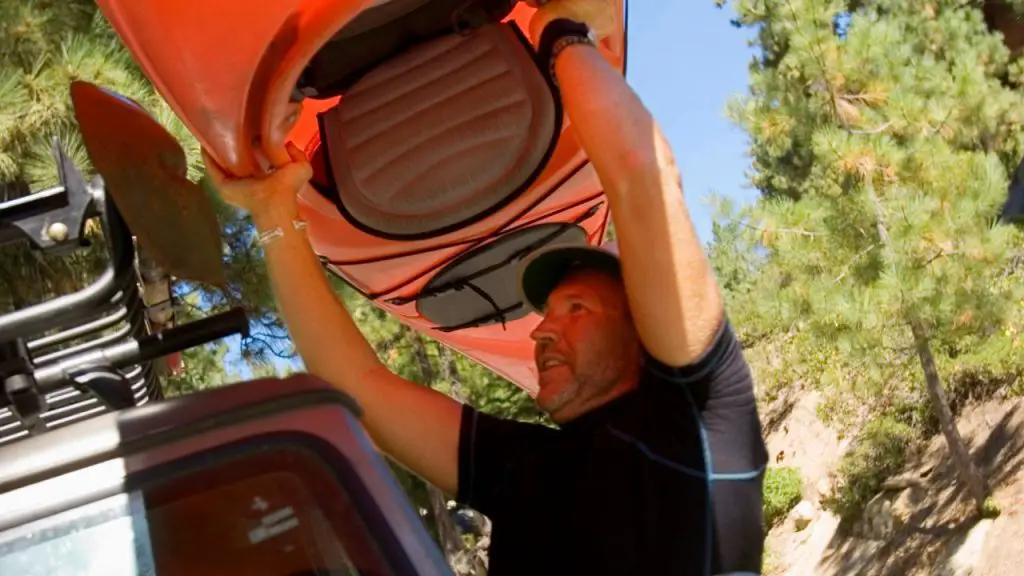 Load kayaks onto the pool noodles at a time. You may need a step-stool if your car's roof is too high. Also, call for help if your kayaks are too heavy to lift by yourself. Proceed as follows to set kayaks on the pool noodles:
Place the kayak parallel to your vehicle and ensure the middle of the kayak is aligned to the middle pool noodle on the car's roof.
Move close to the kayak and face down to the bow. Slowly lift it at the bow and adjust your position until the front is directly above your head.
Give the kayak a 90-degree turn and put the bow on the car's roof, on the noodle.
Walk to the stern, lift it and push the bow onto the front pool noodle. Once in position, give it another 90-degree turn and place the stern on the rear pool noodle.
Repeat the above procedure to load a second kayak onto the pool noodles and adjust them accordingly.
Alternatively, you can hold the kayak in the middle and gently lift it to your knee and your head. It becomes easy to load it onto the root Noodles. However, this approach is only applicable to light kayaks.   
Tie Down 2 Kayaks Without A Roof Rack
You should tie the kayaks, one at a time, as you load them onto the pool noodle.
Assuming your first kayak is successfully on the pool noodle and positioned appropriately, run one strap along each pool noodle. You can do this before loading the kayak for convenience.
Wrap the fur side of the straps beneath the pool noodles and over the kayak towards the buckle. Feed the strap around the stainless-steel tube and through the lock and fasten.
Don't make it too tight to damage your kayak. Also, you may need to make some changes later.
Repeat the above process at the front and rear, assuming you started with the center pool noodles.
Get the second kayak onto the pool noodles and position it accordingly. Secure it by repeating the steps you followed when doing the same with the first kayak.
Double-Checking Everything
With both kayaks on the car's roof, you need to walk around the vehicle to ensure you are happy with everything.
Check that the kayaks are not too tight or loose, and if you are satisfied, wrap the free straps around the bar. That will prevent them from flying around and disrupting you when driving.
Lastly, shake the kayaks to ensure nothing will be flying away when you apply emergency brakes, accelerate, or negotiate a sharp corner.
Pool Noodle, FixFind 5 Pack of 52 Inch Hollow Foam Pool Swim Noodle
Use Foam Blocks
The foam blocks method is the most affordable and easy-to-use method of transporting two kayaks without a roof rack. You also require fewer straps here, about half the quantity you need for the pool noodle method.
However, this method is less secure and is only suitable for a sit-on-top kayak. Regardless, you can also opt for it. The following are the steps you need for this method:
Prepare Tools And Material
For this method, you will need at least four foam blocks. These should be 20 inches long and 4 inches wide, but the bigger they are, the better. Also, consider latex rubber foam blocks for efficient buffering.
The last item you need for this method is cam straps or ratchets. Six, 20 feet long straps are ideal.
Connect The Foam Blocks To Your Car
Place the foam blocks about 2 feet from the rear and front of your car's roof. However, it depends on the size of your kayaks.
Another factor to consider is the shape of your foam blocks. You can only transport your kayaks face down if you buy the ones without V-shaped grooves. That may not be possible if your car's roof is not wide enough.
But if you have the V-type, mount them on the car such that the V faces the sky. That will allow you to arrange the two kayaks side by side.
Set and Secure Your Kayaks
Once you load the two kayaks on the roof, you need to secure them so that they don't swing from side to side or move back and forth. Proceed as follows:
Open the doors and chuck the cam straps over the kayaks. You can begin with the front one where you placed the foam front foam blocks.
Fasten the straps inside your car and repeat the process for the rear cam strap.
Double-Checking Everything
You need to check if your kayak is secure after fastening. Try to push the kayaks back and forth and side to side. If everything is as you want them to be, secure the bow and stern to the front and rear bumpers.
Seattle Sports Sherpak Universal Kayak Foam Block Carrier with Non-Skid
Other Options to Transport Kayaks
The above methods are commonly used in transporting two kayaks without a roof rack. But if you find them unsuitable in your case, consider the following options:
Buy a kayak trailer
Look for pickup truck toppers near your location
Rent a kayak when you get to your destination. There are many service providers, such as Yellowstone and Mammoth Cave, you can consider.
Safety Rules of Kayak Transportation
Transporting a kayak without a roof rack can be very risky and unsafe. But you can use the following tips and follow safety rules to increase your success chances:
Never exceed the weight carrying limit of your car's roof. Check it before loading the two kayaks up there.
Secure the bed extender to the hitch receiver. That is if you use it on your pickup truck.
Use new straps or used ones in good condition. Avoid worn or torn ones as they increase risk.
Securely tie your kayaks and crosscheck so they cannot move sideways, forward, or backward.
Only use anchor points when hooking your straps. Avoid plastic because they are not strong enough to bear the weight of two kayaks.
Learn how you can make a daisy chain. That will help you use the excess length of straps and leave nothing to the winds.
Do not overtighten the straps. Just ensure they are fastened enough to secure the kayaks without damaging them.
FAQs
How do you transport a kayak without a roof rack?
You can use other methods to transport a kayak if you don't have a roof rack. Consider using a utility trailer, kayak trailer, truck, or DIY approaches such as foam blocks and pool noodles.
How do I transport 2 kayaks in my car?
Two kayaks can fit inside your car's trunk with back seats folded, especially if it is an SUV.
You only need to ensure that at least two-thirds of the kayaks' length is in the car and only a third hanging out. Also, you should add a red flag at the rear door to warn other drivers of your oversize load.
Can you stack 2 kayaks on top of each other?
Yes. The weight of one kayak cannot damage the one below it. That allows you to stack two on top of each other worry-free. Just ensure all the kayaks are facing down for improved safety.
How do you tie two kayaks together?
How you tie two kayaks together depends on the method you are using to transport them. It can be easier on a roof rack than using other methods. Follow this procedure to strap two kayaks to a roof rack.
How do you put two kayaks in the back of a truck?
Loading two kayaks in the back of your track may seem straightforward, but it is not. It is a lengthy process that begins with preparing the truck bed, often requiring bed extenders.
Conclusion
You don't have to feel stranded because you don't have a roof rack to transport two kayaks. The safest and most recommended method to solve your problem is using a utility trailer or truck bed.
You can rely on them for long-distance hauling, but other options include pool noodle and foam block methods. These are affordable options but are not suitable for everyday use.
Thank you for reading this article at Windpaddle. We appreciate your time and invite you to explore this website for related posts. Also, share it with your friends to help us spread the information.