How to paint a plastic canoe? You may be wondering if that is even an option just like other people as they ask if they can really paint a plastic canoe. However it is an option and yes, it can be done. 
This article will shed light on the areas of how to paint a plastic canoe as well as the steps needed to take to paint your plastic canoe.
You will learn how to prepare your painting tools as well as the painting area. You will also know the types of plastic canoes that can be painted and specific paints to be used among other things.
Can You Paint a Plastic Canoe?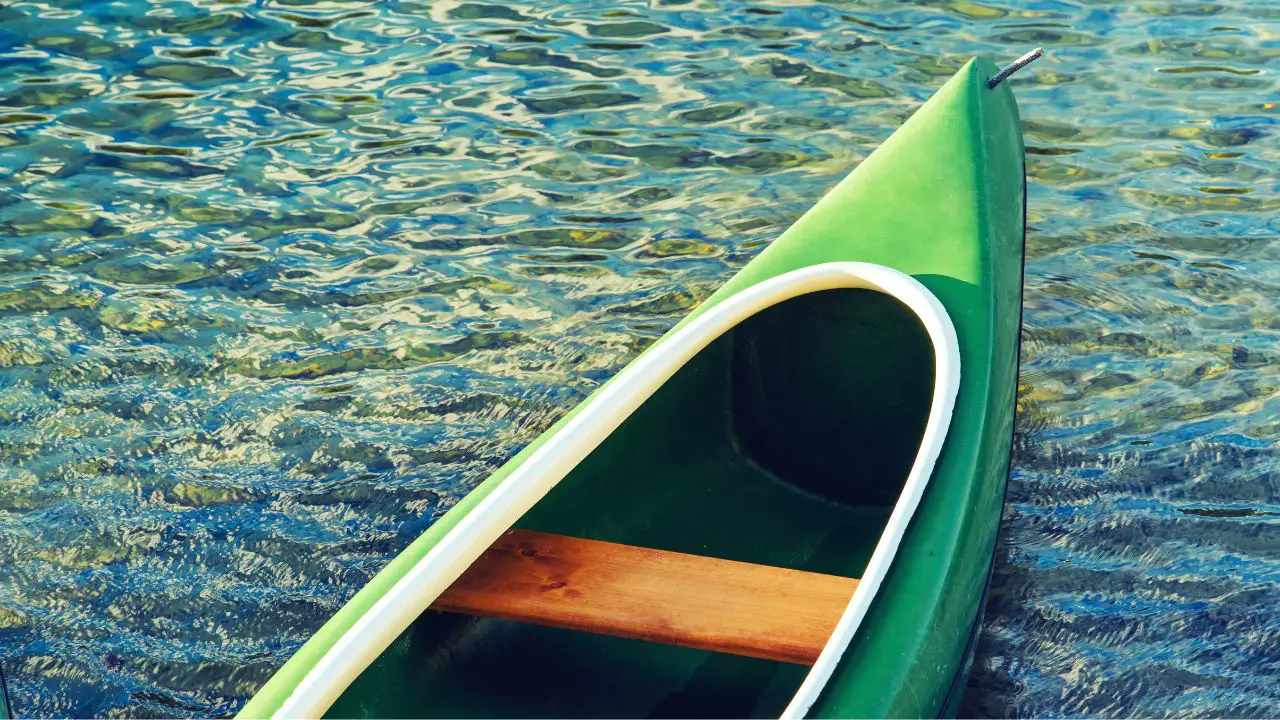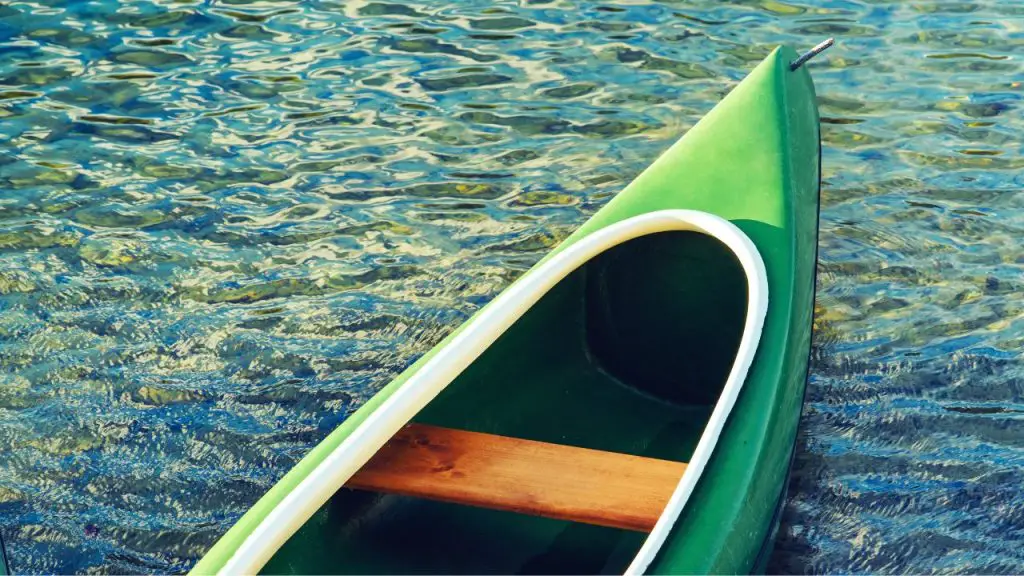 Yes, you can paint a plastic canoe. However, you may not get to change the color of your plastic canoes permanently.
The painting of canoes applies to three main types of canoes which are fiberglass composite, Kevlar composite, and wooden canoes.
Royalex® Canoe is made up of an interesting, plastic laminate material called Royalex®. This material is super rugged because it includes a core of closed-cell foam that is expanded.
Unfortunately, it's not the easiest vessel to paint. So when you need to paint or refinish it, we recommend that you take your Royalex® canoe to a local canoe repair shop.
Another canoe that is difficult to paint is the polyethylene canoe. The color of this canoe tends to fade over time especially when the exposure to UV is prolonged. 
Although you would not be able to strip the original color down and completely repaint polyethylene canoes, however, we have actually seen some creative and unique paint jobs on polyethylene canoes too.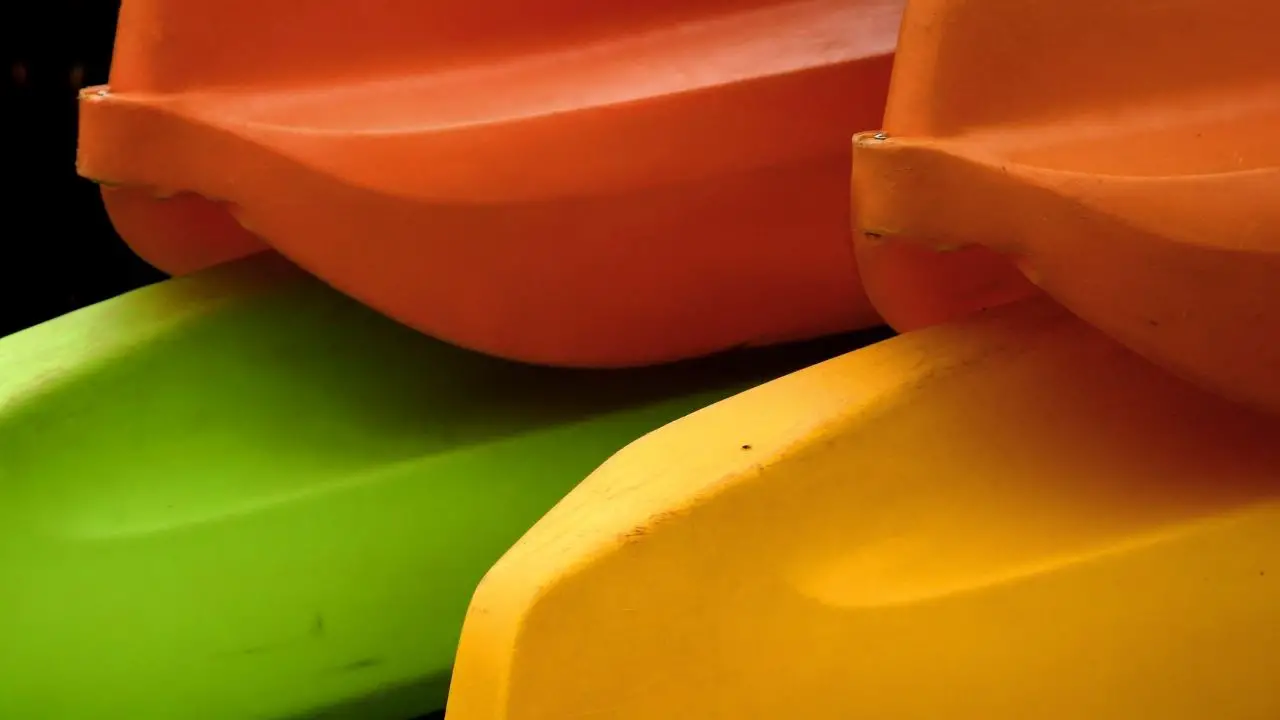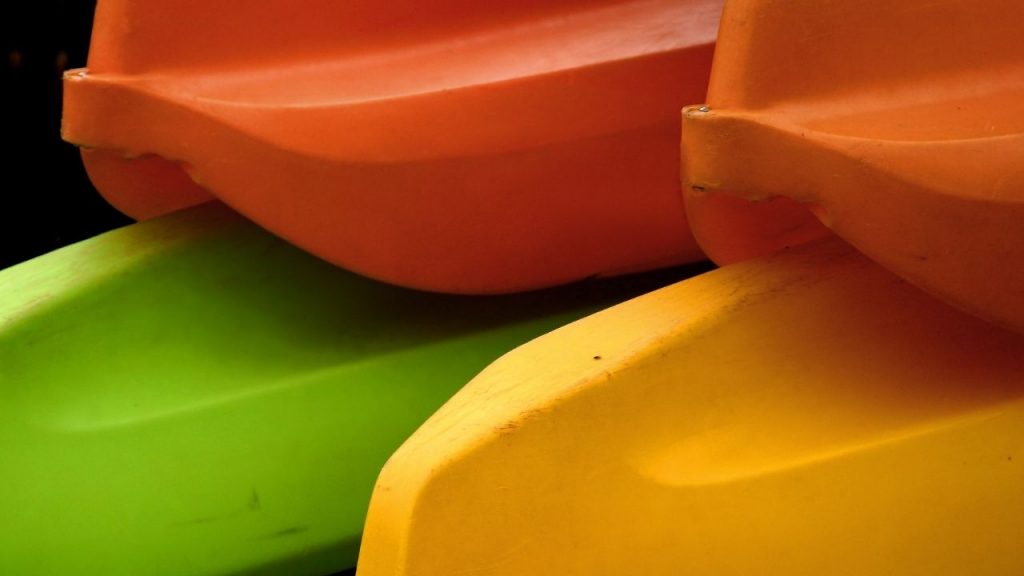 10 Steps to Paint a Plastic Canoe
Regardless of what the nature of the canoe material is, the process of painting a canoe does not differ. In the process of painting your plastic canoe, you should make use of paints that have been specifically designed to stick to plastics.
You need to remove any remnants of the initial paint job, sand down your canoe, and then apply the coats of paint evenly. 
After waiting for the paint to dry, it is necessary that you add a clear coat of stain. However, this depends on the paint you decide to use. And do not forget, you must take your time. You do not need to rush and you should not skip a step. Now, to the ten steps!
Prep Tools
The first step to painting a plastic canoe is to prepare your tools as well as the supplies to be used. You really do not want to waste your time looking for your tools or supplies at different points in time when you need them. So, it's best you get them gathered at once and ready for use. These tools include: 
Safety glasses
Pressure washer
Acetone
Utility knife
Masking tape
Tack cloth
Paint roller
Dust mask
Marine paint
Paint thinner
Clean cloth (optional)
Sponge (optional)
Earplugs (optional)
Ensure you use paints that are specifically formulated to adhere to plastics. There are several available on the market such as :
Krylon K02333007 Fusion for Plastic Spray Paint, Blue Hyacinth
Rust-Oleum 211339 Specialty Spray Paint for Plastic, 12 oz, White
Prep The Painting Area
Painting your canoe is best done outside, on a calm day with the presence of little wind. If you live in a very high humidity area or a place with very cold weather, you can as well paint your canoe indoors.
However, choosing to paint your canoe indoors means you should have a well-ventilated area.
You can decide to set your canoe on a well-sized tarp or drop cloth for painting, you can as well reasonably set it up on sawhorses so as to get a better paint coverage when spraying.
Strip It Down
You must strip your canoe bare!. Strip it off of every part that you do not intend to paint such as foot braces, rod holders, seat, and other removable accessories as well as other mounting hardware. Ensure to set them apart away from the range of the paint or spray too.
However, there are parts of your canoes that cannot be removed. So all you need to do is tape them off to prevent the paint from getting to them.
These unremovable parts may include, straps or ropes, handles and gunwales in some cases, and the entire cockpit opening.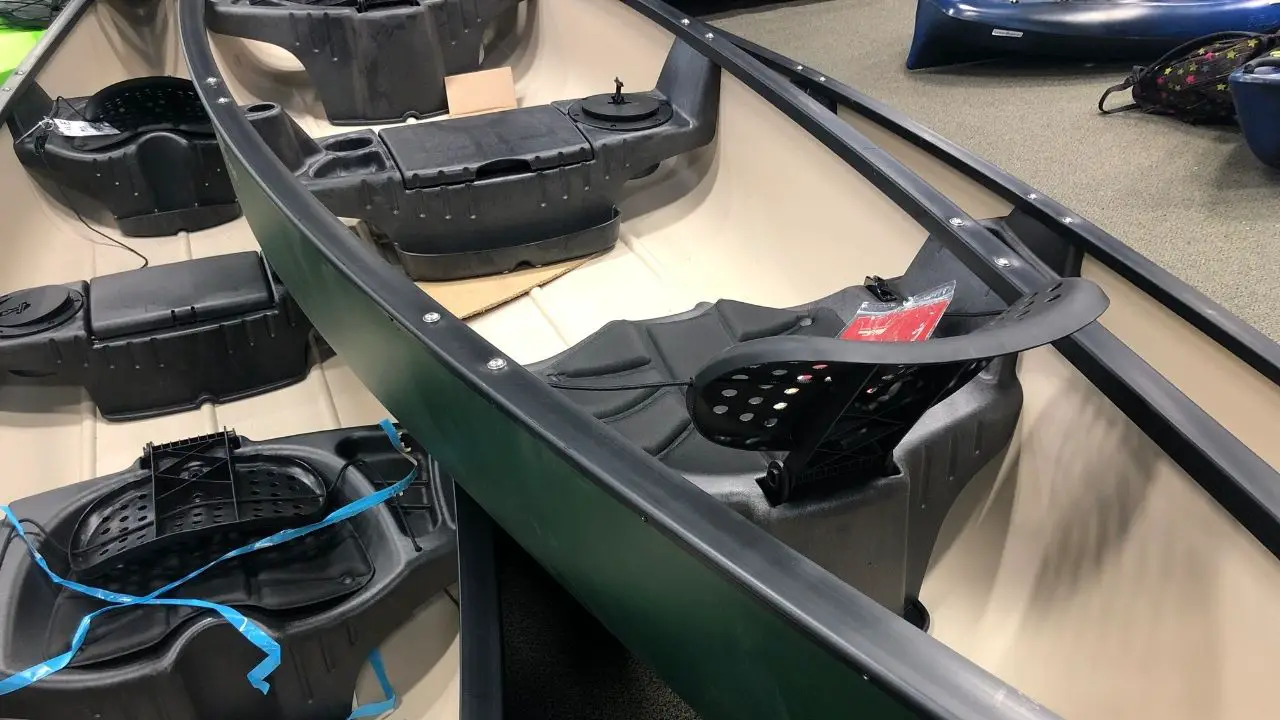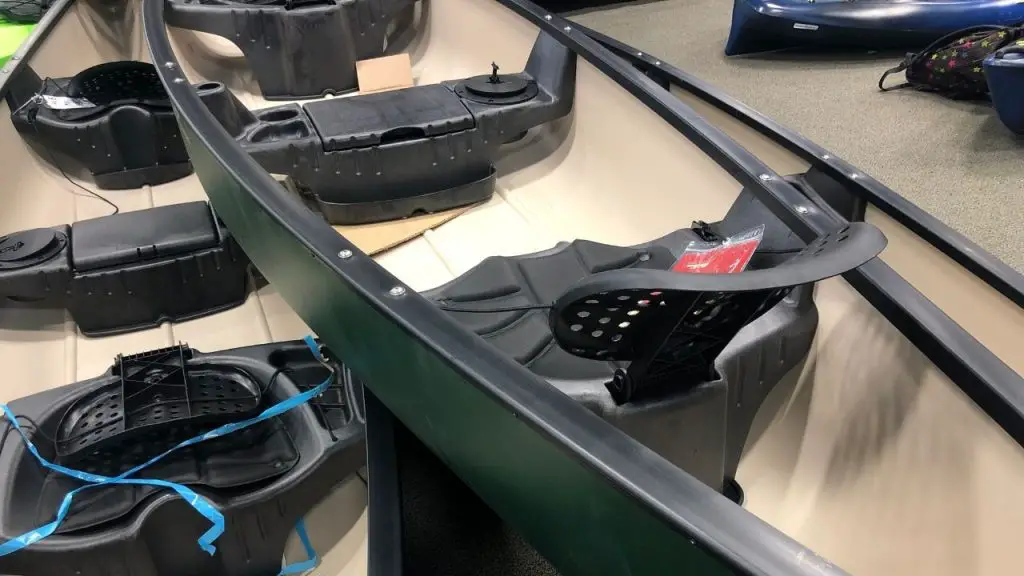 Clean and Sand The Canoe To Remove Current Spray Paint
Cleaning the canoe with a mix of water and detergent or dish soap is essential for preparing it for painting. 
This way you can ensure that proper bonding and adhesion of the paint is fostered because cleaning gets rid of dirt, dust particles, debris, and other contaminants that may alter the adhesion of paint to the surface of your canoe. 
You may also think of using a degreaser spray after cleaning. Go ahead, it is surely a good idea.
Remove old decals or stickers on the canoe, taking caution that you can reapply them if they are for licensing or registration. 
After cleaning your canoe and waiting for it to dry, make sure you take time to inspect all uneven surfaces as well as the surfaces that have deep scratches or gouges.
In the presence of any, you have to smooth them out using medium to fine-grit sandpaper.
80 or 120 grit and higher can be used to sand down damaged areas, and uneven or scratched surfaces, depending on the depth of the scratches and gouges. It is also good for you to go over the entire canoe using a Scotch Brite pad. 
This way, you will get to dull the stock finish for better bonding with the paint. The current spray paint will be removed and the next paint will stick even better.
WM Barr Goof Off FG661 Professional Strength Remover, 6 oz
Wipe Down Canoe With Acetone
After cleaning, degreasing and sanding, your canoe may look and feel clean and free. Do not be deceived, ensure that you wipe down your canoe entirely with acetone to remove any remnants of dirt or particles. 
This final step of applying acetone to a clean cloth to wipe down your canoe will ensure that dirt, oil, or grease from your hands is gotten rid of.
At this point, you can use an adhesion promoter right before painting as this helps paint to stick better, especially when it is a plastic canoe you are painting.
Paint The Canoe
Now is the time for the actual painting job. So, put on your gloves and a mask before you start. We recommend that you use a spraying technique if your goal is to give your canoe a good finish with full paint coverage and no brush marks. 
You can make use of a paint roller or a paintbrush but a spray-on method will work best for a cleaner and more even application.
The distance of the sweeping motion in relation to the canoe is crucial and should be between 6 to 8 inches away from the canoe.
Of course, you do not want your paint to run due to an over-spray of one area, so we advise that you apply 3 to 5 coats of paint to your canoe as you spray. 
This is to help you get full coverage of the vessel. However, There are implications that come with the paint item you decide to use, and making use of a paintbrush or paint roller will put you on the lower end of 3 coats.
Make sure you wait several hours between coats of paint you give to your canoe. This is to ensure that each coat you apply completely dries before you start the next.
Your choice of paint has recommendations for dry times in between coats, you should follow the recommendations too.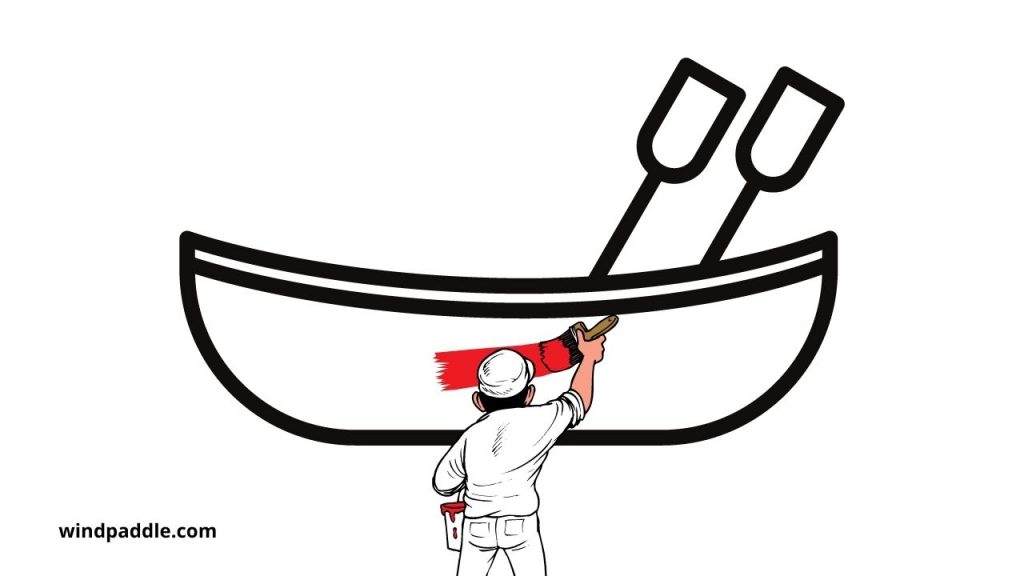 Leave It to Dry For 12-24 Hours
After painting your canoe, you need to give it approximately 24 hours to dry before you move on to the next step. 
You might feel that your plastic canoe is dry to the touch, however, it needs a full day to completely dry. At this point in time, if you need to move your canoe, you can.
Within the first six hours of painting, your canoe gets dry enough to handle but you must take care to use clean, dry clothes during movement so that it does not get dirty.
Apply a Clear Coat
When all the coats of paint you applied are dried, you need to apply a clear coat of finishing paint.
This clear coat will serve as a layer of protection to protect your canoe against scratches, ultraviolet rays, and harsh weather conditions without causing damage to the paint beneath.
Krylon and Rust-Oleum are clear coat sprays for clear plastic materials. You really need all the protection you can get, so it is a good idea to apply several coats as it is not uncommon for canoes to come in contact with all kinds of abrasion. 
It is indeed essential to maximize the longevity of the paint job.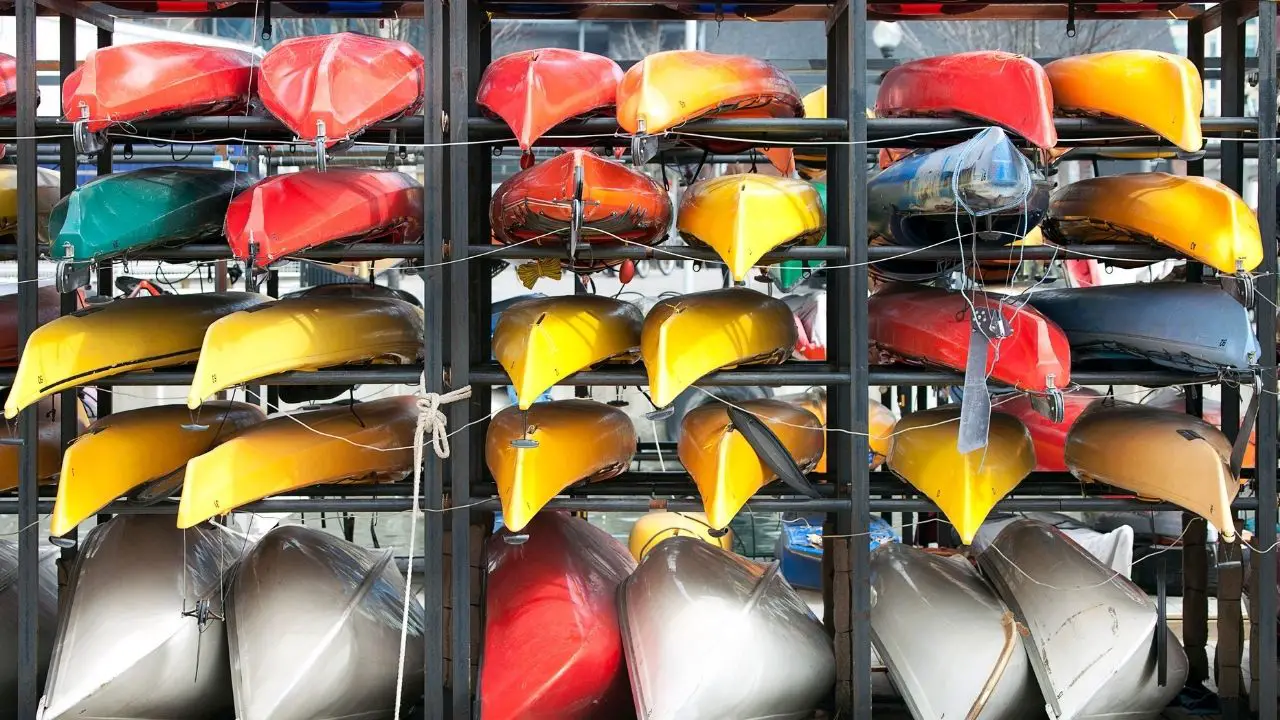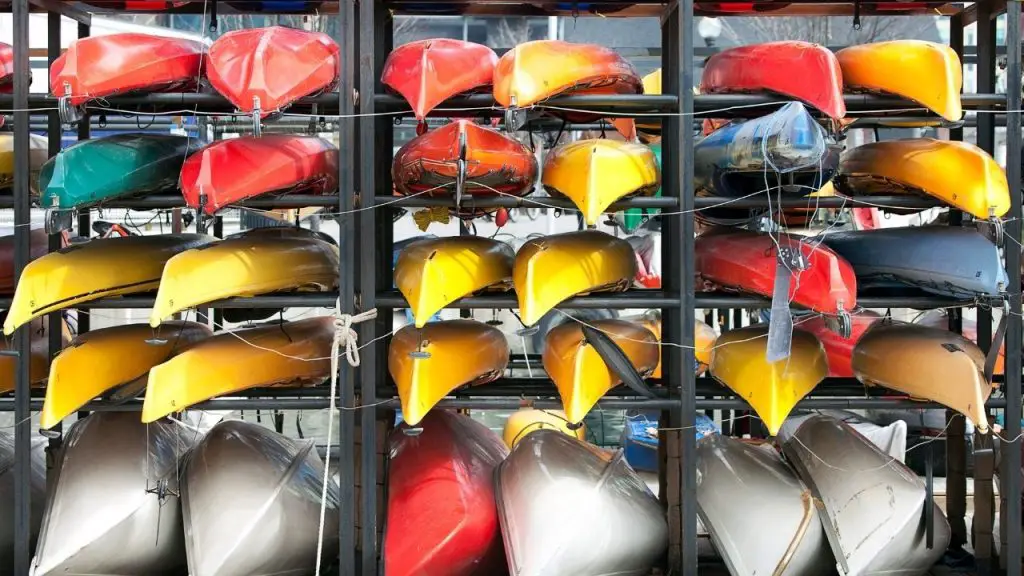 TotalBoat TotalBuff Marine Rubbing Compound (Quart)
Wait For The Canoe To Dry
If you do not want your labor and time to be in vain, then you must allow the clear coat to dry completely. 
Before you think of reassembling all the removables in step 3, it is best to wait a full day to two days. This will ensure that the clear coat has plenty of time to completely dry.
Waiting for your plastic canoe to dry after applying the clear coat is a way of allowing the paint to cure. 
When a paint cures, the coalescing agents in the paint cause a formation of a film which develops into a hardened surface resulting from evaporation of solvents and water from the painted surface.
Clean And Wax Your Canoe
When you are done reinstalling all the hardware and accessories you initially removed, the next thing to do is to clean your canoe with a mix of dish soap and warm water. At this point, you can reapply your decal if you desire. 
Then give a final touch to your canoe by applying a marine wax. Although optional, it is highly recommended as it is another way to protect the fresh paint from scratches.
It protects the finish on your canoe, adds shine to its hull, and improves longevity too.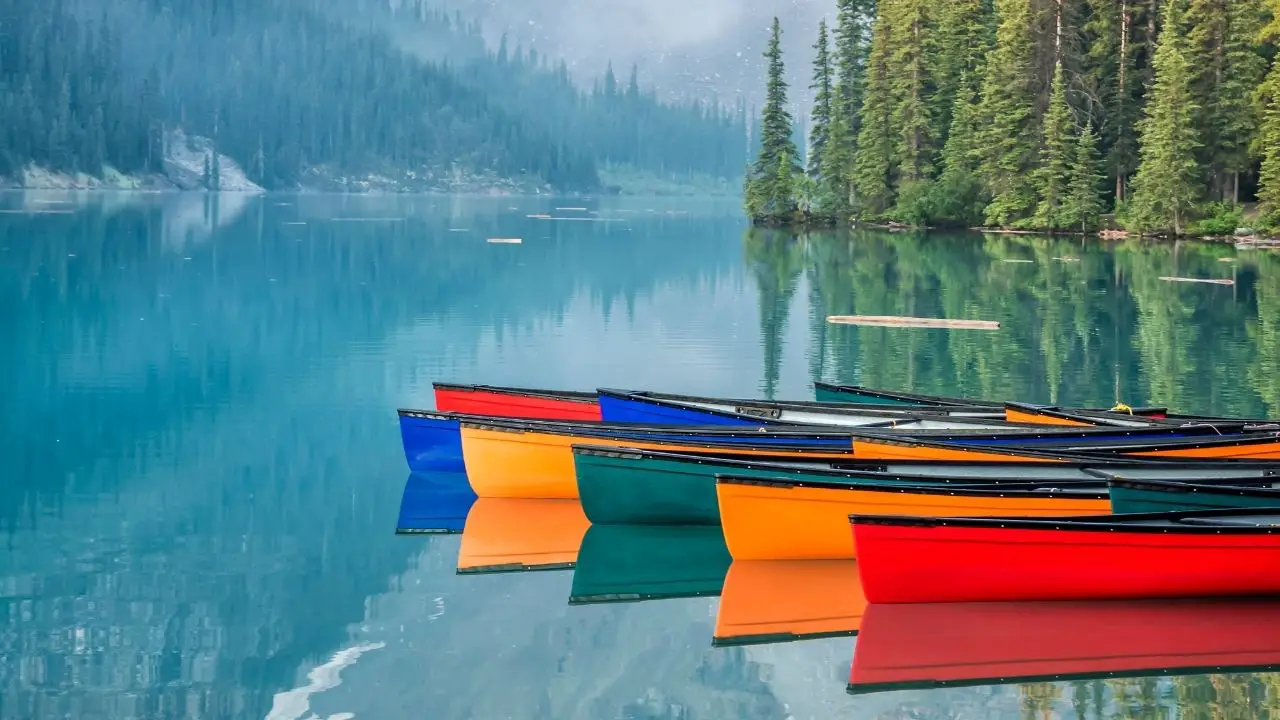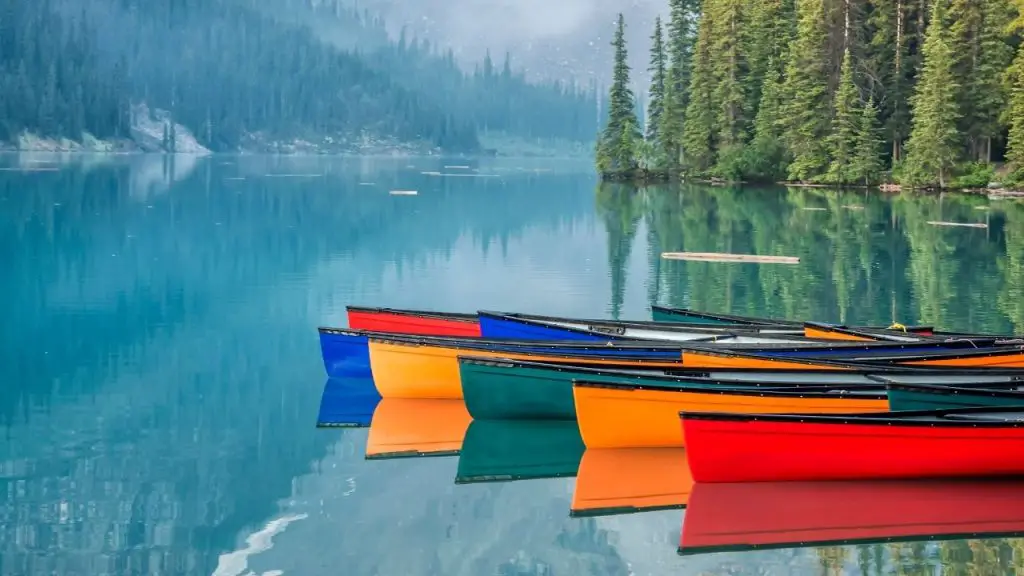 Tips to Paint a Plastic Canoe
Here are some tips to remember when you want to paint a plastic canoe:
Drying and sanding are very important because it ensures color fastness.
In addition, to the above instruction which only covers 2 coats, You can also add 1 to 2 more coats.
Make sure to dry the canoe between coats of paint for at least 24 hours.
To paint your plastic canoe the right color, you can at first try painting the base white before you proceed to paint the color you want.
It follows the same principle as dyeing.
To avoid a bad painting job, ensure you have a good can of paint and the right color you prefer in the can. You can know this by doing a test spray on a piece of cardboard, newspaper, or drop cloth.
If you are making use of a regular spray paint, using a primer for your item is an excellent choice. You can use primers like:
Krylon K09188000 COVERMAXX Primer, White, 12 Ounce
XIM 11435 Plastic Bonding Primer, 12-Ounce, White
Rust-Oleum 209460 Plastic Primer Spray
FAQs
How do you refurbish a plastic kayak?
You can refurbish a plastic kayak by first cleaning it with soapy water and then applying an automotive polish that matches the color of your kayak.
Seal in the color with a coat of plastic gel protectant, and allow to completely dry for approximately 72 hours before you use it again.
Can I spray paint my canoe?
Yes, spray painting your canoe is an option to consider.
Can you paint plastic kayaks?
You can paint plastic kayaks, although they cannot be permanently changed.
Can I spray paint polyethylene?
You can spray paint polyethylene, however, you should ensure proper surface preparation as well as a primer.
Can you sand a plastic kayak?
You can sand a plastic kayak but ensure to sand it evenly.
Final Verdict
You may wonder how much difference a good painting job can make to an old canoe. Well, you can as well see for yourself by following the instructions from this article and taking that bold step to refurbish your canoe. 
Yes, a good painting job will not only transform your canoe but also give it an outstanding look that would spur confidence in you to go all out on the water.